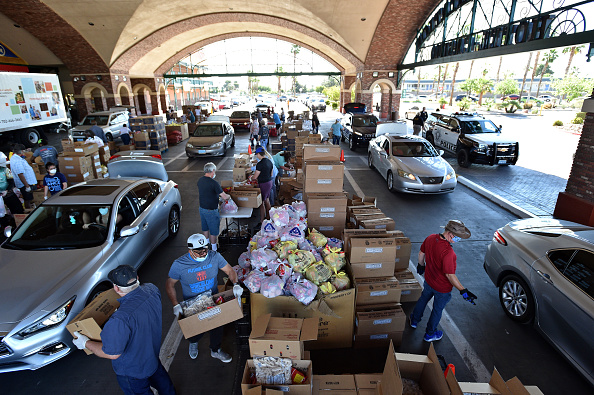 Poverty, Pandemic, and Hunger are three major problems facing the United States and the rest of the world this year. This week we will be requesting help for those in need instead of bringing you our regular NFL Game Day Menu.
Poverty, Pandemic, and Hunger Prominent in 2020
Today we will be providing some ways that you can help those in need. We will also be featuring a few of our past NFL Game Day Menu pieces that you may have missed. They will be at the end of the piece. You knew we could not go completely without providing something food-related while asking for your help.
Poverty, Pandemic, and Hunger Grow
Watching the lines of cars picking up food stretch for miles the week before Thanksgiving struck a chord. There had to be something done to help combat the hunger facing so many people across this nation.
Those that know the writer will understand how much this means to them at this time of year. Our first thoughts were to whip up 10-20 gallons of chili or 10-20 pounds of pulled pork and donate them to the local food bank. Unfortunately, one cannot bring in prepared food no matter how delicious. The liability issues and health concerns involved are too great.
The next thought was to donate food that is shelf-stable like canned goods, pasta, beans, and rice. Unfortunately, this too presented a problem for many food banks due to fear of COVID-19 spread. Many of the food banks are simply requesting cash donations instead of food. The money donated is used to purchase and distribute food to the needy. This makes sense and is by far the easiest way for good people to help those less fortunate.
Poverty, Pandemic, and Hunger Donations
It is staggering how many people face hunger or lack the ability to provide food for their families. For more on this check this recent article from CBS out just before Thanksgiving:
"Beyond the holiday, Feeding America projects more than 50 million Americans will have faced hunger in 2020 – up from around 35 million before the coronavirus pandemic. That translates to 1 in 6 people, including 1 in 4 children, experiencing food insecurity this year." 
The effect of the COVID-19 pandemic is staggering and it continues to rage out of control. Leaving blame, politics, and finger-pointing out of this we are here to remind everyone that there are people that need help surviving.
We are going to list several agencies in the Illinois area that provide food assistance to the needy. If you are reading this from outside of Illinois, please check your local area for food pantries that need monetary help. No matter where you live, there are a lot of people who need help in your area. Please contact the agency of your choice either online or by phone on how to donate.
Veterans Facing Poverty, Pandemic, and Hunger
Today in the United States it is truly sad how many veterans are in need. Those that swore an oath to serve this country now need our help to serve them. For more on the problems facing Veterans, we have this from the VFW:
Veterans Face Food Insecurity During COVID-19 Pandemic
"The COVID-19 pandemic has brought unprecedented challenges to Americans across the country, ranging from job loss to food insecurity. However, not being able to have access to enough nutritionally adequate foods to live an active and healthy life is something no one should have to worry about, including our nation's servicemen and women." 
"To help address this critical need, the U.S. Department of Veterans Affairs (VA) Secretary's Center for Strategic Partnerships helped Humana identify local VA medical centers with an urgent need to directly donate to amplify efforts in support of food insecurity."  
If you would like to help our veterans, click THIS LINK which will take you to the VFW's web page for more information and donation options. You can also help local veterans in Illinois by clicking THIS LINK for information from the State of Illinois. Those that served us deserve all the help we can give. Another agency helping veterans in Illinois is associated with the Greater Chicago Food Depository. For their info click THIS LINK to find out how to help.
Feeding Illinois is another agency helping across the state of Illinois. For their info click THIS LINK to learn how to donate. If you have children in school, check with your school district on ways to help families in your area.
2020 Holidays Help
Thank you for taking the time to read this. It is not a fun subject to discuss but it is a reality in our country. Many of us are lucky enough to still be working and not suffering issues with hunger or poverty. This is the giving season, we hope that you will help out those less fortunate. The power of donating to any of these worthy causes will be felt as you give. Give thanks for what you have and share some with others. It will mean the difference between someone eating or going hungry. Thank you for anything that you can do!
NFL Game Day Recaps
As promised here are the first five NFL Game Day Menus from the 2020 season. Click on the links to get the recipes and directions. We will be back next week with something new to make your mouth water.
Main Image:
Embed from Getty Images