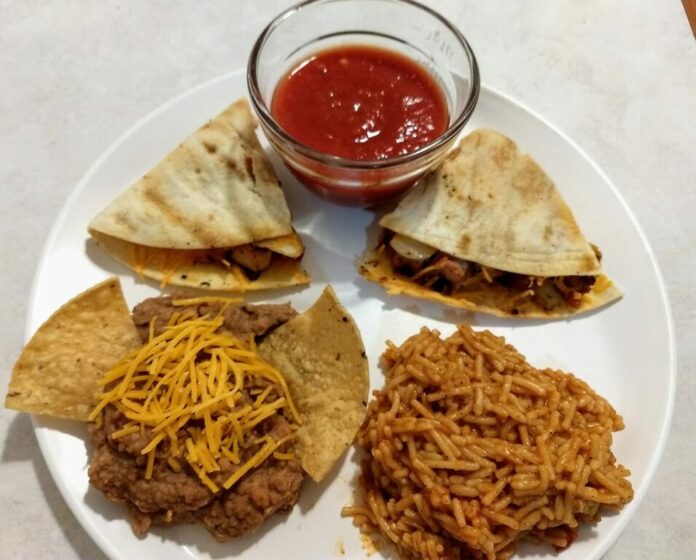 NFL Wildcard Weekend kicks off on Saturday with three games and is followed by three more on Sunday. We have you covered with an incredible menu of Grilled Quesadillas and more! The NFL Wildcard games and times are listed below. Be sure to click the links to view the team's pages over at Last Word On NFL for more details.
Saturday
Sunday
NFL Wildcard Weekend Menu
We have our delicious Grilled Chicken Quesadillas leading off our NFL Wildcard Weekend Menu. For our side dishes, we have Mexican Rice and Refried Beans & Chips. Grilled Chicken Quesadillas are not a normal tailgate menu item, but they are incredibly tasty. We are also bringing a new type of Grilled Quesadilla that we have named the Grilled "Pizzadilla" because it is like a pizza in a tortilla wrap. Trust us, it is incredible!
We are using boneless/skinless chicken thighs for these quesadillas today. Chicken thighs are the "awkward cousin" part of the chicken. Everyone loves chicken breasts, wings, and chicken legs, but few people search out the thighs at a chicken BBQ. When you find boneless/skinless thighs on sale pick them up! They are tender and yummy in tacos and these quesadillas.
Grilled Chicken Quesadilla Ingredients
5-6 boneless/skinless chicken thighs
sweet onions, red or green peppers, jalapenos
1-2 packages shredded cheddar or chihuahua cheese
refried beans (optional)
1-2 packages large burrito wraps
1 large jar of your favorite salsa
Lawry's Seasoning salt
granulated garlic
chili powder
cumin
black pepper
olive oil
sour cream
A fantastic option to improve the flavor of the chicken thighs is to marinate them overnight. You can use a simple marinade such as Italian dressing or search out one of the many options carried by World Harbors Marinades who are available at most grocery stores. Whichever marinade you choose add it with chicken in a sealed Ziploc baggie or plastic container the night before grilling.
Grill Time
Set up your grill for direct cooking by placing 25-30 coals in a pyramid in the center. Light the coals and wait until they turn that perfect gray. Once they are ready, spread out the coals across the bottom of the grill. Take your marinated meat and place it on the grill grate away from the coals. Season it to taste, then grill it until cooked through, turning it every 10 minutes. Remove the grilled meat and place in a foil pan to cool. Once cool, cut up the meat into bite-size chunks. You can grill or sauté the veggies to get them ready for the quesadillas. After the veggies are done, set them aside with the cut-up chicken.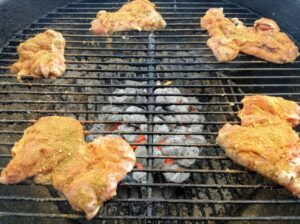 Building Your Chicken Quesadillas
It is time to build and grill your Chicken Quesadillas. You will need to be quick with the placement of the quesadilla fillings because this is done on the grill grate while it is still hot.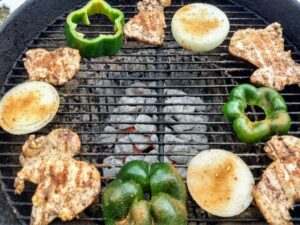 Take a brush and swab one side of a burrito wrap with olive oil. Place the burrito wrap directly on the grill grate olive oil side down. Place a thin layer of shredded cheese on one half of the wrap. Add the chicken and any veggies next, and then another layer of shredded cheese. If you are a fan of refried beans, you can smear them on the bottom before sprinkling on the cheese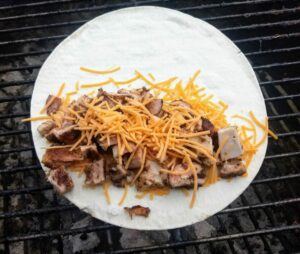 Once you have your wrap covered with the fillings on one half, take your grill tongs and fold over the other half on top of the fillings. Allow the quesadilla to grill for 2-3 minutes, then flip it over for another 3-4 minutes. Try not to over-grill the wrap so that it dries out. The outside of your quesadilla should have some grill char but still, be pliable.
Remove the grilled quesadilla and allow it to rest for four to five minutes. Cut it into four or six pieces and served with salsa, and sour cream for dipping. Your guests will be amazed at how incredible your Grilled Chicken Quesadillas taste! Your NFL Wildcard Weekend menu will be a huge success!
Grilled "Pizzadillas"
We are creating a new type of grilled quesadilla here that will be a hit. We are using sliced pepperoni, marinara sauce, and shredded mozzarella cheese. You can also grill some onions and peppers to go with the pepperoni if you want.
Follow the same grill directions above for the chicken quesadillas. Place a thin layer of marinara sauce on one half of the wrap, followed by a layer of mozzarella cheese. Add on a layer of pepperoni and any veggies, then sprinkle on some more mozzarella cheese. Fold over the empty half of the wrap, then grill it for 3-5 minutes per side. Serve these along with some additional warm marinara sauce for dipping. They will be another hit!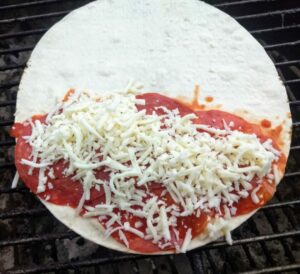 NFL Wildcard Weekend – Zesty Refried Beans
two cans of refried beans
1/2 cup salsa
1/4 cup shredded cheddar cheese
chili powder, cumin, black pepper
There are many brands and types of refried beans available. Our favorite is La Preferida who has a wide variety to choose from. If you want even more zesty flavor, try their refried beans with Spicy Chipotle or Jalapenos!
Warm up the refried beans either in the microwave on in a pot on the stovetop. Once it is warmed through, add in the salsa and spices. Give the refried beans a good stir, then place them into a serving bowl. Lastly, sprinkle the shredded cheese on top and let it melt a bit before serving. Your guests will love the zesty flavor of your refried beans along with your quesadillas and rice.
NFL Wildcard Weekend – Mexican Rice
For this easy and tasty side dish, pick up a box or two of the ready to make dishes made by Knorrs, La Preferida, Zatarains, or Rice-a-Roni. They are all delicious and take 15-20 minutes to create for the family. This rice makes the perfect side dish for your quesadillas.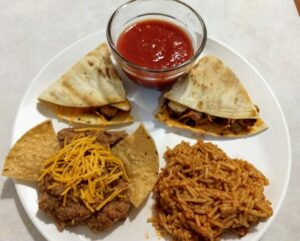 NFL GameDay Menus 2020-21
This NFL season has not been easy for those of us who host weekly football viewing parties. No matter how many people you plan on hosting, we will be bringing you delicious menu ideas each week this season and into the NFL Playoffs. With the COVID-19 pandemic raging again let's be safe people! Reduce your guest list to a safe number, be sure to maintain social distancing, and use curbside pickup whenever possible!