NFL Conference Championships are the last playoff round before the Super Bowl game on February 7th, 2021. This weekend there are four teams left competing for the chance to play in the 55th annual Super Bowl. This week we are taking our lwos.LIFE Game Day Menu to another new level. We are bringing you two of our classic dishes direct from New Orleans, our Grilled Shrimp Po' Boys and Cajun Pasta. Both of these dishes are infamous in Creole Cuisine and are the perfect way to enjoy the NFL Conference Championships!
This week's NFL schedule has two games on Sunday afternoon. The games and times are listed below. Be sure to click the links to view the team's pages over at Last Word On NFL for more details.
NFL Conference Championships Menu
This week we are bringing you two Cajun dishes that will be thoroughly enjoyed by your family and guests watching the NFL Conference Championships. This Sunday's menu will transport everyone directly to Bourbon Street in New Orleans. They will swear that you hired a fancy chef that specializes in Creole Cuisine. You can assure them that with these recipes anyone can create these incredible classics. They both take some work, but are worth it!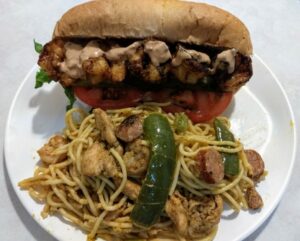 Grilled Shrimp Po' Boys
Po' Boys come in many different ways, but our favorite is made with grilled shrimp. We're going to teach you how to construct this incredible sandwich and also how to create the Cajun mayo.
Ingredients
1 pound of 16-20 count shrimp (peeled/deveined)
4-6 soft hoagie rolls
2-3 tomatoes (thinly sliced)
1 bag of shredded lettuce
1-2 dill pickles sliced thin
2 cups of mayonnaise
1 small can of chipotles in adobo sauce
3-4 tablespoons of olive oil
Lawry's Seasoning Salt, granulated garlic, Cajun spice
wooden skewers
Take the thawed shrimp and place them in a large sealable plastic bag. Drizzle in the olive oil and add in the seasonings. Close the bag and shake the shrimp until they're covered in all that goodness. Let the shrimp marinate for about 30-60 minutes and then skewer them for grilling. You should try and have six per skewer, which will work perfectly when assembling the Po' Boy.
Cajun Mayo
For the Cajun mayo, empty the can of chipotles and adobo sauce into a large bowl and then chop them up finely. Add in the two cups of mayo to create the Cajun mayo that will add zip to your creation.
Prep Time
Slice open the hoagie rolls bread lengthwise and then lay them out for the Po' Boy creation process. First, you need to spread the Cajun mayo on the bottom half. Add on a layer of shredded lettuce, then place the thinly sliced tomatoes and pickles on top of that. Your Po' Boys are now ready to receive the grilled shrimp.
Grill Time
Place the shrimp skewers onto your grill directly over the coals/heat. The shrimp should be only grilled for 4-6 minutes per side to avoid overcooking. Remove the shrimp skewers and gently slide the six shrimp onto the awaiting Po' Boy sandwiches. Drizzle a little more Cajun mayo onto the shrimp, then fold together and serve your creation to your guests. Now stand back and watch the smiles begin as they devour these tasty Po' Boys! Some of your guests with more tender palates may react a bit to the spicy Cajun mayo. Smile and then tell them welcome to Creole Cuisine baby!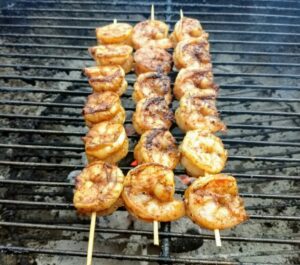 NFL Conference Championships – Cajun Pasta
Cajun pasta is an incredible Creole classic that is not that difficult to make. There is a lot of prep work, but when all of these delicious ingredients get blended, it is truly a masterpiece!
Ingredients
1 large sweet onion cut into thin slices
1-2 large green peppers cut into thin slices
3-5 stalks of celery cut up
4-6 garlic cloves diced
5-6 tablespoons olive oil
1 lb. Andouille sausage cut up
1 lb. medium 31-40 count raw shrimp peeled & deveined
2 chicken breasts cut into thin slices
1/4 lb. stick of butter
1/2 cup grated parmesan cheese
1 lb. package of your favorite pasta (penne or angel hair work best)
Season to taste with Cajun seasoning, Lawry's, granulated garlic, black pepper, cayenne pepper (optional)
Cajun Pasta Prep
You are going to prep your veggies first. These are known as the "Cajun Holy Trinity" in Creole Cuisine. Celery, onion, and bell peppers make up the Holy Trinity and are the base ingredients in most Creole recipes. For more on these famous ingredients, we have this from LouisianaTravel.com who writes:
"But why these three vegetables? They're packed with a flavorful liquid that heat breaks down, causing them to release or "sweat" their moisture. These liquids then cling and reduce in the skillet, leaving behind residual sugars that caramelize the mix into the soul of the dish they are about to become. The result is so flavorful, it could be considered holy, hence its many names: The Holy Trinity. The Cajun Trinity. The Holy Trinity of Cajun Cooking."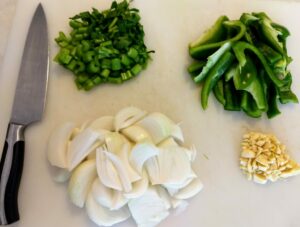 You will now prep your meats by cutting up the chicken breasts and Andouille sausage. Get the shrimp cleaned up by removing the shells and tails.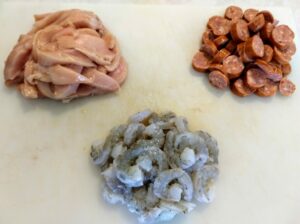 You will need a large stockpot or extra-large skillet for the next step. Take the green pepper, celery, sweet onion, and chopped garlic cloves and add them to the pot. Drizzle them with olive oil and your seasonings. Add the chicken breast, Andouille sausage, and shrimp to the pot along with more seasonings. Simmer on medium for 20-25 minutes or until cooked through. Cut the stick of butter up and add it into the pot, and then turn the heat down to low.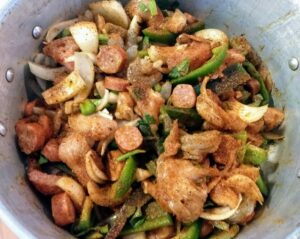 Combining All The Ingredients
While everything is simmering in the pot, begin the process of cooking your pasta so it will be ready. Follow the directions for the pasta you chose and drain when finished. Once the pasta is drained, add it into the pot. Toss everything gently until it is covered with the melted butter and juices. Sprinkle the grated parmesan as you toss the pasta.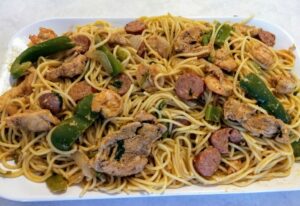 Your guests will be immediately taken to New Orleans as they enjoy your Cajun Pasta. Serve with the world-renowned Hurricane cocktail and then "Laissez Les bons temps rouler!" = "Let The Good Times Roll!." Your Cajun feast will certainly leave a lasting impression!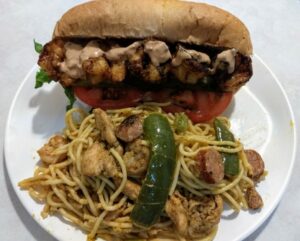 NFL GameDay Menus 2020-21
This NFL season has not been easy for those of us who host weekly football viewing parties. No matter how many people you plan on hosting, we will be bringing you delicious menu ideas each week this season and into the NFL Playoffs and Super Bowl. With the COVID-19 pandemic raging again, let's be safe people! Reduce your guest list to a safe number, be sure to maintain social distancing, and use curbside pickup whenever possible!