The 2020 NFL Season Wrap Up will cover some highlights of the league's outreach to their community. These will include the NFL's "My Cause, My Cleats" campaign as well as the "Kicking The Stigma" campaign. At the end of our piece, we will also highlight our top five lwos.LIFE Game Day Menus this past NFL season. These will be the most read menus by the fans of our weekly efforts.
The 2020 NFL Season
The 2020 NFL Season was like no other in the league's storied history. The COVID-19 Pandemic severely affected the league's ability to operate and bring a complete season to its fans. Every team faced heightened restrictions on their athletes, coaches, and staff to keep everyone safe. In many stadiums, fans were not allowed to attend in person. In others, there was reduced attendance allowed in for the games. Protecting the fans was also the goal of every franchise.
There were many stops and starts throughout the season involving COVID exposures to players and staff. There were games rescheduled, and some were postponed to not risk further exposures. The 2020 NFL Season was filled with problems, but the league managed to finish on time and hold the playoffs as scheduled.
My Cause, My Cleats
One of the highlights of the 2020 NFL Season was the league's "My Cause, My Cleats" campaign which began during week #13 of the season. After the league's success with their pink Breast Cancer Awareness and camouflage Salute to Service campaigns, this was a great way to involve the players and their personal causes.
The My Cause, My Cleats campaign was certainly an ambitious undertaking by the NFL and its players. For more on this great cause, check this out from NFL Communications:
"NFL players will have the chance to share the causes that are important to them during all Week 13 games, as part of the NFL's My Cause, My Cleats campaign. The initiative is a culmination of 18 months of collaborative work between the NFL and players across the league, and it includes an online storytelling platform, in partnership with The Players' Tribune." 
"More than 500 players are planning to showcase their causes on-field during games, and many have worked directly with Nike, Under Armour, and Adidas to design their cleats, which will arrive in locker rooms this week, and will be worn on-field for all Week 13 games."
Be sure to click the link above for more details on this cause. Every NFL team has links on their websites too if you would like to check out your favorite team's cleats. The 500+ players "cleats" promoted varied causes from childhood cancer, juvenile diabetes, feeding America, stomping out bullying, ending racism, and so many more worthy causes. Let's hope that this becomes an annual campaign for the NFL and players!
Kicking The Stigma Campaign
One of the My Cause, My Cleats campaigns caught our attention in December. The nearly yearlong pandemic has caused so many deaths and sickness, it will never be forgotten. What also is just as important is the less publicized effects of the pandemic.
The lockdown, economic downturn, and subsequent isolation of so many people increased mental health problems for many. Thousands are suffering in silence and were unable to get help during the worst of the pandemic. Mental health treatment became difficult to get due to limited services and many facilities reducing hours or closing altogether.
Indianapolis Colt's Owner Steps Up
Kicking The Stigma is part of the My Cause, My Cleats campaign that was launched in December by Jim Irsay of the Indianapolis Colts of the NFL. Colts team owner Jim Irsay and his family have taken a personal interest in Kicking The Stigma. They are bringing mental health to light and that many suffering will not seek help due to the stigma behind mental illness. For more on the Irsay family's Kicking The Stigma campaign check this out from Colts.com:
"The goal of the "Kicking The Stigma" public service announcement, created in cooperation with the band R.E.M. using their song "Everybody Hurts," is to help reduce the stigma around mental illness. The Indianapolis Colts and the Irsay Family stand together today and moving forward to "kick the stigma" around mental health and encourage anyone battling these illnesses to seek the help they need."
If you would like to view the public service announcement CLICK HERE.
Kicking The Stigma is trying to help everyone who is suffering realize there is help available. The stigma behind mental illness treatment is preventing thousands from getting help. For more on how many people suffer check this out from nami.org who writes:
"1 in 5 U.S. adults experience mental illness each year
One in 20 U.S. adults experience serious mental illness each year
1 in 6 U.S. youth aged 6-17 experience a mental health disorder each year
50% of all lifetime mental illness begins by age 14, and 75% by age 24
Suicide is the 2nd leading cause of death among people aged 10-34″ 
Doing Our Part
The numbers are staggering. Think of 10-20 of your friends or family for a moment. Is there a chance that any of them fall in the 1 out of 5 statistics? We all need to do our part and reach out to everyone and check in on them more often. It has been extremely difficult to stay in touch due to the pandemic, but there are ways we can help. Call or text more often, or organize a group virtual meeting so that your family and friends know they're not alone. If we all reach out more, it will make a difference.
The 2020 NFL Season Game Day Menus Top Five
We took a pause this week in order to cover the 2020 NFL season and the league's efforts to help their communities. Our regular lwos.LIFE Game Day Menu will return in time for the Super Bowl when the Tampa Bay Buccaneers play the Kansas City Chiefs. The Super Bowl LV Game Day Menu will be outstanding, so stay tuned for that.
As promised here are the top five Game Day Menus from the 2020 NFL season: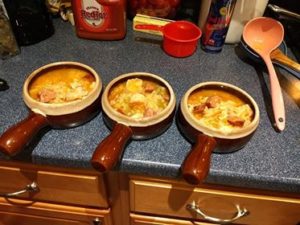 In case you missed any of these or want to try them out, click on the link and get grilling!