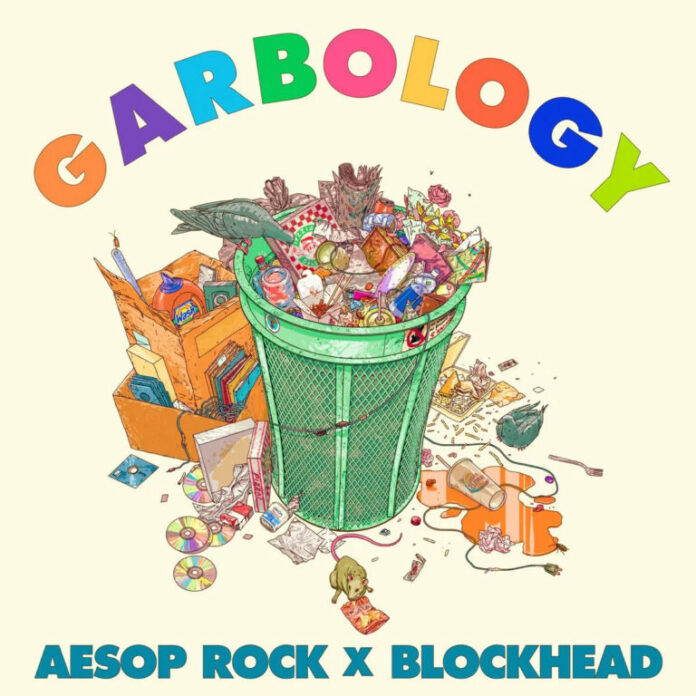 After more than a decade the hip hop duo of Aesop Rock and Blockhead are back. And they bring with them a familiar territory. This territory is being an outcast from society due to one's own wishes, themes will be covered further in this Garbology album review. Garbology welcomes listeners back to grimy beats and thick verses. Do you slosh when you move? Did your body eat your shoes? Mold on your robe? Moles on moles? No bones? Then you are in good company with the rest of us.
Aesop Rock & Blockhead – Garbology Album Review
When it comes to Aesop Rock and Blockhead it would be impossible to discuss this most recent work in a vacuum. Twenty years in the industry, through multiple collaborations, and multiple albums together demands that this work be reviewed in comparison to their previous.
Every dollar you bury under a tree
All the art that inform how you speak
Little black books stacked to the beams
It all falls into the sea
The earlier Aesop Rock and Blockhead collaborations were when both were developing as younger artists. Their work together they had created and developed their own signature style. Over time this signature style got more fine-tuned and perfected. Their early work together was beautiful but flawed. Adolescent and without confidence both artists were trying to give as much as possible to listeners and pack each song densely. Garbology is much more confident than Labor Days and Float. The beats often play out slowly and allow themselves to develop more over time. The verses are well aimed and constructed. Often telling a story or theme rather than trying to make a verse more complex for the sake of complexity.
I found something in the woods I wanna show you
It just might change how you float around the O2
You was like, "Okay, bet," drove twenty minutes
Looked for thirty seconds, said, "Can I get a witness?"
Went home different
Garbology is a fine-tuning of their earlier work. The two are a fitting match, largely because their styles were developed with the other. But it is still very much similar work in terms of tone. Blockhead presents beats that are sometimes floating like smoke, other times these beats are drowning the listener, and sometimes you get both. The drums are grimy and the samples sound like they were taken from cassette tapes; this is Blockhead.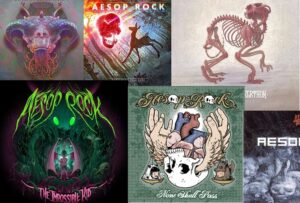 Aesop Rock with his lyrics is able to illustrate a clear image of a person who has chosen to be outcast by society. He loves being alone, he knows he's odd and not accepted. This realization is celebrated. In contrast, Aesop Rock's previous album was Spirit World Field Guide, and oddly, this album was about navigating and thriving in the current society; functioning within it, and recognizing its beauty. Garbology is about rejecting this society as a self-appointed outcast.
I woke up on fire and speaking a dead language backwards
Several octaves deeper than his average
The how is not important, it's the translation that matters
It says, "Beware the flesh in which archaic evils gathers", goddamn
Every album with Aesop Rock we always get to say the same line, "This is some of his best lyrics." And Garbology is no exception. He weaves clear ideas and pictures with his words. Rather than just complex knots in his verses he instead focuses on telling a narrative. And this album has tons of memorable lyrics that stand out.
Been hanging with my demons
Future hanging in the balance
The album is not perfect and has notable flaws. A consistency that Aesop Rock fans echo is that he has bad hooks. This might be more meme than truth though. He has had great hooks on some previous tracks such as Defender, Blood Sandwich, Rings, and others. In fact, some of Aesop Rock's best hooks have been with Blockhead, such as Daylight and None Shall Pass. However, in Garbology, the hooks leave a lot to be desired. The hooks feel not finished. They could have used a second listen, touch more mastering, and maybe more layers. Blockhead joked on Twitter that they made this album overnight. Given the half-cooked hooks, this is believable.
Also, this is a familiar album in tone, to some previous work, so much so that it hardly feels fresh at times. This is a fine-tuning of earlier work but without much advancing. It presents very little that feels new for dedicated listeners. This album could be an extension of Labor Days. Blockhead does not take any risks on his beats. But, many fans adore this sound and will find peace in the familiarity.
It's hard not to compare this to albums produced by Aesop Rock soloing and producing his own drums. On production, Aesop Rock often tries daring and bombastic beats. Sometimes rushing and loud, other times thoughtful and reflective. He is able to serve us new sounds and take risks. Blockhead gave us familiar sounds but taking risks here would have been celebrated by fans. 
I was staring off into the water
Looking for some undiscovered colors
Like a blue that really wasn't, but it wasn't any others
Abandoned Malls gives us a great beat and thoughtful lyrics, a high point of this great album. This song gives us struggling with one's own self and society. Aesop Rock is hoping to stare into the abyss, the abyss is staring back, and it seems others are following him there. The Sea, That is Not a Wizard, Fizz, More Cycles, All the Smartest People, Difficult, Oh Fudge and Legerdemain are all tracks that are must listens.
Sometimes we're running from society are trying to outcast ourselves. Sometimes we're lost in our own spirit and try to escape ourselves. Sometimes we're floating over beats and sometimes we're drowning. Aesop Rock and Blockhead are spiraling in the abyss and thriving in the chaos on Garbology.
8/10
Aesop Rock x Blockhead – Garbology (Full Album)
More From LWOS Life
Make sure to stay tuned to LWOS Life for more on this and other stories from around the world of entertainment, culture and more, as they develop. You can always count on LWOS Life to be on top of the major news in the world of entertainment; whilst also providing you with editorials on everything from beer to movie reviews.