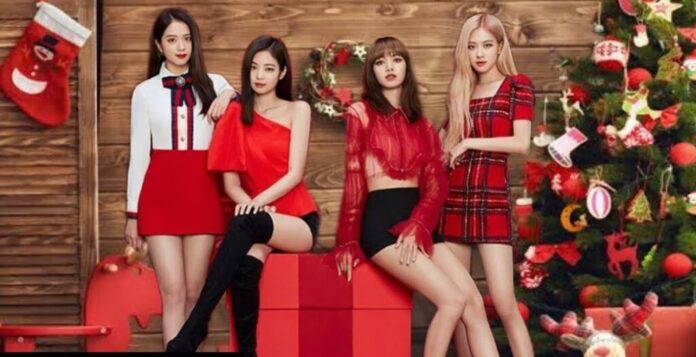 Seeking K Pop Christmas Songs? "It's the most wonderful time of the year", as they say. Christmas Day is almost upon us. Decorations and lights have come up and, for some parts of the world, snow is sprinkling down. Of course, if you're a massive K-pop fan, you would want your favorite idols' songs to be the soundtrack of your Winter season. And, we are here to cover you on that front.
There are a lot of Christmas-centric K-pop songs out there. So, we'll list a few of these genuinely great songs for your listening pleasure. Some of these songs are downright created or remixed specifically to spread some holidays cheers. And, some to comfort you in the coldest, whether it be metaphorical or literal, time of the year. With that being said, I hope you find something you'd like and you'll end up blasting it come Christmas morning. Or maybe you already listened to a couple of these songs and needed to be reminded of how good they really are. Without further ado, let's get to the songs that'll make the 25th a Very Merry K-pop Christmas!
K Pop Christmas Songs
TWICE
"Doughnut", "Merry & Happy", "Wonderful Day" ", "Santa Tell Me (Ariana Grande) Cover by NAYEON"
The nation's girl group TWICE has no shortage of tracks that really bring out the Christmas vibe. Merry & Happy and Wonderful Day are both such wonderful listens on a cold Christmas morning to warm up your soul and make you feel all cozy and fuzzy inside. Merry & Happy talks about the Christmas blues that creep in every Wintertime and how the people that surround you, whether it's family, friends, or a significant other, really make this holiday worth enjoying. Wonderful Day, on the other hand, is a genuinely heart-warming track. This recently released Japanese single incites the feeling of hope and encourages people to spread love as everyone isn't so lucky to have the comfortable life other people have. Hoping and praying their wishes to become reality.
If you're on the other side of the spectrum and feel a little gloomy, you can tune into Doughnut or the rendition of TWICE's center and lead vocalist Nayeon of the Ariana Grande modern Christmas staple Santa Tell Me. This goes without saying but Nayeon is an amazing singer. Her angelic voice alone makes this a worthwhile listen. The expression in her voice is really a joy to listen to and she adds her own special brand of charm and makes this cover her own. Another Japanese release from TWICE in 2021, Doughnut is more on the sad side of things. The music video is set against the backdrop of a cold Winter night as TWICE's members talk about the feeling of emptiness and longing for somebody. Comparing the void, that's temporarily left by a significant someone, to a Doughnut missing its center.
BLACKPINK
"Last Christmas / Rudolph The Red-Nosed Reindeer"
International K-pop conquerors BLACKPINK covers a Wham! classic as well as a beloved Christmas anthem. The girls from BLACKPINK absolutely stunned and delighted fans as they pulled these Christmas songs out of their repertoire back at their 2018 Arena Tour Final at the Kyocera Dome in Osaka, Japan.
Rosé, Jennie, Jisoo, and Lisa were all absolutely enchanting singing the heartbreaking and Christmas-themed Last Christmas. With Jennie & Jisoo, affectionately known as JenSoo, anchoring the verses with Jennie's encapsulating voice and Jisoo's signature pitch, one will be fully entrenched quickly and find themselves wanting more. And, the "Maknaes" of BLACKPINK does not disappoint in keeping the momentum going. As the very underrated voice of Lisa and the cherubic voice of Rosé complete this neat little gift for BLINKS and seal it with a nice little bow.
As for their cover of Rudolph The Red-Nosed Reindeer, Japanese fans of the girl group were in for a treat. On that fateful day in Osaka, BLACKPINK would delight the Japanese audience with a Japanese rendition of the Christmas classic. Even if you do not speak the language, it's still an amazing track to hear that will make you feel all tingly inside and get you ready for when the clock strikes midnight and it's officially Christmas Day.
BTS
"Dynamite (Holiday Remix), Butter (Holiday Remix)"
Record-breaking, trailblazing, hit-making, ground-breaking, earth-shattering. Those are just a few adjectives that are meant to describe this very influential and popular South Korean boy band. And, yet, those words don't even begin to describe their dominance in the landscape of music. They need no introduction and one just has to say three letters; BTS.
The BangTan Boys never fail to satisfy their ARMY as they even produced "Holiday Remixes" of their two hit songs Butter and Dynamite specifically for the Holiday season. Two amazing songs from an amazingly talented group with the added bonus of putting a lot of Christmas flare into these two Grammy-nominated megahits. Let Jin, Suga, J-Hope, RM, Jimin, V, and, Jungkook play a huge part in that inevitable Christmas morning smile of yours. If you haven't listened to the Holiday renditions of these tracks, do yourself a favor. Put on your headphones and crank up the volume. You won't regret it.
Stray Kids
"Christmas EveL"
Not everyone's Christmas season can be a perfect one and Stray Kids realizes that with this upbeat Christmas track with a lot of animosities directed towards the Holiday season. A lot of pressure often manages to come bubbling up the surface. Whether it's buying gifts, decorating the house, or, just simply dealing with the, somewhat, lonely nature of the Christmas season. Even though its hip-hop-inspired beat and angst are front and center, analyzing the lyrics of the song towards the end makes it a bit hopeful. Despite the dark tone.
"Today is a special day, no one can steal it
Shadows are taking over me
Let me sing a Christmas song"
Despite everything, Stray Kids' Christmas EveL climaxes with a message of not letting anything or anyone steal away your Christmas spirit. And, hey, it is quite a bop and I implore you to amp it up when the eggnog starts flowing.
Jeon Somi
"Anymore"
Okay, I know what you're thinking, "This is not exactly a Christmas song". However, people just want to wallow underneath their sheets and feel as cold as snow on Christmas day. Slightly sad but it's a reality and we all need a good cry sometimes to relieve ourselves of such things. Jeon Somi's unique and sweet voice will have you all up in your feelings and ultimately help you to remain encouraged.
Anymore is about lost love and still being hopeful that those feelings are still there deep down. It is a hauntingly beautiful song with an amazing melody. I encourage you to listen to the "Live Band Version" on the "it's Live" channel on Youtube. Which was just recently released on the 22nd of December in her last live performance of 2021, as you will appreciate this song even more in huge part because of Somi's excellent vocal prowess. Much like Last Christmas, the track digs up old wounds and evokes a sense of sadness that the holidays bring. If you want and need a good cry on Christmas Day, this song has you covered, we won't tell. We've all been there, done that.
ITZY
"Not Shy"
MIDZY rejoice! If our favorite girls, Yeji, Chaeryeong, Yuna, Lia, and Ryujin of ITZY can host a Christmas Party in 2020, with Not Shy blasting in the background as their soundtrack, then so can you! Again, I'm stretching the rules a bit here on what qualifies as a "Christmas song".
However, it's just too good of a song not to include in a Christmas Party playlist. It's upbeat, strong, and, has a beautiful message of letting your true colors show around the ones you love. And, isn't that what the Holiday season is all about? Being your true self and expressing happiness around the people who matter the most? Whether it's Christmas Eve or Christmas morning, you can count on this track to start the party!
More From LWOS Life – K Pop Christmas Songs

Make sure to stay tuned to LWOS Life for more on this and other stories from around the world of entertainment, culture and more, as they develop. You can always count on LWOS Life to be on top of the major news in the world of entertainment; whilst also providing you with editorials on everything from beer to movie reviews.