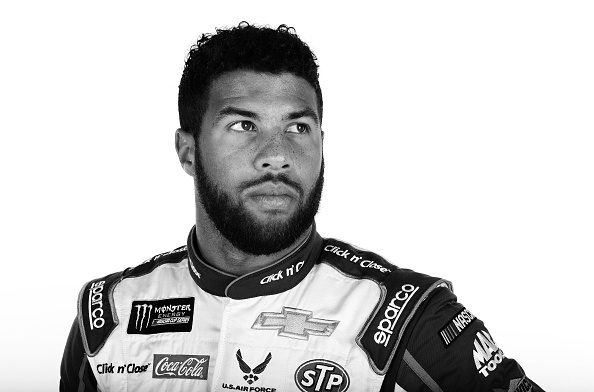 Race: Bubba Wallace isn't just a suspense-filled, highly entertaining docuseries on an up-and-coming NASCAR racing driver. Race introduces us to an inspirational young man intent on reaching the top of racing and being an activist on racial justice.
Tackling a Serious Issue
NASCAR has a history synonymous with oppression – and is a sport heavily aimed towards white people. TV and live audiences have dwindled over the years. The sport has lacked a personality to capture the attention of audiences. Step forward the only black driver in NASCAR, Bubba Wallace.
The series is thought-provoking, engaging and full of adrenaline-filled racing. The series starts with a timeline back-and-forth which effectively shows the journey of Bubba Wallace and his successful racing career growing up.
Bubba admits he doesn't watch the news and comes across as a young man focusing on his family and racing. The life of Bubba Wallace changed in 2020 when he wore a Black Lives Matter t-shirt. Wearing this t-shirt was the first step for him in changing NASCAR racing. Bubba had never made a stand against anything before.
All this changed when COVID-19 struck and bought a premature end to the 2020 NASCAR season. The series is jam-packed with interviews with Bubba's family, friends and racing peers discussing him and his influence on NASCAR and the Black Lives Matter movement. 
It's clear during this thought-provoking series that the opinion among NASCAR fans on Wallace is divided. Bubba's decision to speak out on injustice towards black people has undoubtedly inspired a younger generation of black people to become involved in NASCAR – with two students from the driver diversity program at NASCAR giving emotional interviews about the influence Bubba Wallace has had on their careers and lives.
Activism
During this series, he got NASCAR to ban the confederate flag, which represents a divided U.S.A during the civil war when 11 states broke away from other states to defend the practice of slavery. The importance of Bubba convincing NASCAR to ban the confederate flag – cannot be overlooked. In this series, we see how the deaths of George Floyd and Eric Garner understandably fueled Wallace to speak out.
Many series around sportspeople glorify the wealth side of the sport and contain celebrities talking about only their success. Race: Bubba Wallace is refreshingly different – it focuses on a unique individual who has recognized he holds a position where he could influence change and give hope to people.
Director Erik Parker does a great job weaving together the time jumps, informative interviews, and adrenaline-filled racing – This makes for an action-packed and highly engaging series.
Final Thoughts
Before this series, my knowledge of NASCAR was next to none, and I had never heard of Darrell Wallace JR. During this series, it was fascinating to learn about the history of NASCAR. It was eye-opening to discover only four black drivers have been full-time drivers in the history of NASCAR.
Wallace comes across as humble throughout the series. Bubba goes from a racing driver to a racing driving activist. When you race for the 23 racing team – you have the pressure of representing co-owners Michael Jordan and NASCAR legend Denny Hamlin. 
Bubba also has an extraordinary added pressure – of representing a whole race by himself. He does show at points that he is under immense pressure. Despite this pressure, Bubba never stops showing up for his team and never shirks from speaking his mind. He handles every situation throughout this series with class and poise.
For all the latest Motorsport news, take a look at the Motorsport section on our website.
If you're wondering what to watch on Netflix next, check out our five of the best shows to binge on Netflix.