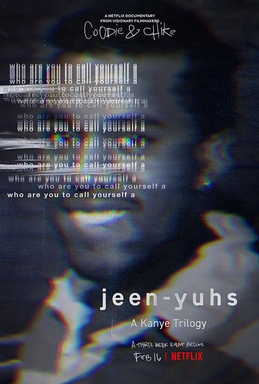 Jeen-Yuhs – act III – Awakening is the final part of the Kanye West trilogy docuseries. Act III explores the ramifications of Kanye West and his colossal success.
Act I looked at Kanye before the record deal – it explored his hunger to succeed and his quest for peer approval. Act II continued looking at Kanye before his Roc-A-Fella record deal, including a riveting look at his recovery from his infamous car crash. We also saw him humbly celebrate his record deal and how he continued to work as hard as possible to obtain success.
Act III is a different Kanye West – as his fame increases, he soon benches directors Coodie and Chike, who so brilliantly captured Kanye's journey up until the release of The College Dropout album.
Following the candid look at Kanye's life and the effective job Coodie and Chike have done in showing us some engaging behind-the-scenes footage – act III fails to build on the promise of the first two episodes. It feels somewhat of a distant look at West's continued superstardom, and it fails to look at his changing behavior throughout the years.
At the beginning of this docuseries, you often could see how highly Kanye thought of Coodie – and how grateful he was for Coodie's continued support. As we reach act III – we see how Kanye has become the brash individual we all recognize today. Kanye clearly struggles a lot with his increased fame – this has become more obvious as years have passed. 
During act III – it is sad to see Kanye distance himself from the loyal Coodie Simmons. During the narration of this series, we learn that Kanye would often distance himself from Coodie as though he no longer needed him once he reached a certain level of fame.
Coodie mentions during this final episode – he would only see Kanye when his mum Donda would request – for Coodie and his camera skills. Despite the clear breakdown in their friendship Coodie doesn't try to attack him or paint him as a monster. Coodie thoughtfully explains that Kanye's mindset at this time was fragile, and he was – fed up with having so many cameras on him.
Coodie does a phenomenal job during this series, capturing some groundbreaking moments, such as Kanye rapping for Pharrell Williams and signing his first record deal. Coodie hasn't been around for much of the 2nd half of Kanye's career. 
Due to Coodie's absence, we miss vital moments in Kanye's career, such as the Taylor Swift incident and his tumultuous marriage to Kim K. I felt sad during act III because West never reciprocated – the love Simmons felt for him. Even when the pair seemingly reconcile, it feels different, and it's clear Coodie feels this uneasiness.
The death of his mum Donda has understandably affected him and still does to this day. He has had a plethora of recent troubles, but there is no doubting he still possesses greatness. Despite act III missing out on his troubled relationships and public meltdowns, Coodie and Chike showed us a side to Kanye that many had never seen before. Their unwillingness to talk about Kanye's mental health is both endearing and frustrating. 
Watching the first two episodes, I felt invested in this series. Act III would have been fascinating to see Kanye's reaction to the issues he's had later in his career. In the end, due to the missing moments in this final episode, I found my initial investment in this trilogy waining. Despite my disappointment in this finale, kudos has to go to Coodie, Chike, and Kanye – for bringing us many historic moments in Kanye's life and career.
Check out our review of act I, and act II in this highly engaging docuseries.
Featured Imaged Credit from Netflix