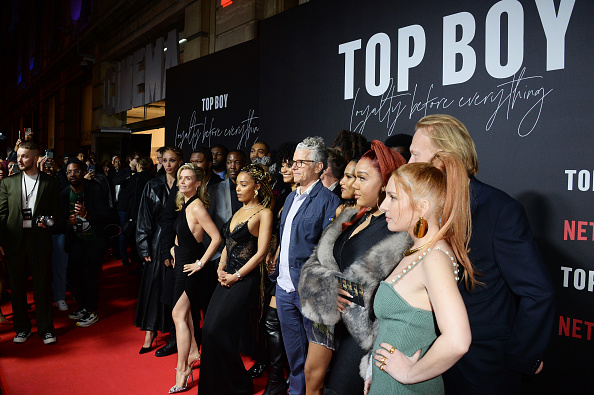 Top Boy is unrivalled. It continues to go from strength to strength – and this latest season brings us engaging characters, shocking deaths, and the opportunity for the enigmatic Ashley Walters and Kane Robinson to take center stage once more.
Recap:
Season 4 continues several months after the ending of season 3 – and everything on Summerhouse appears calm. Business is booming for Dushane Hill. He is happily in love with Shelley, and despite the release of Jamie from prison – Dushane is seemingly in control of that situation.
Despite Hill believing he is in control of Jamie – it becomes clear that Jamie has other plans.
Despite business booming, life in Top Boy always seems on the verge of tumbling down – almost literally with the development of Summerhouse forcing long term residents, including Dushane's Mum, to face eviction for a redevelopment funded by her son in an attempt to launder his millions successfully.
Once Jamie is released from prison, it becomes apparent almost immediately he has no plans in being best friends with Dushane. Jamies resentment is simmering at best – as he struggles to reconnect with his younger brothers Aaron and Stefan. Jamie finds it difficult juggling his home responsibilities with wanting to be Top Boy and keeping Dushane happy. In Spain, we see him try to negotiate a deal for himself to oust Dushane. Jamie has his plans thwarted when Sully appears and takes over negotiations with the local crook policeman.
Review:
The writing in Top Boy has continued to level up – with some memorable moments and plenty of action, especially in the early episodes in Spain and Morocco.
The action abroad centers around Dushane and his attempts to make as much money as possible. Then he can live happily ever after with his girlfriend Shelley. The latest season shows that Dushane wants to go legit and leave behind his current life. The first sign of his exit plan appears when he moves into his beautiful new apartment.
Dushane is at his unforgiving best when he tries to reason with his Mum regarding the Summerhouse redevelopment plans when he says to her, "Summerhouse is a shithole. I'm doing everyone a favor."
Sully is back – but struggling with the guilt of shooting former friend Dris Wright for betraying him to his cousin Jermaine. He is living out of sight in a canal boat. Sully has seemingly left his old life behind but is visited regularly by Jaq, who brings him money from Dushane every week. Despite him ultimately returning to his old life after Dushane saves his life – we see flashes of the brutal old Sully – but we also see his softer side when he finally gets to spend time with his daughter Tash.
[wpdiscuz-feedback id="91ggukq8uk" question="Let us know who your favorite character is from the new season?" opened="0″]Jaq arguably steals the show in this new season[/wpdiscuz-feedback]. She acts as the chief enforcer for Dushane. She is a fascinating character who is fearlessly loyal to all those near and dear to her. We also see Jaq struggling to juggle her life with her new love interest Becks. She and Becks are victims of a homophobic attack by a gang which Jaq avenges brutally soon after.
Jaq has plenty to deal with in this new season. She is fiercely loyal to Dushane. Will she be able to juggle her road life with her relationship with Becks? Can she save her exiled sister Lauryn from the clutches of her soon to be baby daddy Curtis – who controls every aspect of her life.
During this season, we see Stefan led astray by the mischievous Tia. These two become somewhat of a sweet double act, with both becoming a form of escapism for each other from their troubled home lives. Early on in season 4, we also quickly learn the fate of young Ats.
Verdict:
This season of Top Boy is nothing short of brilliant. Its believable, presents us with engaging characters and storylines, and keeps the audience guessing what comes next?
Despite being Top Boy – it is never straightforward for Dushane, and this season is no different. He suffers from his health, he suffers business setbacks, and he suffers some heartbreaking losses. Despite all these issues, we are in Dushane Hills' world – and he always seems to bounce back. The reviving of the show by Canadian rapper Drake has proven a wise move. The show balances realism with much-needed escapism. There is no other show quite like Top Boy.
Check out our review of the latest episode from the final season of Peaky Blinders.