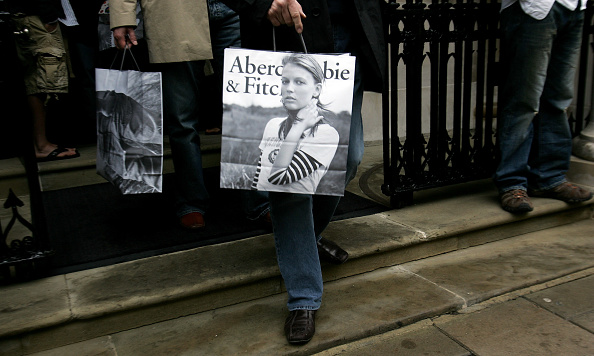 When late 90s boy band LFO sang, "I like girls that wear Abercrombie and Fitch," it was an immediately graspable shorthand for their youthful target audience. At the dawn of the millennium, social media was nascent, and youth culture was broadcast through pop music shown on MTV, glossy trade magazines like Seventeen, and what was for sale in specialty shops in the mall.
Amongst shopping mall fashion depots aimed at young adults, Abercrombie and Fitch reigned supreme in the Millennial teen imagination in the early 2000s as the retailer of what CEO Mike Jeffries often called the "All American Kid."
Netflix's recent documentary White Hot: The Rise and Fall of Abercrombie & Fitch unflinchingly dive into the culture of exclusionism that Jeffries and the top brass at Abercrombie created and perfected, to hone and project a divisive vision of what the "All American kid" looks like.
The A&F Boom
Founded in the late 19th century, A&F's first incarnation was as a sporting goods retailer. High-profile consumers were U.S. president Theodore Roosevelt and author Ernest Hemingway, both known for their love of the outdoors.
Financial woes and declining sales battered the brand, and it was sold to retail clothing businessman Leslie Wexner, who founded mall staple The Limited and turned Victoria's Secret around when they, too, were flagging. Wexner brought on board Mike Jeffries as CEO, who conceived the vision of the "new Abercrombie & Fitch".
Jeffries spearheaded the brand's new focus, away from sporting goods and apparel and towards sporty, preppy fashion aimed at young adults. The A&F that was coveted by teens eager to fit in, and parodied by comedies like MadTV emerged throughout the 90s and early 2000s: stores with dim, club-like lighting blaring trendy music and reeking of the store's house fragrance, ad campaigns featuring attractive, nude male models captured by famed photographer Bruce Weber, and sales reps noted for their pronounced, conventional good looks. 
Abercrombie & Fitch Comes Apart at the Seams
However, the keys to A&F's success, as White Hot documents, also contained the seeds of their downfall. Weber, whose photography was such a key part of the brand's identity, faced accusations of misconduct towards models he'd photographed for the brand, amongst others. 
The brand itself faced public outcry about its line of screen tees which often featured racially charged one-liners. A series of lawsuits accused A&F of mistreating BIPOC employees and those who did not meet the standards of what Jeffries saw as beautiful: managers were encouraged to hire and prioritize their schedule, and sales associates who more closely resembled the idealized images in A&F's ad campaigns.
Although A&F internally implemented diversity initiatives, little changed about the company's culture, image, and employment practices in reality. Amidst the brand's woes, Jeffries doubled down and famously stated,
"…[W]e go after the cool kids…Are we exclusionary? Absolutely."
Jeffries's vision excluded people of color, and people of certain body types, from both A&F's consumer base and employment pool, and after several years of complaints these tactics alienated shoppers. The brand alienated shoppers, who turned to cheaper mall options like H&M. 
Rebranding and Rebirth
Jeffries stepped down as CEO in 2014. Current CEO Fran Horowitz came onboard in 2017, and during her tenure stocks have risen, and the brand has made a comeback by appealing to Generation Z's sensibilities of sustainability, inclusion, and diversity. Gone are frolicking nude models meant to create what Jeffries called a "sexy and emotional experience," which are replaced by diverse groups shown in more wholesome scenarios. 
Conclusion
White Hot charts not only the inner workings of one of the early 2000s' most indelible fashion brands, but toxic undercurrents of the era as a whole. Social media was not the driving force of cultural trends that it is now.
Rather than influencers, youth were influenced by the pop culture they consumed and the Svengalis behind these brands. Jeffries sold an idealized and elitist idea of what "the All American kid" should look like back to adolescents, further marginalizing those who didn't fit an exclusionary ideal.
Under Horowitz, A&F has survived by changing with the times, mirroring the ideals of a generation who use social media to tell retailers who they are, and what they are willing to buy, not the other way around. 
Stars Given: White Hot is five stars viewing for both Millennials who will cringe at the nostalgia and Gen Zers who will be aghast that their predecessors ever endured such elitism and discrimination while shopping and working at the mall. It's sure to be enlightening for all.