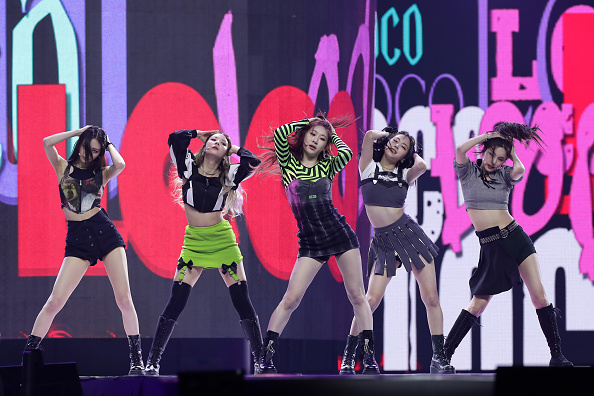 2022 has started extremely strong for K-pop. It's just been over three months and we're already being treated to amazing tunes to kick off the first quarter of the year. While we can't mention every song that's come out this year, we will be making a shortlist of the tracks that got my attention in 2022, thus far. Here's the list of our favorite K-pop songs released in the first quarter of 2022.
Favorite K-pop Songs of 2022 (January-March):
"TOMBOY" – (G)I-DLE
This track from the girls of Cube Entertainment is angst incarnate, blending K-pop and strong rock influences seamlessly. It oozes charisma and will get your energy flowing in no time at all. (G)I-DLE starts TOMBOY fairly calm with Minnie starting the first half of the verse with a cool and calm demeanor, followed by Yuqi starting to elevate the mood with her amazingly strong vocals.
However, once Soyeon enters the song, it starts to ramp up even more and the track gets cooking. Overall the song just possesses a well-thought-out flow and its strong impact will keep you listening from start to finish. It's better to experience it for yourself than for us to tell you all its strong points. Of course, we would be remiss if we did not mention the killer line that Minnie blurts out just before the chorus hits:
"Yeah, I'm f*cking tomboy."
PS: Check out the CD version of TOMBOY, thank us later.
"HONEY" – Solar
The leader of legendary K-pop icons MAMAMOO absolutely showed out with her new hit song HONEY. Off her solo record "容: Face," Solar performed amazingly. Showcasing her silky smooth voice in this EDM-heavy track while exhibiting superior rapping skills.
If you can't get enough of the talented K-pop idol, do yourself a favor and take a listen, or ten, to this captivating track.
"O.O" – NMIXX
Hear us out, initially, most were not fond of this debut outing from NMIXX. Some listeners were put off by its blending of different genres, resulting in the song feeling like it's experiencing an identity crisis. However, JYP Entertainment's newest girl group is, slowly but surely, forming very strong and positive second impressions.
The problem with the track is it feels like two individual songs mashed up together. But, each "part" of O.O is so well done that you can't help but click that replay button. Jinni and Jiwoo start this song extremely strong with their amazing rapping skills. Lily and Haewon, on the other hand, further pull listeners in with their enchanting vocals.
Overall, once you see their live stages and vocal performances, the girls from NMIXX themselves make this track worth coming back to.
"Voltage" – ITZY
Another JYPE darling joins and finishes off this shortlist. ITZY ended 2021 with a bang with their first-ever full-length album Crazy In Love. If you think Yeji, Lia, Ryujin, Chaeryeong, and Yuna couldn't get any better, then you're sadly mistaken. In April of this year, ITZY released their first-ever Japanese single titled Voltage.
From the music video to the "us against the world" girl crush vibe of the song, the name of the song befits it as it electrifies you from the moment Ryujin hits her initial barres in the opening verse.
Additionally, each one of ITZY's members showcase the strong variety in their game, as everyone in the group had the opportunity to sing and rap. Not many groups can have all their members be aces. Well, if you're in ITZY, apparently you can.
It's powerful, it's stunning, it's ITZY.
[wpdiscuz-feedback id="y58hrz3haa" question="Favorite K-pop Track of 2022 so far?" opened="0″][/wpdiscuz-feedback]What's your favorite K-pop song of 2022 so far? Let us know!