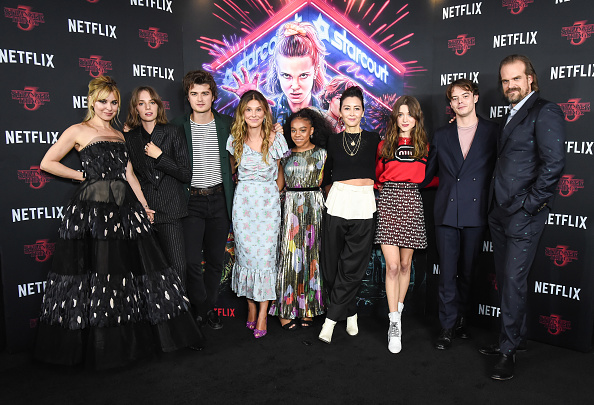 Stranger Things season four, volume two continues the trend of volume one with longer episodes than usual. Part two of this phenomenal offering from the Duffer Brothers consists of two episodes, with the running total for both episodes reaching almost four hours. 
Volume One
The whole gang is split up all over the world, from Russia to Hawkins. Eleven is trying to regenerate her old powers in preparation for a showdown with Vecna. During the first half of season four, the gang was split up, with Joyce and Murray in Russia trying to rescue Hopper from the Russian prison.
We also saw Eleven struggling to adapt to regular teenage life while trying to maintain a long-distance relationship with Mike. The friendship between Dustin and Steve is a brilliant double act of cuteness and comical entertainment., as is Eddie and Dustin's friendship.
The scene with Max trying to escape the clutches of Vecna with the background song playing by Kate Bush's "Running Up That Hill" has gone down in TV series history as one of the most memorable moments ever. 
The revelation of Vecna's true identity, history, and connection to Eleven was a masterstroke by the Duffer Brothers and a shocking moment that no one could have anticipated.
Read More: Check Out Our in-Depth Look Into Kate Bush and Her Song Running up That Hill
Volume Two
Volume two picks up from the reveal of Vecnas true identity, while Nancy is struggling to escape Vecnas clutches in the Upside Down as Hopper, Joyce, and their sidekick Murray are trying to escape the Demogorgon attack in the Russian prison.
Will, Mike, Jonathan, and Argyle are racing across the country to find Eleven and rescue her from Papa. As the gang becomes connected again with their collective goal of saving Hawkins from the destruction of Vecna. We are treated to a mesmerizing, adrenaline-filled emotional rollercoaster in these final 3 hours and 55 minutes of season four.
Papa and Piggyback are unbelievable visual spectacles, with Piggyback being a two-hour and half minutes rollercoaster filled with twists and turns and some gut-wrenching emotional moments. You cannot look away for a second as the action does not let up. The Duffer Brothers have honestly created one of the best seasons in TV history, where they give the audience various story arcs while giving us sequence after sequence of action.
Piggyback would not have been out of place in a cinema as a new big-budget sci-fi thriller. The writers do a brilliant job of weaving the emotional, softer moments like Max and Lucas writing notes to each other, with the impending destruction of Hawkins and all its residents.
Every cast member in Stranger Things helps make it the phenomenon it is. Noah Schapp deserves so much praise for his portrayal of how Will is struggling with his own identity but that does not stop him from being there for his friends. Gaten Matarazzo steals the show as Dustin again. The love he has for Eddie and all his friends really shines through, especially during Piggyback.
We were warned by people connected with the show to be worried about the future of Eleven and her friends, and the warning was apt. There is more than one moment during these two episodes that is capable of bringing a tear to your eye. 
The length of the final two episodes has garnered criticism from some quarters, but it all worked, as it allowed the show to fully explore all the different story arcs and back stories and weave them all into one utterly memorable finale.
Stranger Things has been immensely popular since its first season premiered in 2016. The latest season has catapulted this 80s nostalgic-filled show into a new stratosphere. The show gives us witty dialogue, wholesome cuteness, violent scenes, and a fantastic soundtrack.
What Comes Next?
Season five will be the final season of Stranger Things. The Duffer Brothers and this wonderful cast have set a higher standard than ever before. The show's creators have all the tools at their disposal to make sure the ending gives this show the title it deserves, of being the best sci-fi show ever made.
Featured Image Credit:
Embed from Getty Images