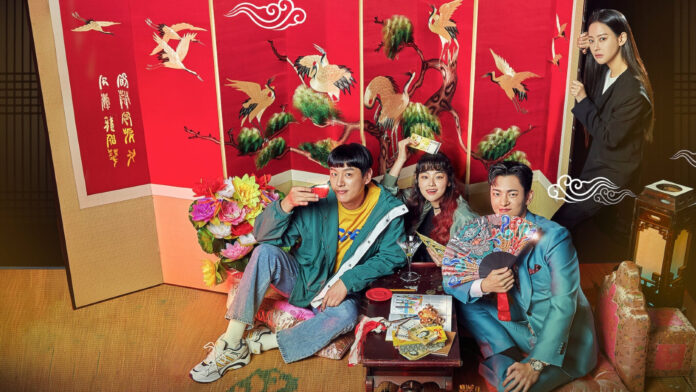 Thanks to streaming services such as Netflix, "K-dramas", television dramas produced in South Korea have gained rabid global popularity. The recent wedding and pregnancy announcement of Crash Landing on You stars Hyun Bin and Son Ye-Jin made news in international outlets, even the tried and true American celebrity news depot People magazine.
The dystopian drama Squid Game made Emmys history by becoming the first non-English language show to be nominated for an Emmy for best drama. K-dramas have become a global pastime. One of Netflix's most recent K-dramas, Cafe Minamdang, depicts an ancient Korean tradition, the practice of shamanism.
What is Cafe Minamdang About?
Cafe Minamdang is a fast-paced series with elements of action, comedy, mystery, and suspense. Its protagonist, Nam Han-joon, is a shaman whose base of operations is the titular cafe. The public is enamoured by the handsome, sharply-dressed Han-joon as they would be with a K-pop idol. Not only does he have a pop star's looks, but his mystical solutions to his client's problems and information about them from the "spirit world" are uncannily accurate.
Little does his flock know that Nam Han-joon isn't receiving intel from a higher plane, but from his partner in crime, a hacker. Together, they harvest information via deep web searches and hacks into surveillance to solve their clients' quandaries-seeking justice for those wronged and delivering those in the wrong to the authorities.
With his flashy designer attire and pop idol fan cult, Nam Han-joon is an atypical specimen – but shamanism is alive and well in modern South Korea.
The Roots of Korean Shamanism
Shamanism has remote roots in Korean history, stretching back to prehistory and sharing an origin with Arctic shamanism traditions like those of Siberia. Shamanism has many names in Korean culture, and is not a religion per se but exists under the umbrella of the indigenous religion Muism. It is an animistic belief system in which the belief in spirits informs nature and aspects of humanity, like auspicious days, illnesses and cures, and life decisions.
Shamans are individuals who claim to be able to communicate with the spirits of nature, the gods, or the dead, to find cures and solutions for those who call on them. 
The belief system had no hierarchy, but once held such influence that the kings of Korea's ancient kingdoms were attributed shamanistic powers and origins. The crown of the ancient Silla kingdom's king was a gold forged version of a shaman's leaf inspired crown.
Shamans were influential at royal courts, but gradually their importance diminished as the influence of Confucianism, from China, and Buddhism from India entered Korea. Still, shamanism continued, and Buddhist figures, often painted in monasteries by Buddhist monks, were painted beside Korean deities on silk murals used in shamanistic rituals. 
Cafe Minamdang – Shamanism In Modern Korea
In the modern era, shamanism faced pushback from South Korea's 20th century military dictatorship, led by former president Chun Doo-hwan. As South Korea has modernized rapidly in the 21st century, ancient shamans have found a place in the contemporary world. Modern South Koreans, who live in a society filled with the pressures of a rapidly growing economy, in large numbers seek the counsel and rituals of shamans to make important decisions such as an auspicious day to get married.
Many find personalized relief from these one-on-one encounters that they cannot find in the more general comforts of organized religion. While Nam Han-joon of Cafe Minamdang is an ultra-modern shaman, his real life counterparts sometimes still dress in clothes of the Joseon kingdom and use traditional ceremonial tools like drums, pipes, and bells. North Korea also still retains shamanistic beliefs and practices, but in strict, most dire secrecy since it is officially forbidden by its Communist government.
K-dramas like Crash Landing on You, Vincenzo, and most recently Cafe Minamdang can't resist poking fun at shamans, which are both a tradition and a facet of modern life. Crash Landing On You's comic relief North Korean shaman, for instance, hits her wealthy Communist Party official clients with a price increase if they want her to tell a favorable fortune.
Conclusion
Cafe Minamdang is the latest example of how shamanism is an established part of modern South Korean daily life and even pop culture. While both dictator Chun Doo-hwan's regime and other non-native religions posed a threat to the survival of traditional Korean spiritual beliefs, they survived into the 21st century. The services of shamans provide personalized succor and reassurance to modern South and North Koreans, using ancient rituals and traditions.
More From LWOS Life
Make sure to stay tuned to LWOS Life for more on this and other stories from around the world of entertainment, culture and more, as they develop. You can always count on LWOS Life to be on top of the major news in the world of entertainment; whilst also providing you with editorials on everything from beer to movie reviews.