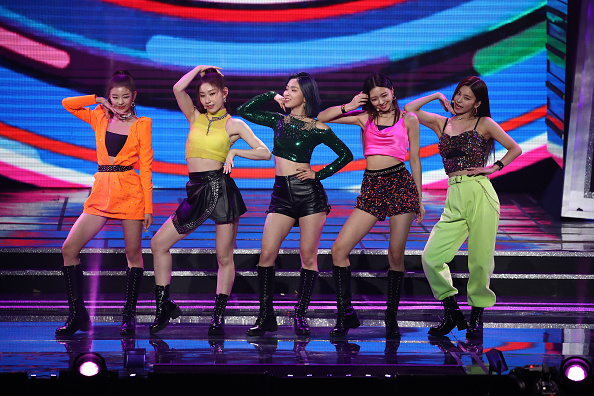 After ten long months of waiting, ITZY is finally back with their mini album CHECKMATE. The EP was released on July 15th,  containing 6 new songs and an English version of the carrier single "SNEAKERS."
Now that we've closely listened to the album for a few days, we wanted to give our insights on, quite possibly, the biggest release from the JYP Entertainment K-Pop conquerors to date. Without further ado, let's get right into it.
"SNEAKERS"
ITZY has always excelled at releasing songs with empowering messages, as evidenced by their debut single "DALLA DALLA" and megahit follow-up "WANNABE." SNEAKERS add another riveting chapter to this string of anthems. SNEAKERS is another unapologetic track about being yourself, and doing things "your way." It's being unafraid of who you are, regardless of others' initial perceptions.
On the music side of things, SNEAKERS  provides fans with a catchy chorus that will get anyone hyped up. However, the lead single features enough sentimental parts to cut through the fast-paced chorus and rap bars.
Fans were initially worried when the preview for SNEAKERS initially came out, due to the track deviating from the royal and regal themes of the teaser. However, as ITZY's lead rapper Ryujin stated on a V-LIVE stream ahead of the release of the EP, fans should trust the process and let the track come out first before jumping to any conclusions.
Fortunately, the track came out better than expected. SNEAKERS is a testament to ITZY's willingness to experiment and keep fans guessing on what musical direction they will take next. The lead single more than accomplishes what it set out to do, and is definitely a worthy track to start the album.
Notable B-Sides:
"DOMINO"
DOMINO stands out, due to showcasing the immense vocal prowess of each of the five members. While tracks like "TENNIS 0:0" and "Trust Me (MIDZY)" have highlighted the members' supreme voices, DOMINO upped the ante and is definitely one of the standout B-sides off of CHECKMATE.
"WHAT I WANT"
Another B-side off of the EP is "WHAT I WANT." The EDM-heavy track showcases another side of ITZY. Compared to other releases, this track is grittier sound-wise. Apart from the pre-chorus, the majority of WHAT I WANT will get anyone's blood pumping.
A Queen Move
We're giving the new EP, on a scale of 1 to 10, a 9. After the success of their first full-length album Crazy In Love, and the electrifying hit that is their debut Japanese single Voltage, it was hard to imagine how ITZY could top those outputs.
However, ITZY did just that with CHECKMATE. The latest outing from the JYP Entertainment girl group provided a lot of variety in terms of style and sound, and it keeps you entertained throughout its runtime. Not to mention, the great B-sides that make this album a full-fledged hit.
ITZY is at the height of its power, and we gave it a 9 because we are extremely confident they can top it once again. Until then MIDZY, enjoy CHECKMATE; we know we did!
What was your favorite track from ITZY's "CHECKMATE?" Sound off in the comments below!
Featured Image Credit:
Embed from Getty Images