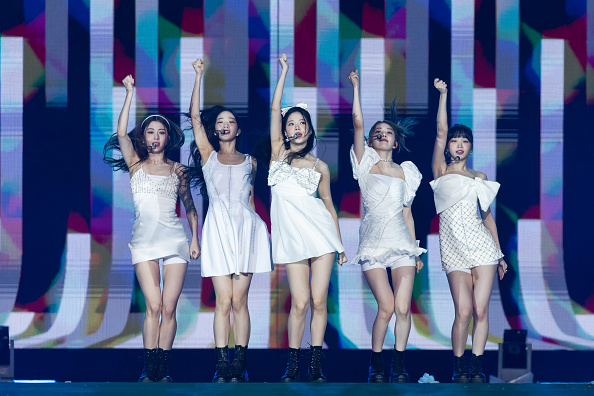 HYBE and Source Music's monster rookie girl group LE SSERAFIM make their first-ever comeback with their second mini-EP titled ANTIFRAGILE. After the tremendous success of their debut outing FEARLESS back in May of 2022, that bagged awards on Korean programs like Show Champion and Music Bank. Suffice it to say, FEARNOTs and K-Pop fans alike are very excited about the upcoming second mini-album.
Now that it has been released and we've had some time to take in everything ANTIFRAGILE has to offer, we would like to provide our honest review of LE SSERAFIM's sophomore output. We'll discuss our thoughts on the carrier single "ANTIFRAGILE," as well as touch on a bit of the accompanying music video.
Without further ado, let's get into it. Here's a LIFE K-Pop review of LE SSERAFIM's ANTIFRAGILE
"ANTIFRAGILE"
"ANTIFRAGILE" is an amazing follow-up to LE SSERAFIM's acclaimed debut single FEARLESS. While FEARLESS is more subdued and thrives in its subtlety, ANTIFRAGILE is all but subtle, choosing to go with a more "in-your-face approach". ANTIFRAGILE is a different, but extremely strong, beast. It's an EDM-heavy track that shows off each member's personality and individual talents.
The track saw the J-Line of Kazuha and Sakura showing off their strong rapping skills, while "maknae" Eunchae exuded confidence and generated an aura that rivals even the most polished K-Pop star in her extended time in the spotlight.
Of course, the two vocal powerhouses of the group Yunjin and Chaewon also did not disappoint, showing off their immense singing talents, with notable highlights including Chaewon hitting various high notes throughout the song.
Backed by a relentless beat from start to finish, LE SSERAFIM absolutely dominated and delighted in this outing. The sky is absolutely the limit for these five megastars and ANTIFRAGILE is another win in a long career that's sure to include a lot of them.
Music Video
If we were to base it off the teasers alone, ANTIFRAGILE already won in our book. However, the music video further upped the ante with its striking visuals. From the outfits to the iconography, LE SSERAFIM undoubtedly showed their strongest sides.
Compared to FEARLESS which boasted a lot of dark colors and is more uniform, the minds behind ANTIFRAGILE knew that they had to go with another approach and that they did. The outfits perfectly encapsulated each member's personal style, and truly let their individuality show in the music video.
LE SSERAFIM's newest concept is anything but fragile, and we are here for it.
Unbroken, Undaunted, and Undefeated
LE SSERAFIM's dominance as a group extends beyond their rookie status, and ANTIFRAGILE further solidifies that. The HYBE girl group's performance, skill, and aura resemble a group backed by years of experience. It goes without saying that the K-Pop newcomers can expect to receive a lot of love, not only from their fans but also from the people responsible for giving accolades come awards season.
We're giving LE SSERAFIM's first comeback a 9/10. The future looks strikingly bright for HYBE's monster rookies, and we cannot wait for what's in store in the years to come.
What did you think of LE SSERAFIM's first comeback single "ANTIFRAGILE?" Let us know what you think!
Featured Image Credit:
Embed from Getty Images