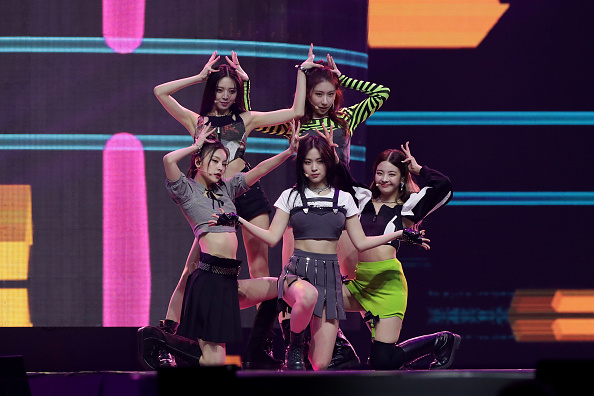 JYP Entertainment megastars ITZY is back once again with their first full English single titled "Boys Like You." MIDZYs and K-Pop fans alike have been extremely fortunate to see a lot of ITZY in 2022. The K-Pop girl group has been rather busy this year, releasing their debut Japanese single "Voltage," which was then followed up by the amazing "Blah Blah Blah."
However, ITZY's dominance over these past 10 months does not stop there. The K-Pop conquerors also release their revered fifth EP "CHECKMATE." ITZY once again graces us with their presence, releasing a Halloween-themed single that tackles knowing your self-worth and doing away with the people that do not deserve you.
We've spent more than enough time with the single. Now, it's time that LWOS.LIFE gives its honest review of Boys Like You by ITZY. With all that said, let's get right into it!
"Boys Like You"
ITZY can do no wrong. Boys Like You is a track that's angsty, and powerful, but somehow also refreshing. The girl group is known for its high-octane rhymes and dance moves. However, for Boys Like You, the group went in another direction and generously showcased their supreme vocals.
The track itself is the perfect mix of pop, rock, and a little electronic music due to its keyboard parts. Boys Like You is not the loudest, fastest, or flashiest. But, it showcases how well-rounded and strong ITZY's talents are.
Whether you're a fan of K-Pop modern classics such as "WANNABE" or more melancholic tracks like "TENNIS (O:O)," we assure you will love this if you're an ITZY and K-Pop fan, in general.
Thematically, Boys Like You is very powerful. It's about spotting red flags, not giving in to tricks, and knowing when someone doesn't deserve you because they don't even try. It's really thrilling to see ITZY perform this song because it really fits into their collection of anthems.
We just want to highlight a few noteworthy things such as Lia's adlibs and Chaeryeong's high notes. Despite being ITZY's main vocals, we feel that Lia doesn't get enough praise for her vocal prowess. She's truly an amazing vocalist that has a voice flexible enough to take on any style.
As for Chaeryeong, we all know her as the amazing main dancer of the group. In Boys Like You, she showed off her singing power and hit high notes that caught everybody off-guard in the best possible way. Overall, the group did amazing and frequent concert-goers should be truly thrilled with the prospect of this track being sung on ITZY's current world tour.
Girls Like Them
ITZY is a K-Pop powerhouse that continues to amaze fans with their extraordinary ability to do different concepts with each new release. While Boys Like You isn't a totally new concept, it's new enough in the context of ITZY. Again, ITZY is known for their power and unrivaled strange presence.
However, tracks like Boys Like You highlight that ITZY can just sit down, sing their hearts out, and rock the stage much like their other hits. We're giving Boys Like You an 8.5. Here's to more English singles, and new music, in general, from ITZY!
What did you think of ITZY's new first full English single "Boys Like You?" Let us know!
Featured Image Credit:
Embed from Getty Images