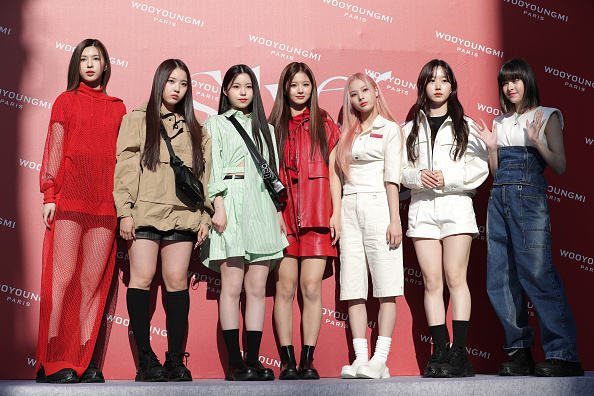 The phenomenal JYP Entertainment K-Pop rookie girl group NMIXX is back at it again with their first "INTERMIXXION" single titled "Funky Glitter Christmas." 2022 has been a rather busy year for NMIXX, to say the least. The monster rookies made their debut back in February of this year, releasing their debut single album "AD MARE."
NMIXX followed that up with "Kiss" a remake of DSP Entertainment girl group Rainbow's song. However, the year did not stop there for NMIXX, as they released their first comeback with the amazing song titled "DICE." You might be thinking, "why is LIFE reviewing a Christmas song?"
It's a well-known fact in the K-Pop industry that Christmas songs are customary releases from groups and soloists. That said, we felt like there's something more to dissect about this song, and what it could, and should mean for NMIXX releases moving forward. Now that we've covered our intentions in reviewing this song, let's get right into it.
Here's a (late) review of Funky Glitter Christmas by NMIXX!
Funky Glitter Christmas
We're going to start this review by stating the obvious; NMIXX is quite possibly the most vocally-gifted group of the 4th generation of girl groups. While that is certainly subjective, Funky Glitter Christmas gave that opinion more credence. Let's talk about Jinni, first and foremost. Jinni is a terrific rapper and dancer.
Unfortunately, her vocals are not given enough love. In Funky Glitter Christmas, Jinni proved why she's an "all-rounder" for NMIXX, starting off the song on such a good note (no pun intended). The same sentiments ring true for the group's "visual" Sullyoon. Much like Jinni, Sullyoon's vocals do not get enough attention, despite videos of her on social media or YouTube showcasing the power that her voice truly possesses.
Funky Glitter Christmas as a whole shows off the vocal prowess of all members and is a song reminiscent of their seniors TWICE's "Merry & Happy," albeit being a bit more upbeat and fitting more like a Christmas Party as opposed to Christmas morning.
If you haven't put this track on your Christmas playlist just yet, do yourself a favor and do it. We implore you to open Christmas day with this song.
What "Funky Glitter Christmas" Could (And Should) Mean for NMIXX?
We mentioned at the beginning that Funky Glitter Christmas has implications for NMIXX going forward. While "O.O" was a pretty solid outing, at least we think so, and DICE built upon that foundation and took it up a notch, the management team behind NMIXX, which is SQU4D, should really take notice of this song.
The "Mix Pop" genre for NMIXX has been a mixed bag. We want to explicitly state that it's by no means NMIXX's fault, they're only given the material and to the best of their abilities make it work. O.O and DICE worked because these seven girls are unbelievably confident and talented. However, JYPE and SQU4D should really consider taking the "melodic" route for NMIXX's next comeback.
As evidenced by Funky Glitter Christmas, NMIXX's vocals are their bread and butter. Unfortunately, the company is still pushing for an amalgamation of genres that, quite honestly, they haven't figured out how to perfect.
Don't get us wrong, NMIXX is talented enough to make the "Mix Pop" genre work. Moreover, they can get any genre to work. However, their talents in singing melody-driven tracks cannot be dismissed anymore. 2023 should be the year that NMIXX finally get their due diligence and receives a song befitting of their talents.
Conclusion
We will give no rating since this is a Christmas song. That said, it is amazing and we encourage you to give it a listen, or two, and ring in the holiday season with NMIXX. Here's to more NMIXX for a long time to come!
What did you think of Funky Glitter Christmas by NMIXX?
Featured Image Credit:
Embed from Getty Images