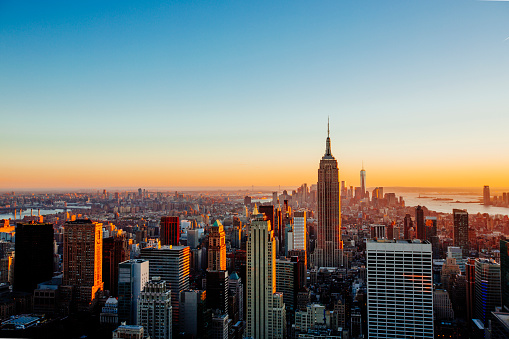 A Solo Trip to NYC — A Trip of a Lifetime
Why New York City?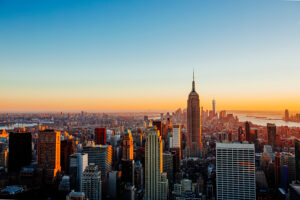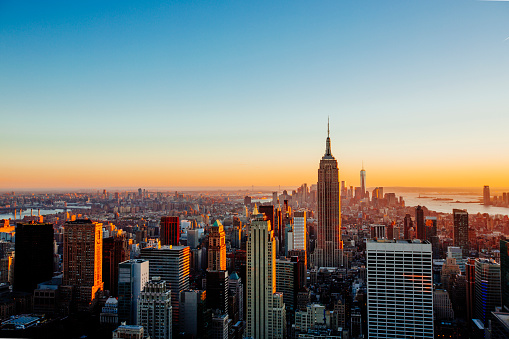 On December 10, 2017, I was due to travel to New York City with my Mum and Uncle. It was their first time traveling to NYC, and it would have been my third, but the first visit in five years.
I was excited at the prospect of seeing this beautiful city covered in Christmas lights. Unfortunately, I could not travel due to the unexpected discovery of a large benign brain tumor on December 3. I would subsequently need surgery to remove it due to its size and location.
Following the successful removal of the tumor, I once again began dreaming of returning to the "Big Apple." The recovery from the tumor was long and arduous and took lots of twists and turns.
Once well enough and had developed a love of writing, I dreamt of returning and writing about my experience. Cliche? Maybe so, but I really didn't care. COVID-19 arrived and delayed my dream by another 18 months, but I continued to imagine and romanticize what it would be like to return to my favorite place in the world.
Finally, at the end of September this year, the stars aligned, and I booked my return to the concrete jungle. I completed my ESTA visa and began to plan my trip. Amongst my excitement of visiting The Met, seeing Kevin Durant play in person, and seeing Samuel Jackson acting on Broadway, I felt I was putting any residual effects of my recovery to bed. 
Arriving in New York City (November 30)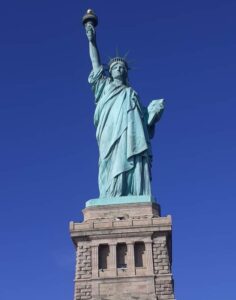 On my arrival, I quickly made my way through JFK arrivals and made haste through the crowd. After some initial confusion over where to go, I decided to get an Uber to my Airbnb in Brooklyn and arrived safely around 10 PM local time, unpacked, and visited a local 7/11 to pick up some snacks and essentials.
Day 1: December 1
I was determined to make every day memorable, but on my first day in New York City, I wanted to start this trip in style, so I visited the Summit One Vanderbilt building.
The all-glass interior made it a mesmerizing experience, being able to see the streets of New York far below where I stood while seeing all the memorable landmarks on what was a bitterly cold but beautifully clear day over the Manhattan skyline.
After exploring the breathtaking Vanderbilt, I made my way to Times Square, and when I walked around the corner and saw all the lights in the distance, it made all the hairs on my body stand up. 
Following a few photos on the memorable red steps, I thought this would be the ideal opportunity to fulfill an ambition to see a Broadway show. After visiting the box office, I saw Samuel L. Jackson, Danielle Brooks (Orange is the New Black) & John David Washington (Denzel Washington's son) appearing in a play called "The Piano Lesson" at the Barrymore Theatre.
The show is a revival of August Wilson's Pulitzer Prize-winning play. The play was captivating, with Danielle Brooks stealing the show with a brilliant portrayal of Berniece and how family ties can be full of painful and positive experiences.
Read More: Recommended Places to Visit in Lisbon
Day 2: December 2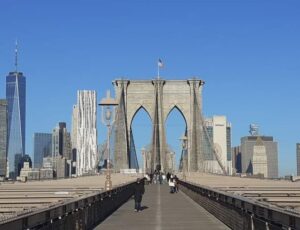 Despite spending 19 hours out exploring on day one, I was up and ready to continue my trip on day two. I decided to spend most of the day in Brooklyn due to having a ticket for the Brooklyn Nets vs. Toronto Raptors, where I was looking forward to seeing my favorite ever player, Kevin Durant.
Despite being extremely cold, it was a beautifully clear day, and I wanted to experience the walk over Brooklyn Bridge.
On my way to Brooklyn Bridge, I passed the Oculus building at the World Trade Center site. It is a truly beautiful piece of architecture. Brooklyn Bridge was very crowded, but it was a wonderful experience. The views from there are breathtaking, and there are some phenomenal photo opportunities. 
The iconic shot of Dumbo is something I have only seen on social media and in films. It was great to be there and have an opportunity to have my photo taken in such an iconic place. The atmosphere was brilliant, with every person looking happy to be there and enjoying the occasion. It was great to be among such positivity.
Brooklyn Museum was my next stop. They had some phenomenal art on display which impressed me. The museum showed me the great culture and artistry in Brooklyn. After grabbing some food, I made my way to the Barclays Center. After entering, I bought a Kevin Durant Nets T-Shirt and was ready for the game to start.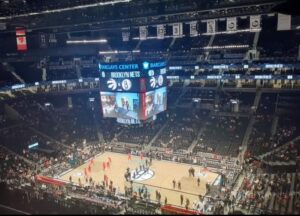 The atmosphere began to build, and I glimpsed Durant and Kyrie Irving warming up. The Nets went on to win 114-105. Irving stole the show with 27 points. Seeing Durant on the court was something I will never forget. As I journeyed back to the Airbnb, I was already thinking about day three and what memories I will be creating.
Read More: My Story of Having a Brain Tumour
Day 3: December 3
Waking up on day three, I could hear the heavy rain lashing outside my bedroom window. I got out of bed, showered, and left my Airbnb for the day. Despite the rain outside, I made my way to Macy's, and looking back, I can safely say I have never seen so many people inside one place. Macy's was very festive and was full of people enjoying the different offerings on each floor.
After leaving Macy's, I made my way to the Met museum. Despite not growing up around art, I wanted to experience the creativity of being in a place like The Met. It was a great experience, with some beautiful art on display, including works from Rembrandt, which was definitely the highlight. 
As the sun began to set, I traveled to Bryant Park for the Christmas market. I had a lovely apple cider and the biggest chocolate chip cookie, which was delicious. Bryant Park was extremely busy, but the atmosphere was jolly and festive, despite the rain.
While at Bryant Park, I began to feel tired, but I decided to make my way into Times Square for the Rise Museum, and it was worth the journey. As I walked around and learned more about the history of New York City, we were informed there would be a surprise at the end. 
The ending would involve us experiencing a new year Times Square ball drop from the 1950s. As the ball drop began, we experienced something memorable and captivating, which conveyed what a memorable city New York is. I won't spoil the ending, but Rise NYC was a brilliant experience and something I would highly recommend. 
As the day drew to a close and I traveled back to my accommodation, I felt so content that this trip was shaping up to be more memorable than I could ever have imagined.
Read More: 3 Essential Things You Don't Want to Forget When Travelling
Day 4: December 4
The following day was England vs. Senegal in the knockout stages of the World Cup, so I decided I wanted to get out early and go on the Staten Island ferry to see the Statue of Liberty and delve into the history of immigration on Ellis Island.
The first stop was Liberty Island, where you get some amazing views and photo opportunities while on the ferry. When we docked at Liberty Island, the cold hit me straight away. It was freezing. However, I was wrapped up well and headed to the side of the Island to get some great photos and videos of Manhattan. 
After the initial photos, I headed inside, where I learned about the making of the Statue of Liberty, where you can find out about the vast history of this wonderful monument.
Inside there is an informative video that delves further into the history behind the statue. Once outside, I went to the front to get some more photos, and here the energy was brilliant, with families and loved ones enjoying the experience together.
Following this, I visited Ellis Island, which was informative and really educated me on the history of immigration. Right up to the 1950s, immigrants went through Ellis Island to hopefully gain entry to New York City.
After the ferry docked back at Battery Park, I located a local bar, which was showing the England game, and I stayed there to watch the 3-0 victory for England. After a brief stop for a coffee, I made my way to Hudson Yards, which was breathtaking at night.
The vessel and the grounds below were decorated, which really accentuated how beautiful this whole area was. The adjacent shopping center is stunning and contains high-class shops alongside some beautiful places to eat and drink. As I took a stroll back through time square, I took it all in and felt a lot of gratitude for how fortunate I was to be in this stunning city.
Read More: Lessons You Learn When Travelling
Day 5: December 5
As my last full day arrived, I wanted to walk around the city and take everything in. Already I was thinking about my return. This city will forever have a special place in my heart. I wanted to take in as much as possible.
My first stop was an early visit to Brooklyn Bridge. I had more photo opportunities this time due to it being early in the morning, and there was time to pick up some fridge magnet souvenirs for some friends. It was, again, a beautifully clear but cold day, so it made for perfect photography conditions.
Following my visit to Brooklyn Bridge, I made my way to West Village, where I did some work in a beautiful little coffee shop, before leaving to see the outside of the Friends building to get the obligatory photo.
I then finished the day off by visiting the Rockefeller Plaza to see the Christmas tree, which shone beautifully, towering above the crowds below. I then made my way to Times Square and sat on the red steps, just taking in everything and realizing how happy I was to be back in New York.
Day 6: December 6 — Leaving New York City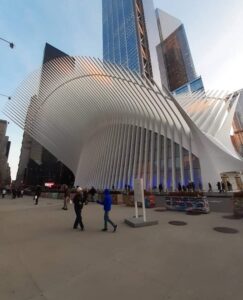 The day had arrived for me to catch my flight home. After packing and checking out of my Airbnb, I made my way to Dunkin' Donuts, as I had done every day, for a Caramel Swirl Latte and Bacon, Egg, and Cheese Bagel. Following my breakfast, I jumped on the L Train to New Lots AV.
Once exiting the station, the bus stop is directly outside, and you need to wait for the B15 bus to JFK, and it's about 30 minutes until you arrive at JFK.
On the B15 bus, you can use your MTA metro card. Once at the airport, you need to get on the Airtrain to your desired terminal. As boarding commenced, I smiled and took a moment to think about the last four years and how thankful I was to have finally made it back to New York City. It was everything I had imagined and more.
Highlights and Recommendations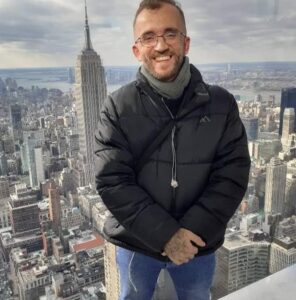 There were so many highlights during this trip, and I made many memories. Experiencing the magic of Broadway and seeing a show will be a memory I will always cherish.
Seeing an NBA game was also another highlight. The atmosphere was electric and very joyous. Also, seeing Kevin Durant play was an experience I will never forget. Another highlight was undoubtedly the Statue of Liberty. The history and architecture are breathtaking, and that whole morning is something I will never forget.
Featured Image Credit:
Embed from Getty Images