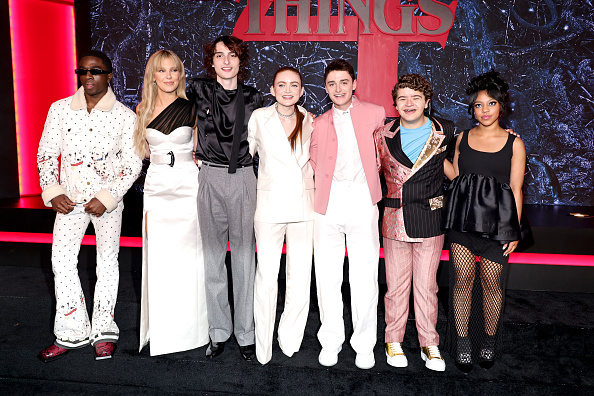 Netflix keeps us occupied in our spare time with various films and TV shows, with 247 million paid memberships in over 190 countries in different languages and genres. Since 2021, the streaming giant has revealed a weekly list of 40 titles that have achieved impressive viewing numbers across film and TV in English and non-English languages. Each series is considered a separate entity, with Netflix relying on the metric of accumulated hours viewed during the initial 28 days following a title's launch to gauge the popularity of a series. LWOS Life have decided to bring you the three most-viewed Netflix shows of all time.
Three Most-Viewed Netflix Shows of All Time (Hours Watched in First 28 Days)
Make friends. Make enemies. Make millions.

Get ready, players. Squid Game: The Challenge premieres November 22. pic.twitter.com/nQbSPwKFpv

— Netflix (@netflix) October 23, 2023
Most-Viewed Netflix Shows: Squid Game Season One
Released in 2021, Squid Games took the world by storm, with its originality and brutality captivating viewers all over the globe. The series revolved around showing a group of people who had failed at life and receive an invite to a game of survival. The participants are then taken to a place unknown to them to compete in a series of child-like games with a deadly twist. Whoever survives stands the chance to win USD 38 million.
Read More: Gotham Knights: Why It Should Get a Second Season
The show captivated audiences and has collected over 1.65 billion hours of viewership, with a mammoth 265,200,000 viewed hours in the first 28 days. The show has a fascinating plot, which tackles issues such as class divide while delivering heart-racing entertainment – which has seen the smash hit series renewed for season 2 while winning six out of 14 Emmy nominations.
Wednesday Season One
Wednesday is a dark coming-of-age comedy series that follows the life of Wednesday Adams as she moves to Nevermore Academy after being expelled from school after a prank goes horribly wrong. "Thing" shines as the chief support act throughout and helps Wednesday navigate her way through various adolescent adventures.
Read More: The Sopranos: 6 Actors Who Nailed Their Role
Directed by Tim Burton and starring Jenna Ortega, Hunter Doohan, Catherine Zeta-Jones, Percy Hynes White and Emma Myers – Wednesday is brilliantly entertaining throughout – capturing all the hideous adventures of the main character. 252,100,000 viewed hours in the first 28 days show just what a phenomenon this Tim Burton masterpiece has been, making it the second-highest most-watched English language show on Netflix.
Stranger Things Season 4
Stranger Things is a phenomenon created by the Duffer brothers, Matt and Russo. Every year, the storylines have taken the show to a new level. It is a star-studded cast consisting of Millie Bobby Brown, Noah Schnapp, Winona Ryder, David Harbour, Finn Wolfhard, Joseph Quinn and Jamie Campbell Bower. Season four was released in 2022 and collected 140,700,000 viewed hours in the first 28 days, making it the most popular instalment in this smash hit franchise.
Read More: Stranger Things Season 4 Volume 1 Review
Season four began eight months after the Battle of Starcourt – which almost destroyed Hawkins. The latest season began with gruesome teenage murders, with Eddie Munson the prime suspect. Eleven and her friends are separated – for the first time during the series. The part of the gang in Hawkins begins to investigate and quickly realise the killer is a monster (Vecna) from the Upside Down, which leads Eleven to go on a mission to Nevada to regain her powers and understand her past. It's a mind-boggling season of events that will keep you on the edge of your seat.
Check out our review of Stranger Things season 4, volume 2.
More From LWOS Life
Make sure to stay tuned to LWOS Life for more on this and other stories from around the world of entertainment, culture, and more, as they develop. You can always count on LWOS Life to be on top of the major news in the world of entertainment; whilst also providing you with editorials on everything from beer to movie reviews.