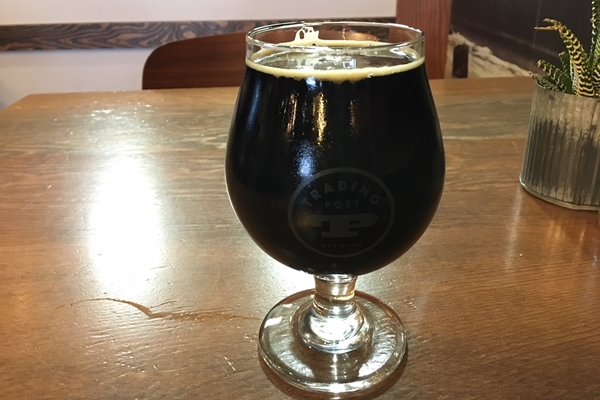 B.C. Beer Reviews is back again with another entry from Trading Post Brewing. The first time we took a look at their "Sessionable" Russian Imperial Stout, and we are staying with dark beer this time too. We are going to take a look at their Breakfast Stout.
B.C. Beer Reviews with Nic Hendrickson: Trading Post Brewing – Breakfast Stout
Trading Post Brewing has built themselves a reputation for quality beer. This is because they have B.C. Brewing legend Tony Dewald at the helm of their brewery. As this was written Tony could be seen performing his craft roughly 20 feet away.
Aside from that, let's take a look at his incarnation of a breakfast stout.
Colour
As you would expect, this beer is about as black as they come. The only thing about this beer that is not completely dark is the head, which has a nice tan hue to it. This is exactly what you want from this style of beer.
Nose/Aroma
The first thing you get from the nose/aroma is coffee. When you think of a breakfast stout, this is a nice approach to the style. It truly smells like a beer you could sip on in the morning, and if you do I certainly will not judge you.
The other note that is quite strong in this one is that of oats. It gives a certain smell that is reminiscent of oatmeal. This is also a nice addition to a breakfast stout. Hits the style perfectly with both the coffee and the oatmeal notes.
The malt/grain bill is the predominant aroma in this beer. This is a common characteristic of the style, and it is well-done in this one. There is virtually zero hop aroma that you catch.
Overall a well-done and delicious smelling nose/aroma.
Tasting Notes
The tasting notes match up well with the nose/aroma in this beer. You get a fairly strong hit of coffee on your palate right away. It is not overpowering whatsoever, but it is certainly the strongest taste in this beer.
As is the case in the nose/aroma, the second note here is the oats. It is like both smelling and tasting a breakfast of coffee and oatmeal. The surprising thing is that it is not overly heavy for what you would expect from these aromas and tasting notes.
There is a bit of a hoppy bite at the end of the beer, but it is hard to catch at times. It is masked well by the other notes, so if you do not like bitter beers, do not worry. This one won't scare you away.
Overall, it hits all the notes it should and it tastes great.
Other Notes
The branding/labeling is the same as the rest of the branding from Trading Post Brewing. They stick with simplistic labels, and it works for them. This one is a greyish-blue label with a bear on the label. It is not anything flashy, but it works for their style and approach.
The head on this beer off draft is minimal, but it does not play a factor here. Despite there being a small head to this one, the retention of that head is rather impressive. There seems to be a small layer of head left long after your first sip.
The carbonation level is moderately high, which gives this beer a nice crisp finish to it. It finishes dry, and the carbonation level compliments that nicely. This beer finishing that dry helps to make it more sessionable with the somewhat heavier flavours in it.
As mentioned above, this beer finishes fairly dry and crisp. The mouthfeel is smooth in this one. It finds the right balance of note being too thin for the style, but still not being overpoweringly heavy in body either. Well done in this respect.
Final Grade
The nose/aroma and the tasting notes are pretty well the same: coffee and oatmeal. It smells and tastes like something you could have upon waking up in the morning. The dry finish and moderate body make it a smooth stout.
Great beer.
Grade: 8.5/10
Want to see a beer featured in B.C. Beer Reviews? Comment below with your suggestion.
You can also see all of the photos featured in B.C. Beer Reviews by following me on Instagram: nhendy5. And you can see more concise reviews up to 24 hours in advance by adding me on Untappd: RedArmyNic.
Main photo by Nic Hendrickson, Lastword Inc., all rights reserved