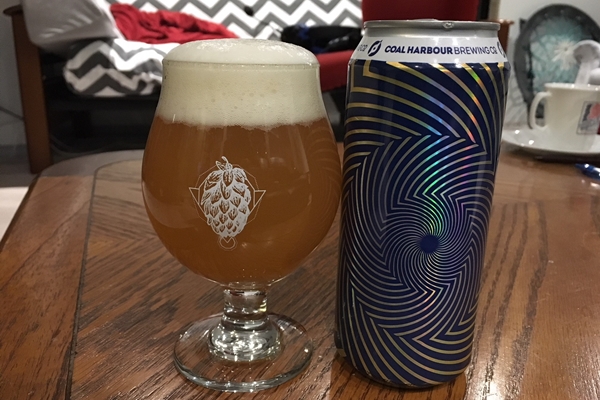 B.C. Beer Reviews is back to take a look at another entry from East Vancouver's Coal Harbour Brewing. This entry comes in the form of an India pale ale that the name aptly represents the craft beer market, Market Saturation.
B.C. Beer Reviews with Nic Hendrickson: Coal Harbour Brewing – Market Saturation
Coal Harbour Brewing is known for their fantastic branding/labeling, and the name of their beers are quite clever to match. Aside from their flashy names and labels, does the beer match up to the expectations set by them?
Let's take a look at this one.
Colour
Pours a golden-orange colour from the can. In the glass, it is a slightly darker hue that is reminiscent of a hazy India pale ale. Could match up well with the hazy colour of a new age India pale ale or a New England India pale ale.
Nose/Aroma
The nose/aroma of this beer is nothing short of powerful in this one. It smacks you right in the face as soon as you crack open the can with tropical fruit and citrus notes. This smells like all of the good India pale ales that the craft beer market is currently saturated with.
To be more specific, there are distinct aromas of guava, pineapple, and orange. This bouquet of powerful citrus and tropical aromas is truly delicious smelling.
This is the kind of nose/aroma that most people are looking for India pale ales or New England India pale ales in today's market. It truly is a tropical and citrus fruit bomb. Delicious nose/aroma overall.
Tasting Notes
As is the case with the nose/aroma, this one is nothing short of a juice bomb. The tropical fruit and citrus notes follow into the tasting notes, making it a beer that is spot on with what is popular and trendy in India pale ales today.
There is very little imparted by the malt/grain bill in this beer. However, there is a nice smoothness and decent mouthfeel overall, which is a byproduct of the malt/grain bill. This is by far the biggest characteristic imparted on this beer from the malt/grain bill.
There is a noticeable bitterness to this beer, but it certainly is not the main player here. It is overpowered by the tropical and citrus notes present throughout, and that is most definitely a good thing here.
Other Notes
The branding/labeling is the definition of eye-catching. A shiny gold and navy blue design that is transformed into a truly hypnotizing label. Much like the name and the nose/aroma of this beer, it catches your attention immediately.
The head this beer pours is rather significant. The retention of that head is equally as significant, sticking around for quite some time. It plays a decent role in the potency of the nose/aroma.
There is a solid amount of lacing with this beer as well. It does not coat the glass entirely, but there are very noticeable and thick patches of it from the top of the glass to the bottom.
The mouthfeel of this beer is also quite significant. It is a smooth-drinking beer, and it is nowhere near thin. Most certainly one of the best characteristics of this beer, and it matches up well with what Coal Harbour Brewing is trying to do here.
Final Grade
As stated multiple times in this review, the nose/aroma and the tasting notes are nothing short of a smack in the nostrils and taste buds with tropical and citrus fruits. The branding/labeling and the name are equally as awesome.
The mouthfeel matches up well with those two notes as well. And to top it off, the beer is well-balanced overall.
While this is a great beer in its own right, it does not break any new ground, but that likely was not the target. Coal Harbour was looking to make what everyone wants, and they did it well.
Grade: 8.2/10
Want to see a beer featured in B.C. Beer Reviews? Comment below with your suggestion.
You can also see all of the photos featured in B.C. Beer Reviews, and some that do not make it into these articles, by following me on Instagram: nhendy5. And if you want to see much more concise versions of these reviews up to 24 hours in advance, add me on Untappd: RedArmyNic.
Main photo by Nic Hendrickson, Lastword Inc., all rights reserved