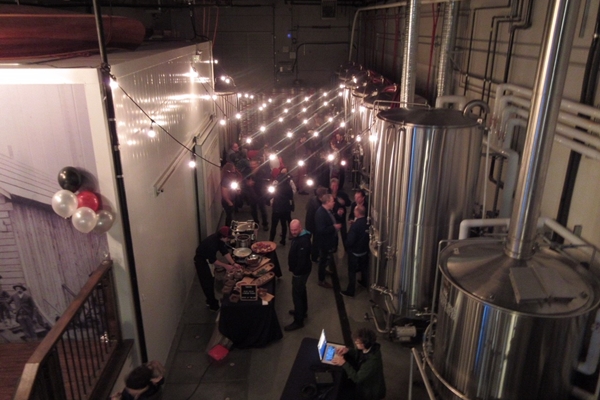 Welcome to the first part of a new series, B.C. Beer Pioneers. In this series, we will be taking a look at one outstanding B.C. brewery per month to show off what this province has to offer. The most innovative, outstanding, and community-oriented breweries will be featured throughout, and the first part focuses on Trading Post Brewing of Langley.
B.C. Beer Pioneers, Part One: Trading Post Brewing
Trading Post, the first brewery in Langley, has continuously put out great beers in their first two years. This is, in large part, due to having B.C. brewing legend Tony Dewald manning the fort.
To give the best idea of what Trading Post Brewing has to offer, I reached out to their owner Lance Verhoeff to sit down and chat with him about it all. We talked about the backstory/history, their plans for the future, and even his favourite Trading Post beer.
Nic Hendrickson: Lance, can you give us a bit of the backstory and history of how Trading Post Brewing came about?
Lance Verhoeff: The backstory on Trading Post is that my wife Marissa and I were living in Vancouver in 2013/2014 and we fell in love with all of the breweries that were starting to open up [in Vancouver]. So that started being our thing for Friday and Saturday night. Just going and hanging out in the tasting rooms of the breweries. And it helps that we both love beer.
Langley is home for both of us, so when we moved back to Langley after the year of living in Vancouver we were like 'Wow, there are no breweries around here. What are we going to do with our Friday and Saturday nights?' Mix that with my passion that I always wanted to open my own business and it helped me find something I could finally do for my own business.
We started looking in Fort Langley, where we both live, but there was just a lack of industrial space there. But we still wanted something in Fort Langley to show the history and the stories of the fort, because it is the birthplace of B.C. So we started looking for a location for a brewery there, figured out it wasn't going to work out, and then decided to look into Central Langley while still having something in Fort Langley. And that is how Trading Post Brewing arose.
As for the name, Hudson's Bay had a trading post in Fort Langley where people traded [goods] and created a community and it was just a hub for the community. We wanted to do the same thing with beer because beer and tasting rooms are just a natural place for people to come together.
We didn't really want to be named Fort Langley Brewing because we did not want to be tied to one location. We wanted a brand that people could relate to in being Canadian, just like they can with the old trading posts. We want a place that creates community and where people can come together.
NH: Looking forward now that you have had two successful years of beer under your belt, what are your plans for the future?
LV: We get together and we decide what out 10-year, three-year, and the one-year plan is. So if we look a little closer to what our one to three-year plan is, we are looking to open more locations where people can come and create that community. We have had a lot of success with our restaurant in Fort Langley so we want to continue to open locations like that in the lower mainland. Not too many, but rather in specific areas where there would be a good connection between beer and food.
We plan to sell our own beer, also have guest taps of other breweries, but to also pair that with delicious food. We plan to expand our eatery aspect. We are looking to open another restaurant [like in Fort Langley] in Abbotsford in 2018. That is where our focus is for this year, to open that location in Abbotsford.
NH: What do you think Trading Post Brewing brings to the B.C. Beer scene that is unique to you?
LV: Well there are a few things that are unique to Trading Post. One is the beer and who brews it. Tony Dewald is our brewer and he's a bit of a legend in the B.C. Beer scene. Lots of people know and him and the delicious beer he brews. I think that sets us apart right away, just the people on our team. It starts with Tony, but it goes into our restaurant management and the people that run the brewery. I think having good people on our team is what sets us apart.
Another thing is how our model is scalable. We have the ability to grow our brand [through the eatery] to other cities where it could work. And another thing is being the first brewery in Langley. We have really been intentional about grounding ourselves in the community. And even though a lot of breweries do that, we are the only ones doing it in Langley right now. We are excited for more to come and do the same.
NH: Shifting gears a bit to an easier question, what is your favourite beer from Trading Post?
LV: Definitely the breakfast stout. By far. For one, I just like darker beers to start with. Something that is a little bit more roasty and maltier. But what I also love about that beer is that we add a lot of coffee to it and I just plain love coffee. So putting beer and coffee together is just a match made in heaven for me.
We use a local roaster called Republica Roasters and they make absolutely fantastic coffee. It ties into that aspect of creating a community using other local businesses and collaborating with them. But yeah, it is by far my favourite.
Beers for Everyone at Trading Post
Not only are they the only brewery currently pouring beer in Langley, but they also have something for everyone. Whether you like your beers hoppy, malty, or dark and roasty, they have it. Here are a few that I recommend trying.
For Everyone: 1827 Helles Lager
The 1827 Helles Lager from Trading Post is a tasty brew. Made from German malts and that ever-applauded Hallertau Mittlefruh hops, this is a clean drinking and tasty beer. It goes down smooth, hence why their six packs go so quickly.
For the HopHeads: West Coast IPA
This is certainly not the most bitter IPA ever made. However, if you like the citrus and fruity aromas and flavours, this is the beer for you. Nicely balanced and clean drinking, this is one that any HopHead can appreciate.
Just like Lance said himself, this beer is full of roasty malt flavours and aromas and a whopping amount of coffee notes to boot. A tasty beverage, and one that B.C. Beer Reviews has already given a detailed review of.
Another beer that has been reviewed in detail in B.C. Beer Reviews, this is an interesting take on a traditional style. It has the malty and sweet notes that you would associate with a Bock, but with a very noticeable hop presence. Give it a shot before their two-year birthday batch is sold out.
If you want to follow along more with the beers they make and the events they get involved in, head over to their Instagram page and give them a follow: tradingpostbrewing. You can also stay in tune with this series, and my daily posts of B.C. Beer Reviews, by checking in here or following me on Instagram: nhendy5.
Special thanks to Lance Verhoeff and Trading Post Brewing for sitting down with me on what was a very busy two-year birthday bash. Congratulations on two great years!
Main photo by Nic Hendrickson, Lastword Inc., all rights reserved