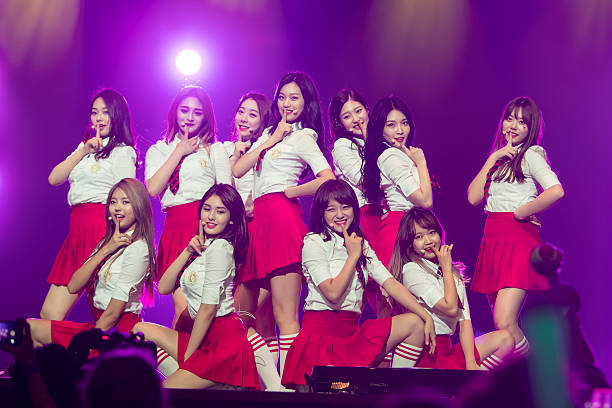 This article is part of an ongoing series covering MNet's reality talent show, PRODUCE 48. Check out the recaps of Episodes 1, 2, 3, and 4 right here on LWOS Life. 
After countless weeks of performances, assessments, and gradings, we have finally came down to the first wave of eliminations. Most contestants have participated in group and solo challenges, and were grouped by company assessments. These assignments, along with the voting done by fans, have brought us to where we are today. The top 58 of the 92 will continue through to the next episodes of the show while everyone else is sent packing.
Produce 48 Contestants Face Top 58 Cut-Off in Rankings
Lee Ga-eun Places #1 for Third Week in a Row
Lee Ga-eun topped the charts once again after having the lead for two weeks prior. This was the first week that showed precisely how many votes each person got, with Ga-eun getting 633,511. She gave an emotional speech to her parents after being awarded the #1 spot. Amazingly, the amount of votes in total from each episode combined was 14,718,724.
Japanese Idol Update
Miyawaki Sakura, who has been the top Japanese trainee throughout the show so far, placed fourth. On the first episode she took the #1 spot and has been declining in the rankings since. Although going down in the charts, Sakura stays comfortable in the rankings and never falls below fifth. After placing fourth this week, she vowed that she will not cry on the show since she has cried on every episode so far. Matsui Jurina placed 13th despite unexpectedly leaving the show last week. People were still under the impression that Jurina, while not present for the rankings, would return. One could speculate that this was recorded before Jurina announced that she was not coming back.
Choi Ye Na's Unique Story
Each trainee that moved on was given a chance to speak, with everyone giving their usual thanks. The only speech/story that stuck out to me was Choi Ye Na's. She spoke about how her parents have always been skeptical of her becoming an idol since her brother tried but got stopped because something happened to him. She wants to continue in the contest to prove herself to her family.
Fun at the Rankings
Before the "first ranking", trainees walked into the set that they were at on the initial episode. They took seats on the floor, with numbered seats based off of where they get ranked in the grandstands. Trainees were given the opportunity when walking in to show off their personality with a dance, catchphrase, or any other sort of act. Throughout the episode rankings were announced, starting at 57th and going up to #1. After that, we got a very dramatic reveal for the 58th spot.
NGT48 jokester Yamada Noe was ranked 14th, going down three spots from last week. When Noe went onto the stage, she was asked by host Lee Seung Gi if she could do another dance. Noe agreed to dance, but only if Seung Gi would too. They both eventually danced, although it took some convincing to get Lee Seung Gi to.
Not All Contestants Were Created (Or Treated) Equal
The 58th spot went to Sato Minami, who was very thankful. At the end of the episode we saw the eliminated contestants say their farewells to the cast. Since the show relies almost completely off of fan votes, not having much camera time works against contestants regardless of their work ethic. This frustration was recently shared online when eliminated contestant Park Jinny said she didn't get any screen time despite working hard on a livestream. Fellow former contestant Alex Christine commented in the IG Live, saying "relatable."
"Dancing Queen" Contest
This week's episode itself did not include much content, with a fair amount of it being filler footage that wasn't relevant to this weeks rankings. Some of the clips shown were of fun tasks that trainees were given during their dorm time months ago.
One of the clips was a guest appearance that showed Kim Chung-ha and Jeon So-mi hosting a "dancing queen" contest. Chung-ha and So-mi are both winners of Produce 101 season 1 and former members for I.O.I. Speaking of So-mi, there are rumors swirling around that she will lead the next JYP girl group, which is expected to debut before the end of 2018. It should be taken with a grain of salt, but it is interesting news for any fans of her.
The winner of the Dancing Queen contest was Goto Moe. As a celebration she did a very good dance cover of Produce 101's "Pick Me". During the celebratory dance Matsui Jurina got choked up, as she saw how much Moe has improved. Because of Moe's win, her Class C was all given packages that contained makeup. It felt odd that all of this content that showed off personality would air after the first voting period has passed by. 
A Preview of the Next Episode
When the show was concluding, it was announced that all voting from past weeks will be reset for the next episode. Also voting opened for fans to vote for which concept they want specific trainees to do. The options for concepts are Contemporary Girl Pop, Moombahton/Trap, New Jack Swing, Tropical Pop Dance, Hip-hop/R&B Pop & Pop Dance. We were also shown a preview of tomorrow's episode where contestants are told that the winner of the next task will get 100,000 extra votes.
Now that the contestant pool has been practically split in half, the intensity of the show is bound to heat up. The next episode of Produce 48 airs tomorrow, where we find out what the next big task for contestants will be. Produce 48 becomes one step closer to finding Asia's next big girl group.
Full Rankings:
| | | | | | |
| --- | --- | --- | --- | --- | --- |
| EP 5 Ranking | Contestant | EP 1 | EP 2 | EP 3 | EP 5 Votes |
| 1 | Lee Ga-eun | 5 | 1 | 1 | 633,511 |
| 2 | Ahn Yu-jin | 2 | 2 | 2 | 607,823 |
| 3 | Jang Won-young | 3 | 4 | 4 | 539,596 |
| 4 | Sakura Miyawaki | 1 | 5 | 3 | 532,273 |
| 5 | Kwon Eun-bi | 25 | 3 | 5 | 507,633 |
| 6 | Moe Goto | 16 | 8 | 6 | 461,078 |
| 7 | Nako Yabuki | 14 | 27 | 16 | 449,722 |
| 8 | Wang Yi-ren | 7 | 9 | 8 | 404,888 |
| 9 | Choi Ye-na | 6 | 7 | 9 | 390,483 |
| 10 | Lee Chae-yeon | 29 | 10 | 10 | 368,218 |
| 11 | Miyu Takeuchi | 39 | 11 | 8 | 362,417 |
| 12 | Hitomi Honda | 30 | 47 | 22 | 333,670 |
| 13 | Matsui Jurina (OFF SHOW) | 4 | 12 | 12 | 329,455 |
| 14 | Noe Yamada | 45 | 9 | 11 | 314,400 |
| 15 | Kim Min-ju | 13 | 17 | 19 | 307,334 |
| 16 | Miru Shiroma | 9 | 22 | 13 | 297,902 |
| 17 | Jang Gyu-ri | 6 | 14 | 14 | 296,913 |
| 18 | Juri Takahashi | 20 | 29 | 20 | 289,547 |
| 19 | Jo Yu-ri | 10 | 19 | 18 | 289,180 |
| 20 | Kim Si-hyeon | 15 | 13 | 17 | 262,648 |
| 21 | Miho Miyazaki | 17 | 16 | 15 | 256,613 |
| 22 | Huh Yun-jin | 19 | 15 | 21 | 256,613 |
| 23 | Lee Si-an | 8 | 18 | 27 | 235,777 |
| 24 | Erii Chiba | 27 | 38 | 23 | 228,389 |
| 25 | Kang Hye-won | 38 | 40 | 41 | 222,716 |
| 26 | Ko Yu-jin | 24 | 34 | 26 | 220,375 |
| 27 | Saho Iwatate | 46 | 24 | 24 | 189,308 |
| 28 | Kim Chae-won | 21 | 21 | 30 | 179,387 |
| 29 | Na Go-eun | 36 | 20 | 28 | 178,233 |
| 30 | Bibian Murakawa | 28 | 31 | 29 | 178,024 |
| 31 | Mako Kojima | 12 | 23 | 25 | 177,040 |
| 32 | Son Eun-chae | 95 | 85 | 53 | 175,744 |
| 33 | Tomu Muto | 23 | 28 | 32 | 175,038 |
| 34 | Kim Do-ah | 31 | 25 | 31 | 166,662 |
| 35 | Lee Ha-eun | 51 | 58 | 33 | 164,273 |
| 36 | Miu Shitao | 41 | 45 | 39 | 160,881 |
| 37 | Bae Eun-yeong | 18 | 30 | 34 | 149,092 |
| 38 | Kim Na-young | 55 | 63 | 58 | 139,350 |
| 39 | Chiyori Nakanishi | 22 | 37 | 40 | 127,714 |
| 40 | Sae Murase | 32 | 43 | 45 | 120,865 |
| 41 | Kim Cho-yeon | 68 | 75 | 37 | 115,687 |
| 42 | Park Seo-young | 34 | 26 | 35 | 112,060 |
| 43 | Park Hae-yoon | 59 | 35 | 43 | 109,158 |
| 44 | Aoi Motomura | 37 | 42 | 36 | 103,611 |
| 45 | Wang Ke | 92 | 33 | 44 | 101,292 |
| 46 | Nanami Asai | 26 | 41 | 42 | 96,530 |
| 47 | Han Cho-won | 64 | 79 | 88 | 89,134 |
| 48 | Cho Ka-hyeon | 65 | 36 | 38 | 89,074 |
| 49 | Lee Yu-jeong | 33 | 48 | 49 | 76,345 |
| 50 | Kim So-hee | 48 | 44 | 48 | 75,898 |
| 51 | Yu Min-young | 86 | 32 | 46 | 75,698 |
| 52 | Yoon Hae-sol | 40 | 50 | 55 | 73,457 |
| 53 | Kim Min-seo | 62 | 39 | 47 | 69,913 |
| 54 | Park Min-ji | 49 | 56 | 60 | 68,130 |
| 55 | Kim Hyun-ah | 67 | 72 | 64 | 67,037 |
| 56 | Misaki Aramaki | 50 | 61 | 66 | 66,659 |
| 57 | Kim Su-yun | 58 | 51 | 54 | 66,438 |
| 58 | Minami Sato | 57 | 66 | 59 | 64,511 |
| | –CUT OFF– | | | | |
| 59 | Ikumi Nakano | 43 | 53 | 50 | 64,172 |
| 60 | Hwang So-yeon | 90 | 46 | 51 | 63,482 |
| 61 | Shin Su-hyun | 42 | 57 | 62 | 63,471 |
| 62 | Kang Da-min | 70 | 74 | 75 | 60,709 |
| 63 | Shinobu Mogi | 44 | 59 | 55 | 57,697 |
| 64 | Erina Oda | 56 | 67 | 69 | 57,612 |
| 65 | Yoon Eun-bin | 54 | 68 | 65 | 57,364 |
| 66 | Choi Yein-soo | 47 | 52 | 57 | 56,200 |
| 67 | Natsumi Matsuoka | 35 | 55 | 52 | 54,450 |
| 68 | Park Chan-ju | 85 | 69 | 71 | 52,903 |
| 69 | Park Jinny | 52 | 49 | 61 | 52,495 |
| 70 | Kim Da-yeon | 60 | 65 | 70 | 48,458 |
| 71 | Rena Hasegawa | 61 | 54 | 63 | 47,766 |
| 72 | Cho Ah-yeong | 83 | 78 | 86 | 46,320 |
| 73 | Lee Seung-hyeon | 66 | 60 | 68 | 45,759 |
| 74 | Yuuka Kato | 71 | 73 | 73 | 43,570 |
| 75 | Kim Da-hye | 80 | 89 | 78 | 42,377 |
| 76 | Mina Imada | 53 | 64 | 67 | 40,155 |
| 77 | Serika Nagano | 72 | 81 | 76 | 40,131 |
| 78 | Hong Ye-ji | 76 | 76 | 80 | 39,465 |
| 79 | Lee Chae-jeong | 96 | 94 | 92 | 38,465 |
| 80 | Park Ji-eun | 77 | 70 | 79 | 37,826 |
| 81 | Manami Ichikawa | 79 | 83 | 87 | 37,685 |
| 82 | Alex Christine | 88 | 86 | 85 | 37,536 |
| 83 | Sae Kurihara | 73 | 84 | 81 | 37,300 |
| 84 | Cho Yeong-in | 74 | 62 | 74 | 36,672 |
| 85 | Yuki Asai | 69 | 80 | 83 | 35,929 |
| 86 | Ahn Ye-won | 82 | 88 | 84 | 35,795 |
| 87 | Kokoro Naiki | 75 | 82 | 82 | 34,463 |
| 88 | Kim Yu-bin | 90 | 93 | 93 | 34,070 |
| 89 | Cho Sa-rang | 89 | 90 | 91 | 34,038 |
| 90 | Choi So-eun | 86 | 92 | 89 | 31,436 |
| 91 | Ayana Shinozaki | 84 | 87 | 77 | 30,489 |
| 92 | Won Seo-yeon | 81 | 77 | 90 | 30,103 |
| OUT | Miku Tanaka | 63 | 71 | 72 | |
| OUT | Amane Tsukiashi | 78 | 91 | | |
| OUT | Cocona Umeyama | 94 | 96 | | |
| OUT | Azusa Uemura | 93 | 96 | | |
Main Image Credit: