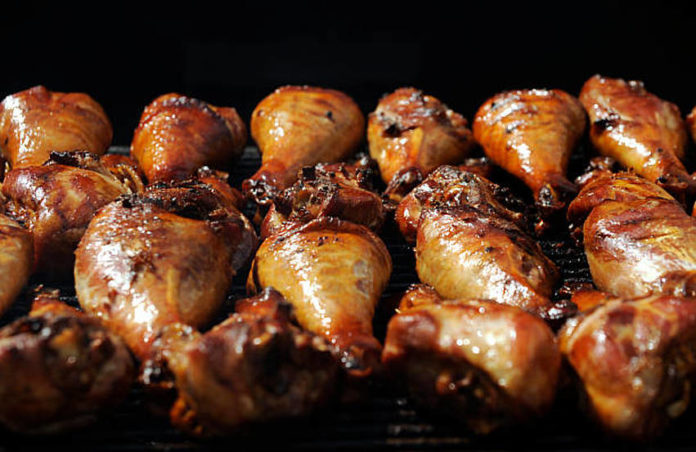 Thanksgiving game day menus call for only one type of meat: grilled turkey. Turkey is not grilled that often, so it can be a daunting task for most backyard grillers. It is, however, delicious on the grill and can be prepared many ways including turkey legs, turkey breasts, and even—for the daring—a whole turkey.
What we're going to focus on here is the best way to grill whole turkeys. It's called "spatchcocking" and results in turkey that is moist and delicious. You can grill turkey breasts and turkey legs individually, but they won't be as good as when grilled whole using the spatchcocking method. In addition to grilled turkey, we'll feature Cajun stuffing, grilled asparagus, and everybody's favorite: baked beans.
Thanksgiving Game Day Menu
Spatchcocking Your Turkey
The term "spatchcocking" refers to the method of splitting a turkey in half and grilling it opened and flat. This method keeps all the parts together and helps keep the juices in the bird while it cooks. You will need some sharp kitchen shears or a sharp knife to get your turkey ready to grill. If you're doubting if this method is worth the trouble,
check out what Joshua Bousel at Serious Eats had to say about the results
:
"Every piece of meat from this bird was moist and flavorful. The breasts had a delicate kiss of smoke and were juicy enough that they didn't need any enhancement, although gravy never ceases to be a requirement for me. The dark meat was smokier, which worked with the relatively more intensely flavored meat."
Ingredients
1 Whole Turkey
Olive oil
Lawry's Seasoning Salt
Granulated Garlic
Black Pepper
Cajun Seasoning (for spicier turkey)
Prep
Take the knife or shears and cut along next to the backbone on one side. You can choose to completely remove the backbone or to leave it on the bird.
Rinse the turkey in water and dry with paper towels.
Give the turkey a light coating of olive oil and your seasonings all over, inside and out.
Set up your grill to cook indirect with 30-35 briquettes on one side of your grill. Light the charcoal and wait for that "perfect grey."
Once your coals are ready, place your turkey on the opposite side of the grill, away from the heat. Cover the grill with the lid, making sure to leave the vents open above the turkey.
Smoking Option
You can also use wood chips to add a smoke flavor to your grilled turkey if you'd like. We recommend mesquite chips, which work really well with grilled turkey. Apple or cherry wood chips can be used, too. It's your call.
Grilling Time
After the grilling begins, be sure to check back on the turkey every 25-30 minutes. You'll want to turn your bird occasionally to ensure even grilling. This is also a good time to add more wood chips if you're smoking it. Grilling time will vary, but should take 3-4 hours tops. Use a meat thermometer to check the thickest part of the turkey—either the breast or thigh area. You will want to take the bird off the grill as soon as it reaches an internal temperature of 180 degrees Fahrenheit.
Serving
Allow your bird to rest for 15 minutes and then carve it up and serve.
Cajun Stuffing
Cajun stuffing is a delicious way to change up the usual stuffing your guests are familiar with for Thanksgiving. It involves a lot of the same ingredients as our Jambalaya recipe, so your stuffing will definitely stand out at your tailgate/Thanksgiving party.
Ingredients
1 red onion chopped
1 red pepper chopped
3 stalks of celery chopped
1 lb. medium 31-40 count raw shrimp
1 chicken breast cut up
2 cups water
1 lb. smoked or Andouille sausage cut up
1 1/2 cups uncooked white or brown rice
32 oz box of chicken broth
2-3 tablespoons olive oil
1-2 tablespoons Frank's hot sauce (optional)
Season to taste with Cajun seasoning, Lawry's, granulated garlic, black pepper, and cayenne pepper (optional)
1 large bag of prepared stuffing mix
1 sturdy foil pan
Stovetop Instructions
Start with a large pot or stock pot. Sauté the seasonings with the red pepper, red onion, and celery in olive oil until they're almost soft. Add the cut up chicken breast and sausage, then simmer 10-15 minutes or until done. Slowly pour in the chicken broth and water then bring to a simmer. Add in Frank's hot sauce and the shrimp then simmer for 10 minutes. Turn off the heat and add in the stuffing mix then stir it all together. Take your stuffing mix and place it in the sturdy foil pan. Cover with foil and baked at 300 degrees Fahrenheit for 1 hour. Remove the foil and continue baking for another 30 minutes. Your Cajun stuffing will then be ready to amaze your guests!
Grilled Asparagus
Grilling asparagus is a unique twist for your tailgate guests and very simple. Take your asparagus stalks and snip off about an inch near the bottom. Toss the stalks in olive oil and season with granulated garlic and Lawry's seasoning salt. Grill the stalks over direct heat on your charcoal or gas grill until they are done. Place the asparagus in a shallow pan with a quarter stick of butter. Allow the butter to melt then toss the stalks so they are completely covered. Serve the grilled asparagus to your guests and watch their reaction to the wonderful grilled flavor!
Baked Beans
You'll need several cans of your favorite baked beans, 5-6 slices of bacon cut into small squares, a small chopped red onion, brown sugar, and honey. Take a Corning-ware dish or sturdy foil pan and place the beans on the bottom. Sprinkle the chopped red onion across the top of the beans, then add the bacon almost covering the beans. Spread out a thin layer of brown sugar and then drizzle the honey across the top. Cover the pan with foil and bake at 250 degrees Fahrenheit for two hours. Uncover the pan and bake for one additional hour. Right before serving, give the beans a good stir to mix in all the flavors. 
More Game Day Menus
Follow us throughout the football season as we bring you incredible grilling ideas for your football tailgate parties. Listed below are our previous articles. Click on the links and check them out! Now get grilling!
Main Image Credit: