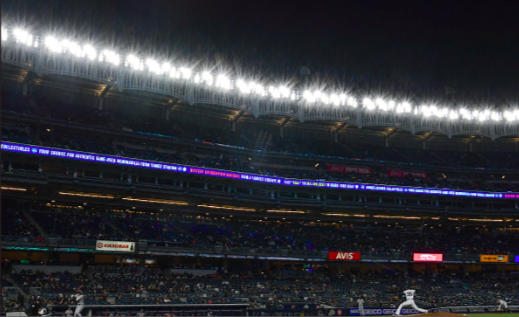 While the New York Yankees haven't looked their best on the baseball diamond to start 2019, they're working toward putting their best environmental footprint forward, announcing they have agreed to sign the United Nations' Sports for Climate Action Framework, becoming one of the first and by far largest sports franchises to commit themselves to the Paris Agreements, an environmental policy. Other signees to this deal so far have been sports governing bodies, such as the International Olympic Committee, Formula E, and FIFA.
The Yankees Have Committed to a Powerful Step Towards Environmental Impact
The Yankees, the most valuable baseball entity on the planet (according to Forbes), are essentially agreeing to take multiple steps toward "reducing overall climate impact", including those of their own, their partners, and their fans. "When it comes to safeguarding our future, it's time to play ball," UN Secretary General António Guterres said in a corresponding statement.
The United Nations Framework Convention on Climate Change, the UN's "concerted effort to raise awareness and action to meet the goals of the Paris [Climate Change] Agreement," was created in December. The Bombers' deal comes on the 25th Anniversary of the formation of the Climate Change chapter of the UN. Those that align with the Paris Agreements are committing to, starting in 2020, reduce the pre-industrial global temperature increase to 2 degrees Celsius and reduce the increase in temperature overall to no more than 1.5 degrees Celsius. They are also committing to financial or "national determined contribution[s]" to create and maintain climate change preventative measures within their state or industry. 194 countries have aligned with this agreement, including the entire European Union, China, India, and the United States (until President Donald Trump withdrew the country's signature in 2017).
The Yankees hired the first environmental science advisor in organized sports history, Dr. Allen Hershkowitz, in January 2019. Dr. Hershkowitz states, "The organization, from the top down, recognizes they, the sports world more broadly, and all of humanity, are facing a global climate crisis… The hope is that, if the Yankees can do this, other teams across all sports – many of which have taken similar actions – will feel emboldened to make their own commitments to the Framework." Specifically, according to Environment News Service, the Yankees are committing to these sustainability initiatives:
Diverting 85 percent of waste from landfill by recycling and composting, very close to the 90 percent threshold required to claim Zero-Waste status

Innovating on energy efficiency through the introduction of LED lighting and more

Measuring, reducing, and offsetting the team's greenhouse gas emissions impacts. The latter includes the distribution of thousands of life-saving, high-efficiency cookstoves to women in Africa

Other sports organizations are invited to sign up to the Sports for Climate Action principles, regardless of the current stage of their environmental endeavors. Participants work collaboratively to identify and spotlight climate solutions.