cheese chunksGraduation grilling season is underway and you may be hosting one for your family soon. Last year we brought out the "Brat Tub" as a unique way to feed your party guests. This year we have you covered with an easy menu idea for your family and guests – sliders. Sliders or "mini-burgers" if you prefer, are delicious and also fun.
Graduation grilling should be something that doesn't require you to be grilling for hours on end. Sliders are easy to make and quick to grill. Your quests may be a bit concerned at first when you tell them about your menu since the word "sliders" tends to bring out hazy memories of late nights followed by bad mornings for many. Be sure to tell your guests that your sliders are homemade and are not something to be feared. In addition to our sliders, we have our Grilled Potato Wedges recipe which is also easy to make. We will also have some links at the end to a few of our other delicious side dishes. You can also serve your favorite chips & dips to go alongside your sliders. Those are always a hit at parties too.
Graduation Grilling Ideas
Origin of Sliders
The origin of the term sliders dates back decades. For more on the origin of sliders we have this from thedailymeal.com:
"One common theory as to why they're called sliders is the way that they're slid across the griddle before the toppings are added to make way for new patties. Another theory is the fact that they "slide" down easy as you're eating a few, and yet another (popularized by White Castle) is that they slide out of their boxes easily." 
For many people, the word "sliders" often evokes thoughts of small empty burger cartons found lying in a heap the morning after a great night out. While a late night trip through a White Castle drive-through always sounds like a wonderful idea, there will always be the reality of the morning after. "Ugh, why did we do that?"-type questions are the norm. Regardless, assure your guests your sliders are incredibly delicious and much safer.
Graduation Grilling Sliders
Our slider recipe is the same one we use for our regular burgers. You will have to determine how many sliders you need and adapt the recipe. A good rule of thumb is that one pound of ground chuck should be able to produce six sliders. Use this as your guide when deciding how many to grill.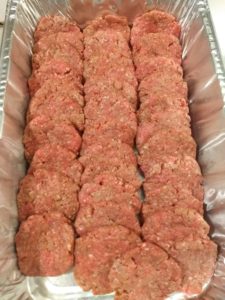 Ingredients
3-5 pounds of 80/20 ground chuck (18-30 sliders)
Granulated garlic, Lawry's Season Salt, black pepper
1-2 cups of your favorite barbecue sauce (the seasonings 

are meant

 as a guide, and 

should be

 adapted to your taste)
Your favorite burger cheese – American, cheddar, pepper jack
You are going to put all of the meat, seasonings, and BBQ sauce into a large bowl. Be sure to mix it all together so that the seasonings are spread evenly throughout. Next up, start making small slider balls somewhere between the size of a golf ball and a baseball. Try and keep count as you go sticking to the six per pound rule. Once you have your proper number of sliders ready, start making your patties.
Grill Time
Set up your grill with 20-25 charcoal briquettes in a pyramid in the middle. Light the briquettes and then spread them out when they reach that perfect gray. Place your slider patties around your grill grate and close your lid. After 4-5 minutes open up your lid and flip over all of the sliders. Allow them to grill another 4-5 minutes then add cheese to those that are ready. I recommend using Cracker Barrel cheese chunks for your sliders. They are the perfect size for slicing and fit sliders exactly right.
Keep grilling your sliders until you have reached your goal. Serve them on "slider rolls" alongside everyone's favorite toppings: ketchup, mustard, spicy mustard, Roma tomato slices, dill pickle slices, and onion slices.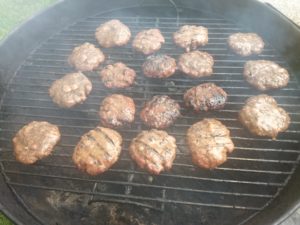 Seasoned Potato Wedges
Ingredients
8-10 potatoes (reds work best)
Olive oil
Lawry's Seasoning Salt, pepper, granulated garlic, Cajun spice
Slice your potatoes into long wedges and place in a large bowl. Drizzle them with olive oil and toss until covered on all sides. Season to taste with the spices listed and toss again making sure all sides are seasoned. Grill the wedges indirect on your charcoal or gas grill to prevent flare-ups from the olive oil. Turn them every 7-10 minutes until all sides have that incredible grilled look to them. You can serve them with dipping sauces such as ranch or Bleu cheese dressing or just plain. If you're feeling decadent, serve them with melted cheese sauce. As an alternative, you can also bake the potato wedges in your oven at 375 degrees Fahrenheit for 45 minutes to an hour.
Alternate Side Dishes
Here are several of our infamous side dishes that will go great with your sliders. We're going to list them below for you to choose. Just click on the links to get to the recipes and instructions.
Last Word On Graduation Grilling Ideas
Offering your guests sliders is an easy and quick way to serve burgers to large groups. Your guests will also be able to build their own slider or sliders with all of the toppings you offer them. That certainly adds to the sliders experience! Add in the potato wedges, chips & dips, or any of our other delicious sides will make your graduation grilling party a huge success. Now get grilling!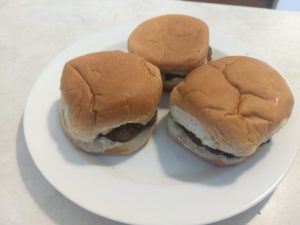 Coming Up Next
Coming up next will be a feature on "Road Trip To Kansas City" where we take our grilling show on the road. There will be Kansas City BBQ food featured, a day at the ballpark (including a tailgate party), and other fun things covered while visiting K.C. Stay tuned!