Super Bowl Sunday is by far one of the favorite days for sports fans. Whether you are a football fan or not, you know you will be in for a day-long feast of great food! With that in mind, we are bringing you our incredible Super Bowl Sunday Game Day Menu. This menu starts with our Breakfast Skillet and is followed by our Garlic Shrimp Pasta and our Grilled Texas Chili. All of these are easy to create and will provide your family and friends a tasty feast!
Super Bowl Sunday Menu
Our menu is geared toward making the host's day easier. We all know that Super Bowl Sunday is a long day and has a lot of work involved. A smart choice is to involve your guests in part of the day's feast. Let them know they can bring the appetizers and desserts if they like. That will take a huge burden off of you and let you focus on the main courses.
Super Bowl Sunday Breakfast Skillet
The first order of business is to start the day with a good breakfast! As the host, you need stamina and endurance to get to the end of the day in one piece. The addition of adult beverages can affect your ability to host successfully. Moderation is the key to surviving and not being known as "the host who fell asleep at halftime" around the neighborhood.
Our Skillet is definitely adaptable and can be made based on your tastes. This will feed 4-6 people and can certainly be adjusted if you have fewer people over for breakfast.
Ingredients:
6-8 slices of bacon diced
4-5 large red potatoes chopped into cubes
Your favorite extras chopped into cubes: sweet onions, red/green peppers, mushrooms
Lawry's Seasoning Salt, Cajun spice
6-8 jumbo eggs
Your favorite shredded cheese
Olive oil
1/4 stick of butter
Salt & pepper to taste
Salsa or hot sauce to taste – optional
You are making your Breakfast Skillet in stages today. First up, get a large skillet and add in the bacon and potatoes with 1-2 tablespoons of olive oil. Season them with some Lawry's, Cajun spice, and salt & pepper. Simmer these on medium for about 5-7 minutes.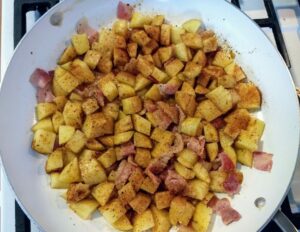 Next, add in any of your "extras" into the skillet on medium heat. Add in half of the butter and some more of your seasonings. You may need some more olive oil at this point too. Sauté the mixture until the bacon and potatoes are done. If you want it spicy, add in the salsa or hot sauce at this point.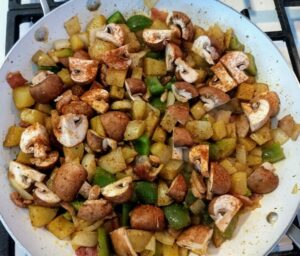 While the skillet is finishing up, take the 6-8 jumbo eggs and scramble them up in a bowl. Take another skillet and warm it on medium heat with the remaining butter. Once the butter is melted, add in the eggs and some salt and pepper. Cook the eggs through until they are done, breaking them up as they cook.
Once the scrambled eggs are ready spread them onto the breakfast skillet then add the shredded cheese on top. Serve up your skillet with toast, bagels, or English muffins.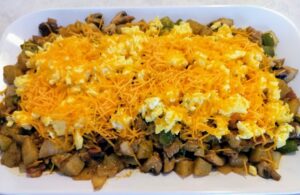 Super Bowl Sunday Garlic Shrimp Pasta
We have a new dish for you today! Garlic Shrimp Pasta was chosen for our Super Bowl Sunday Menu because it is easy and quick. We are huge fans of shrimp and use them in several of our recipes. This one is certainly a very tasty and easy recipe and should take less than 30 minutes.
Ingredients
1-2 pounds of size 31-40 shrimp peeled and deveined
one stick of butter
olive oil
3-4 garlic cloves diced
1/2 cup grated parmesan cheese
1-2 pounds of angel hair pasta
salt, pepper, granulated garlic, Italian seasoning
optional extras – chopped broccoli, sweet onion, green pepper, chives, or asparagus
The main ingredient featured in this dish is shrimp. The extras we listed are certainly tasty options you can use too, depending on your taste.
Add the butter and diced garlic to a large pot. Simmer on low for 7-10 minutes until everything is melted. Boil up your pasta in a separate pot as you go. Place the shrimp and any extras in the melted garlic butter.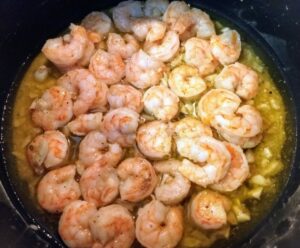 Simmer them on medium until everything is cooked through. Toss in the cooked pasta and stir everything together adding the grated parmesan cheese as you stir. Sprinkle on some Italian seasoning and serve your Garlic Shrimp Pasta with fresh bread & butter or garlic toast. Your guests will certainly enjoy your new creation!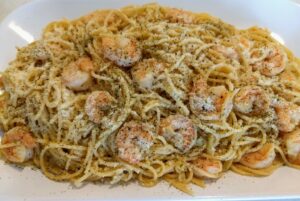 Super Bowl Sunday Grilled Texas Chili
Your guests may wonder why this recipe is called Grilled Texas Chili, but they won't after they taste it. Luckily for you, the only grilling needed is for the steak and peppers used in your chili. You'll be amazed at how your chili flavor changes using this grilling method. The meat and peppers bring that grilled goodness to the pot with them, which is nice. 
Since Super Bowl Sunday is a busy day, we recommend you make the chili the day before. It will save you time on game day and as we all know, chili absolutely tastes better the second day!
Ingredients
This recipe is made for a two-gallon pot, so you may need to adjust the recipe to fit the size of the pot you're using. You will also have to adjust the amount of spice and peppers to suit your heat tolerance. This batch is around medium on the heat scale. Enjoy!
2-3 lbs. ground beef
2-3 thin sirloin or "charcoal" steaks
1 large/jumbo can of crushed tomatoes
1 large can of diced tomatoes
3 large cans (or one jumbo can) of Brooks chili hot beans
2 cans of red kidney beans
5 

jalapenos

 whole
5 

serranos

 whole
1 large sweet onion chopped
1 12-oz can or bottle of your favorite beer (I prefer Labatt Blue!)
Chili powder
Granulated garlic
Cumin
Lawry's seasoning salt
Pepper
Ground cayenne pepper for more heat
Grill Time
Set up your grill with 25 coals in the center and light it up. While the coals are getting ready, toss your peppers in a plastic Ziploc bag. Add in a drizzle of olive oil and all of your spices, then toss the peppers to spread the spices evenly.
Season your steaks on both sides with the same spices. Once the coals are ready, spread them around evenly in the middle. Grill your steaks directly over the coals and place the peppers around the outside area. Cook your steaks to medium-well and the peppers until done with a slight char outside. Remove them, and allow them to cool.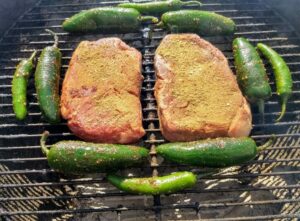 Once cool, cut off the pepper stems and chop them into small pieces. Do the same with the steaks making sure to sample a bit for quality control purposes.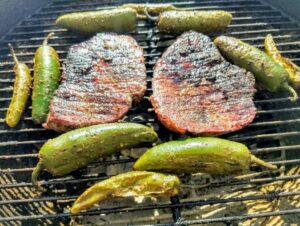 Chili Time
Add two tablespoons of olive oil to the pot and sauté half of your chopped onion and the ground beef. Mash the beef as it cooks and add your seasonings. After the beef is cooked, add in the peppers and steak bits. Stir and saute on low for 2-3 minutes. You'll notice the steak absorbs most of the beef fat, so this is the perfect time to add in the 12-ounce beer.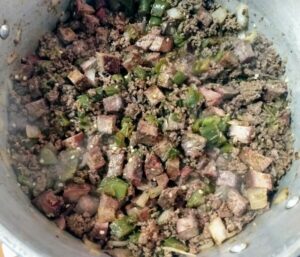 Continue to simmer and add the crushed tomatoes, diced tomatoes, and all beans. Taste and re-season as needed and simmer for an hour stirring the pot every 10-15 minutes. After an hour, taste and add more seasoning if needed.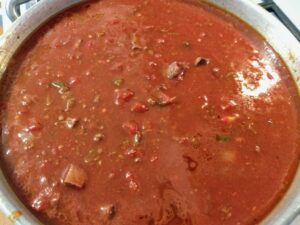 If you made your chili the day before, start warming it up 1-2 hours before you want to serve it. When ready, serve your Grilled Texas Chili with chopped onions, oyster crackers, and shredded cheese. Then stand back and watch as your guests enjoy your masterpiece!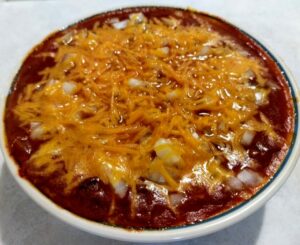 Game Day Menu NFL Season Wrap Up
We have had you covered all of the 2020 NFL season with great menus that would please the guests at every one of your tailgate parties. During the NFL Playoffs, we have also brought you more amazing tailgate ideas. In case you missed any of them, they are listed below. Simply click on the links to check out anything you missed.
As you create your feast on Super Bowl Sunday, be sure to take a moment to reflect on everything that you did this past NFL season. We brought you some Game Day Menus that challenged you and hopefully made you more confident on the grill. One thing is for sure if any of your guests went home hungry, it was not your fault! As you are cleaning up this Sunday, think ahead to the
NFL Draft
in April and the schedule release that follows. It is never too early to start planning next season's feasts!