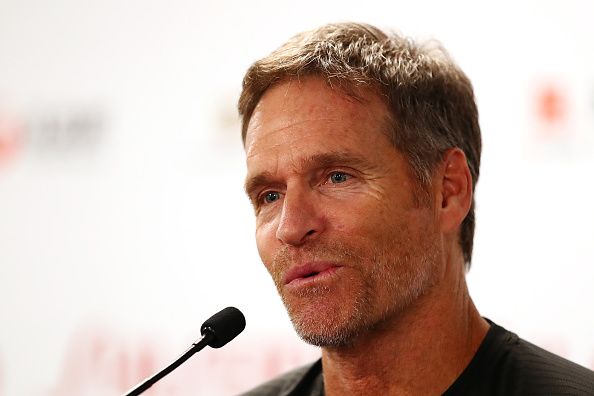 While Bianca Andreescu has enjoyed the spotlight this year for her amazing results on the tennis courts, a very important man behind the scenes received notable recognition recently; her coach Sylvain Bruneau.
Sylvain Bruneau Wins 2019 Jack Donohue Coach of the Year Award
Veteran Coach Plays Key Role in Andreescu's Breakthrough Success
The 2019 US Open champion's coach, Bruneau, was awarded the Jack Donohue Coach of the Year Award on Friday, November 8th. The award was handed out at the Sports Leadership Awards Gala, which was held at the Sheraton Vancouver Airport Hotel in Richmond, British Columbia.
"I am so proud of him. I must admit that I am not at all surprised that he has won this award and it is certainly the first of many," said the 19-year-old tennis superstar, who started 2019 ranked 152nd in the world and skyrocketed into the top five.
"I am very grateful to be able to count on him and have him as part of my team."
Andreescu clearly recalls a key moment earlier this season when her coach's words of wisdom helped her in a time of need. It occurred during a timeout in the third set against three-time Grand Slam Champion Angelique Kerber at Indian Wells – one of the biggest tournaments outside of the Grand Slams.
"That moment was everything to me. He really helped me in that moment with such incredible words. The way he says things, it really gives me chills. So I'm glad I called him at that moment," Andreescu pointed out.
"At that point, I was really, really tired, but at that point, I was like, mind over matter. That's what helped me win."
Over 30 Years in the Game
Bruneau started his coaching career over 30 years ago at the age of 18 while he was still a student. His work developing young junior stars in Quebec caught the attention of Tennis Quebec and soon after Tennis Canada.
Besides his current role as Andreescu's coach, Bruneau has also worked with Tennis Canada as the coach and captain of the Canadian Fed Cup team.
According to Louis Borfiga, Tennis Canada's Vice President of High Performance & Athlete Development, Bruneau is not the type of coach who seeks out the attention of others, but he deserves to be recognized for his work with Andreescu this year. Borfiga adds that Bruneau is someone with a strong understanding of the game and has done an excellent job in helping his athletes reach their full potential on the tennis courts.
Besides Andreescu, Bruneau has worked to develop other Canadian stars, such as Eugenie Bouchard and Gabriela Dabrowski. With over 30 years of coaching experience, Bruneau has established himself as a successful and respected coach, both in Canada and abroad.
The recognition as the Jack Donohue Coach of the Year was presented to him by his peers at the Coaching Association of Canada. The prestigious award recognizes the outstanding contributions of a Canadian coach each year who exemplifies the qualities of the legendary basketball coach, Jack Donohue.
"I am honored to receive this award," said Bruneau about his recent recognition. "I think that it is part of a coach's job to get their athletes to channel their drive and their emotions to achieve higher performance levels. I consider myself privileged to have been able to help them push their limits and eventually reach levels they perhaps thought unreachable. Although tennis is an individual sport, it takes a team to form a champion."
What's Next For Bruneau and Andreescu
Bruneau and Andreescu had a bit of a scare at the WTA Finals in Shenzhen, China recently when the 19-year-old had to withdraw because of a knee injury – one in which the tennis star said she heard a cracking sound on every step she took.
Fortunately, the injury is not too serious, and with a little well deserved time off, they are expected to kick off the 2020 WTA season in Australia.