It is the middle of the NFL season and the temperatures are dropping. Today we are bringing you a menu that does not take much time on the grill. Grilled Pork Tenderloin is easy and delicious served either sliced like a roast or topped on Hawaiian rolls as sliders. Along with the grilled pork tenderloin, we have our delicious side dish Dirty Rice. These two go hand-in-hand on a plate and deliver incredible flavor your guests will love. Just do not tell them how easy it was to make!
Grilled Pork Tenderloin
2 pork tenderloins
Lawry's Seasoning Salt, Cajun spice, granulated garlic, black pepper
Olive oil
Your favorite BBQ sauce
1-2 packages Hawaiian rolls
Grilled pork tenderloin can be done in two different ways. You can grill the pork tenderloins whole and serve them sliced. Or, you can cut the pork tenderloin into slider-sized slices and serve them on the yummy Hawaiian rolls. Either method is a fantastic way to serve the best cut of pork available.
Grilling Pork Tenderloin
Remove the tenderloins from their packages and rinse in water then dry with paper towels. Place them into a large baggie and drizzle in olive oil and the spices. Toss the tenderloins until they are completely covered in spices. Let them rest in the baggie for an hour before grilling for added flavor.
Grill Time
Set up your grill using the indirect method with 20-25 briquettes on one side. Once the charcoal is ready, place the tenderloins on the opposite side of the grill. Close your lid and grill for 25 minutes.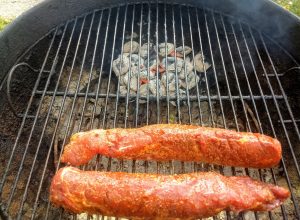 Open the grill and turn over the tenderloins for even cooking. Grill them for an additional 15-20 minutes and check their temp with your meat thermometer. They do not take long so be careful not to overcook. Your target temperature is 145-160 degrees Fahrenheit as recommended by porkcdn.com at their site. Once your tenderloins reach 140-145 brush on your favorite BBQ sauce. Grill them for 5-10 more minutes at most.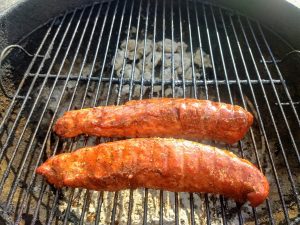 Plate Time
Remove the tenderloins and allow them to rest for 5 minutes. Next up is to slice them on an angle and plate them. Serve with additional BBQ sauce for dipping! If you are serving them as sliders, brush each piece with BBQ sauce on both sides and place them on the rolls before plating. Grilled pork tenderloin is the best tasting cut of pork around. Your guests will crave seconds for sure!
Incredibly Simple Dirty Rice
We chose Dirty Rice to go alongside the grilled pork tenderloin because of how simple it is to make. We recommend you use the best dirty rice mix around Zatarains. They offer numerous boxed side dishes but their dirty rice is by far the best. What we have here however is a way to make the dirty rice mix even better.
Instead of using the usual boring ground beef, switch it up with Italian sausage. You can find Italian sausage in bulk or even frozen in one pound tubes. It takes 2-3 packages of the dirty rice mix to make enough for a tailgate party. For every one package of dirty rice, you will need one pound of Italian sausage. For an extra kick, use hot Italian sausage instead of mild. This choice will require a warning to your wimpier guests who may find it a bit too spicy for their tender palates.
Follow the directions on the package using Italian sausage and serve alongside your grilled pork tenderloin. Then sit back and watch the faces of your guests as they sample this delicious combo.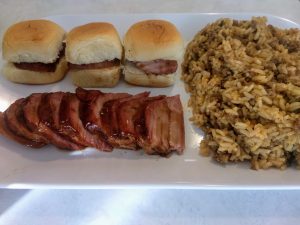 Game Day Menus This Season
It is week 10 of the NFL season and we have been bringing you some tasty menu ideas. We will continue through the playoffs and up to the Super Bowl. In case you have missed any of the past menus this season, we have them listed below. Click on the links if you need to catch up on any you missed. And by all means, keep grilling!