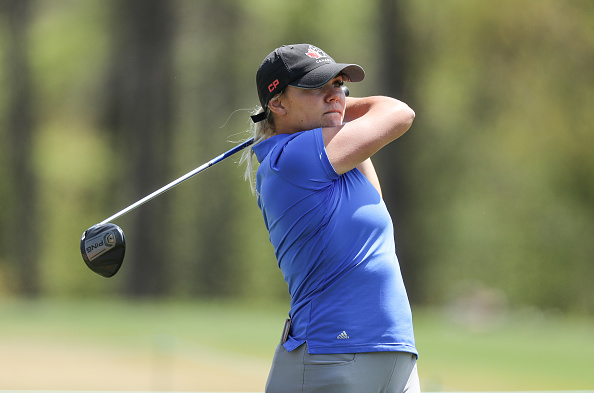 Fresno State Bulldogs' junior, Brigitte Thibault, was enjoying a stellar season on the golf course before the COVID-19 pandemic brought it to an abrupt and early end.
Fresno State Golf Star Brigitte Thibault Speaks about Shortened NCAA Season Due to COVID-19 Outbreak
Making a Breakthrough in 2019
Brigitte Thibault enjoyed a breakout sophomore year, during which she was invited to compete at the inaugural Augusta National Women's Amateur in April of 2019. The tournament is held at the Augusta National Golf Course, and is the site of The Masters – often regarded as golf's most prestigious tournament.
After competing at the Augusta National, Thibault would follow that up by winning the NCAA Mountain West Conference Championship and the Ontario Women's Amateur title.
Besides being one of the leaders on the Fresno State Bulldogs, Thibault is also a second-year member of the Canadian National Amateur Team.
Enjoying a Stellar Junior Year
In her final collegiate tournament of this season, the 21-year-old junior from Rosemere, Quebec finished in a tie for third with a five under par at the Wildcat Invitational in Tucson, Arizona.
Thibault's strong performance in Arizona was her sixth top 10 finish of the NCAA season.
"It is always good to see Brigitte have another top finish. She bounced back after a tough event in Long Beach, and it is exciting to see her resilience and grit, and for her to get back out there and compete," said Bulldogs' head coach, Emily Loftin, following the Wildcat Invitational.
Rapid Cancellations After Wildcat Invitational
Given the COVID-19 outbreak, Thibault recalls all of her subsequent events were suspended after the tournament in Tucson concluded on March 10.
"Coming back from my last tournament in Arizona, everything started to get shut down from there on. First, it was my tournament in Mexico, then campus was closed, then the NCAA announced the cancellation of the season. And then, golf courses started to talk about shutting down," Thibault noted.
The Fresno State junior says the entire team was surprised by the unprecedented turn of events unfolding before their eyes.
"My teammates and I were all very sad of this current situation and were sad to all leave each other. It didn't feel real, like this could not be happening."
Returning Home to Canada
With confirmation that the NCAA season was suspended indefinitely, Thibault made arrangements to return to Canada. After she arrived home in Rosemere, Quebec, Thibault underwent 14 days of quarantine.
"Quarantine was actually not as bad as I thought. It gave me enough time to think about my game plan, prepare my game plan, so when my 14 days were over, then I would be able to train and keep my routine as normal as possible," she said.
Disappointment Over Canceled Tournaments
One of the tournaments that Thibault had circled on her calendar since the beginning of the year was a return to the Augusta National Golf Course to compete at the Augusta National Women's Amateur again in early April. However, like all her NCAA tournaments, it too was suspended. Despite her obvious disappointment, Thibault understands health and safety must come first.
"It was obviously disappointing at first because as a competitive athlete, it's definitely a time of the year that you're looking up to and excited to compete at. But the whole world is going through this and I think it's only right to keep the people safe first," she said.
"The world of sport is obviously important and is known to bring people together, but our safety matters more."
The Bigger Picture
Having completed her quarantine, Thibault now wakes up early each morning to work on various aspects of her golf game – while observing the social and physical distancing requirements.
"I am actually working on all aspects of training – fitness-wise, golf, and mentally," she said.
The thoughtful 21-year-old acknowledges that while the COVID-19 pandemic has brought her season to an early end, given the current reality, she's just going to make the most of it.
"I am doing my best to keep improving and being my best self. If I stay busy and work on myself, while spending more time with family, I am very happy no matter what."