Cajun Jambalaya is featured on this week's NFL Game Day Menu. This recipe will bring tremendous flavor and taste to your guests who have been to New Orleans. In addition to Cajun Jambalaya, we are also bringing you our spicy Cajun Shrimp appetizer. Bringing out these two dishes will certainly impress the guests you have over for your football watch party. They will immediately think back to past trips they made to The Crescent City!
Cajun Jambalaya
New Orleans has one of the more famous cuisines in the world. You do not have to be a world-famous chef with a funny name in order to create this dish. While Cajun Jambalaya is well known around the world for its flavor and spice, you too can create some Creole Magic in the kitchen.
It is also your call on how spicy you make your Jambalaya and Shrimp. A little extra Frank's Hot Sauce or ground cayenne pepper can bring the heat. No matter how you like it, just follow the directions below and you cannot go wrong.
Cajun Jambalaya Ingredients
1 red onion, chopped
1 red pepper, chopped
3 stalks of celery, chopped
1 tomato diced
1 lb. medium 31-40 count raw shrimp
2 chicken breasts, cubed
2 cups of water
1 lb. smoked or Andouille sausage cut up
1 1/2 cups uncooked white or brown rice
32 oz box of chicken broth
2-3 tablespoons olive oil
1-2 tablespoons Frank's Hot Sauce
Season to taste with Cajun seasoning, Lawry's, granulated garlic, black pepper, cayenne pepper (optional)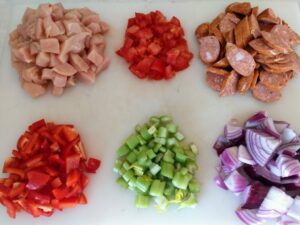 You will need a large pot or stockpot. Sauté the seasonings with the red pepper, red onion, and celery in olive oil until they're almost soft. Add the chicken breast and sausage, then simmer 10-15 minutes or until cooked through. Add in the diced tomato and then slowly pour in the chicken broth and water then bring to a boil.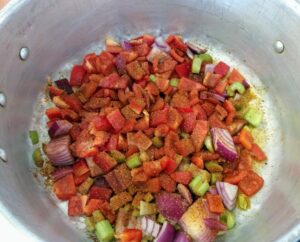 Next, add the rice and Frank's Hot Sauce to the pot, and then simmer on medium heat for 30 minutes. Stir occasionally while the rice cooks. After 30 minutes, the rice should have plumped up and absorbed most of the liquid. (Brown rice takes longer than white.) If the jambalaya is too thin, add another 1/4 cup of rice and simmer 15-20 minutes. If the jambalaya is too thick, add some water or chicken stock. The shrimp should be added into the pot during the last 5 minutes of cooking.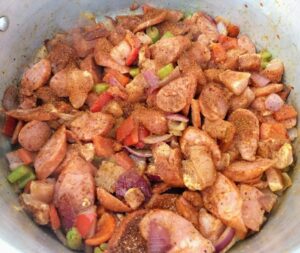 Once the shrimp are cooked through, get your guests some bowls and serve up your Cajun Jambalaya. They will love the intense flavor and think they are dining on Bourbon Street! This tasty dish and the Cajun Shrimp recipe below will completely overwhelm your guest's taste buds and make you the hero of the day!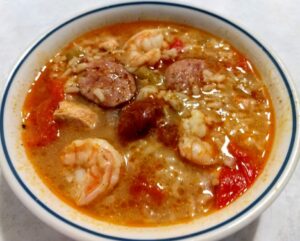 Cajun Shrimp
In order to make this spicy shrimp appetizer, you'll need shrimp that are peeled and de-veined.  The best size to use is bags of 16-20 count shrimp. 16-20 designates how many shrimp are in a pound. The lower numbers on the bag, the bigger the shrimp inside. You'll need to thaw the shrimp and give them a rinse in water. Dry them with paper towels before cooking.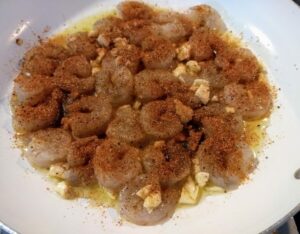 Get a sturdy skillet and drizzle some olive oil into the center, usually enough to coat the bottom. Turn on the flame around medium-high, and begin to heat the oil. You then want to add some minced garlic or freshly chopped garlic to the skillet. Once those start to sizzle, place your shrimp in with the garlic. After putting in the shrimp, season them to taste with Cajun seasoning, pepper, and if you like it hot, some cayenne pepper. Shrimp cook quickly and need to be turned over after a couple of minutes. Once they're cooked all the way through, remove them to serve. Cajun Shrimp makes the perfect appetizer for your Cajun Jambalaya.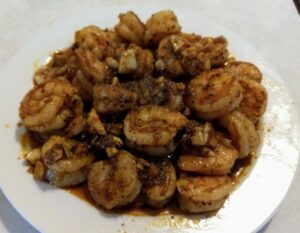 NFL GameDay Menus 2020
This NFL season will not be easy for those of us who host weekly football viewing parties. No matter how many people you plan on hosting, we will be bringing you delicious menu ideas each week this season. Let's be safe people, maintain social distancing, and use curbside pickup whenever possible!