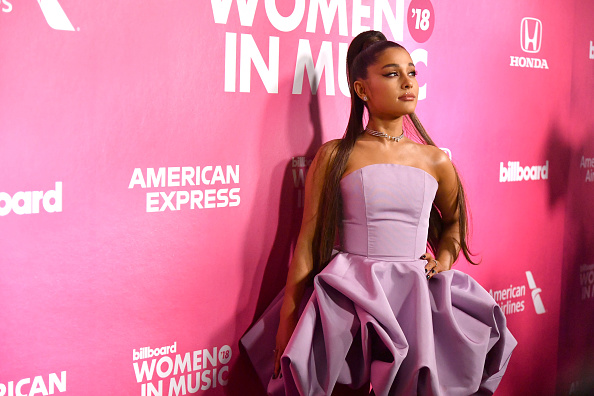 Pop superstar Ariana Grande recently earned her third number-one single of 2020. Grande's latest release "Positions" debuted on the US Billboard Hot 100 at number one. While she is small in stature – standing at just five feet tall – it's safe to say the 27-year-old from Boca Raton, Florida has become one of the biggest stars on the planet these days.
Ariana Grande Records Third Number One Single of 2020
New Single "Positions" is Fifth Chart-Topper of Grande's Career
Ariana Grande's new chart-topping single "Positions" was released on October 23rd as the lead single to her sixth studio album. The new album is also entitled Positions and was released on October 30th by her record label Republic Records. The new single is Grande's third number one song for 2020 and the fifth of her career.
Back in May, she joined forces with Justin Bieber for the release of "Stuck With U" and that same month she teamed up with Lady Gaga to release "Rain on Me" – both of those singles debuted at the number one spot on the US Billboard Hot 100 charts. Grande's other two number singles are "Thank You, Next" and "7 Rings" – both released in early 2019.
The official video for "Positions" is directed by renowned American director Dave Meyers and in it, Grande plays the role of the President of the United States. The lyrics of the song speaks about her dedication to her lover and to the fact that she would be willing to take on new positions and try new things.
.@ArianaGrande's "Positions" debuts at No. 1 on the Billboard #Hot100 songs chart. 💯https://t.co/3jlnn9eEKa

— billboard (@billboard) November 2, 2020
"Positions" beat out Luke Combs' "Forever After All" and "Mood" by 24KGoldn featuring Iann Dior for the number one spot on the Billboard charts. Besides debuting at number one in the United States, "Positions" has also debuted on top of the charts in the United Kingdom, Australia, Canada along with a number of other countries.
With this being Grande's fifth number-one single in the United States, she has joined some elite company. The 27-year-old has become the first artist to record three number-one singles in a year since Canadian rapper Drake did it in 2018. The previous female artists to accomplish that feat were Katy Perry and Rihanna who both did it a decade ago in 2010.
Criticism of Some Tik Tok Stars
Recently, the 27-year-old drew some additional headlines after she called out some popular young Tik Tok stars on The Zach Sang Show for partying in Los Angeles during the COVID-19 pandemic. Grande has been promoting the message of social and physical distancing since the beginning of the pandemic. In fact, her number one single, "Stuck With U," was about reinforcing the message from first responders to stay safe by staying at home and away from crowds as much as possible.
The chart-topping single was co-written by Bieber and Grande with the net proceeds of the song going to the First Responders Children's Foundation – which provides support for first responders and their families who are enduring financial hardship due to the COVID-19 pandemic.
"Couldn't we have just stayed at home for a few more weeks, like all the other countries that were fine and are better than we are? Did we really all need to go to f*@king Saddle Ranch that badly," said the 27-year-old recently on the popular podcast.
Tik Tok superstars Addison Rae and Dixie D'Amelio have already responded to Grande's criticism and agreed with her stance on the matter.
Ariana Grande's Personal Definition of Success
While she's achieved massive success, Grande is still only 27 years old and speaks about her mindset moving forward in her career.
"I have to remind myself that I need to not put the pressure on myself to outdo what I've done or make it about things like that," said a candid Grande on The Zach Sang Show.
"It's about singing. It's about loving music. It's about how it feels to sing. It's my gift that's what I have to keep reminding myself. I'm a storyteller, I'm a singer and that's my job and the rest of it I can't get wrapped up in," she continued.
Our full interview with dog mom, editor, producer, vocal arranger, writer, dancer, friend, sister, daughter and girlfriend @ArianaGrande is up now!!– https://t.co/JDY8hRQzF8 pic.twitter.com/xJN55a24Cz

— Zach Sang Show (@ZachSangShow) November 2, 2020
"It is really cool to have number ones and to have a Grammy," added the chart-topping pop superstar. "It is amazing and I'm grateful for acknowledgment and for achievements like that and it means a lot and I'll always say 'thank you' and I'll always be celebratory of those things."
But for the thoughtful 27-year-old, her personal definition of success is rather simple:
"To have love and the ability to sing and tell a story, I'm happy."
Main Image:
Embed from Getty Images