New Year's 2021 could not come soon enough for most people around the world. The raging COVID-19 Pandemic brought countries to their knees in 2020. The "pandemic fatigue" felt by so many people throughout the year gave way to hope for better times after New Year's 2021. This week at lwos.LIFE we are providing you an easy menu to open up the new year. We have our nearly famous Pulled Pork, Grilled Baked Potatoes, and Down-Home Green Beans. These are all delicious recipes that are not labor-intensive, even the delicious Pulled Pork.
New Year's 2021 Opening Menu
There's nothing better than driving around town and catching the smells from a BBQ restaurant. Pulled Pork is one of the most popular items served at BBQ restaurants. Unfortunately, most backyard grillers shy away from making pulled pork due to the heavy time investment when making this classic. Today, we're going to feature an easy pulled pork method that you will absolutely love!
New Year's 2021 – Pulled Pork The Easy Way
Making pulled pork on the grill or smoker scares a lot of people due to the amount of time involved. Pulled pork can take 12-14 hours to get finished. Most grillers don't have that kind of time and want it done quicker. The solution is to use the "quick cheat" method that only involves only two to three hours of grill time. You'll also need a seven quart or larger Crock-Pot to finish the pork. I suggest that you do the smoking the night before your tailgate party and use the Crock-Pot to finish it overnight.
Pork Shoulder Prep
First, pick out a pork shoulder roast that's around four to six pounds. You'll also need to eyeball the roast and make sure it will fit in your Crock-Pot. Next, take the pork shoulder and give it an olive oil rub. After that, liberally season the roast on all sides with Lawry's Seasoning Salt, Cajun Spice, granulated garlic, cumin, paprika, and chili powder. Once it's all covered in the spices, it's time to smoke it on your grill.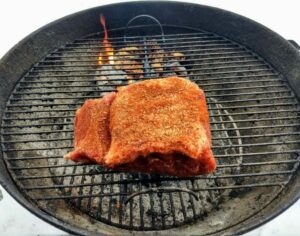 Grilling/Smoking Pulled Pork
You're going to grill the pork shoulder with indirect heat. Take hickory wood chips and soak them in water for 30-60 minutes before grilling. Take around 30 coals and pile them in a pyramid on one side of your grill. We're not trying to cook the roast; we're only smoking it for flavor. Light your coals and wait for them to all catch and turn grey. After that, spread them out along one side in a flat pile. Add a handful of wet wood chips to the top of the coals, replace the grate, and then place the pork shoulder "fat side up" on the opposite side of the grill. Cover the grill, making sure the air vents are halfway open and are directly above the pork roast. 
You should begin to smell that delicious aroma of hickory smoke wafting out of the grill vents. Every 20-30 minutes you will need to replenish the wet wood chips to keep the smoke going. After two to three hours, the coals will be almost burned out and the pork roast should look great. This is all the time you need to infuse that incredible hickory smoke flavor into the pork. Remember no sampling as the pork is not fully cooked yet!
Gas Grill Smoking Option
If you can shut down the flame on a third or half of your gas grill, you can smoke like a BBQ pro. Take a handful of hickory wood chips and place them in a foil pouch. Cut slits in the top of the pouch to allow the smoke to come out. Then place the pouch near one of the lit flame bars. You'll need to place the pork shoulder in the "non-lit zone" to keep it from burning up. You will have to use three to four pouches for the two to three hours of smoking.
Crock Time
After smoking the pork shoulder, it's time to place it in your Crock-Pot. Set the crock to low and let it cook overnight. You will wake to a house that smells like a BBQ joint, which a great way to start your game day! In the morning, shut down the crock and remove the pork shoulder to allow it to cool. Once the crock juices have cooled, drain them into some glass jars. Do not pour the juices down your drain as they will cause you plumbing problems later.
Pulling The Pork
After the pork shoulder has cooled, begin to pull it into chunks or strips. Return it to your Crock-Pot on low and add your favorite BBQ sauce. Be gentle with the pork when stirring as you don't want to shred it. Once it's warmed through, it's ready to serve. You can use any kind of buns that you like, but pulled pork is extra good on Hawaiian rolls. These sandwiches will be a hit and will make your New Year's 2021 Game Day Menu memorable!
New Year's 2021 – Grilled Baked Potatoes
Grilling baked potatoes is easy and your guests will love the way the potatoes come off the grill compared to using your oven. They can also be grilled the day before with the pork if you choose. Simply follow the directions below grilling the potatoes over the coals when the pork is on the grill. The potatoes will be even more amazing after picking up the delicious hickory smoke!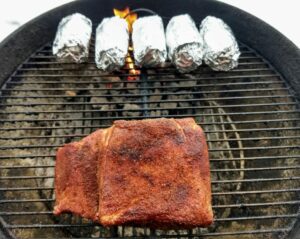 Ingredients
6-8 large white, russet, or Idaho potatoes
Salt & black pepper
Butter
Sour cream
Chopped green onions or chives
Shredded cheddar cheese
Salsa (optional)
Choose four or more large size white, russet, or the ever-popular Idaho potatoes for this menu. Whichever you choose, give them a good rinse with cold water after lighting your briquettes. Be sure to poke several holes in the potatoes with a fork. Once that is done, wrap the potatoes in sturdy aluminum foil.
Light up 20-25 charcoal briquettes in your grill. After the coals are ready, place the foil-wrapped potatoes directly over the coals. Close your lid and let them be for 20 minutes. Next up, turn your potatoes over onto their other side and grill for 20 more minutes over the coals. After the second 20 minutes are up, turn the potatoes over again. They will need around 60-75 minutes to finish cooking.
Take off the potatoes and allow them to cool for 10-15 minutes. Peel the foil off and cut into the potato being sure not to burn your hand from the steam. Serve the potatoes alongside your butter, salt & pepper, chopped green onions or chives, sour cream, salsa, and shredded cheddar cheese. Your guests will thoroughly enjoy being able to top their own potatoes!
Down-Home Green Beans
Making fresh green beans will be a rare treat for your guests. They do require more work than opening a can of green beans, but the flavor difference is worth the effort!
Ingredients
1-2 pounds of fresh green beans
2-3 tablespoons of butter
Salt & pepper
Granulated garlic (optional)
one tablespoon of bacon grease (optional)
diced red onion (optional)
Rinse your green beans in cold water and allow them to drain in a colander. Get a medium-size pot with a lid ready with an inch of water inside. Take the beans and cut off both ends. You will now have to decide what length of green beans you want and then cut them up accordingly. Add the green beans to the pot along with a teaspoon of salt. Add in the diced red onion now if you are going with that optional ingredient.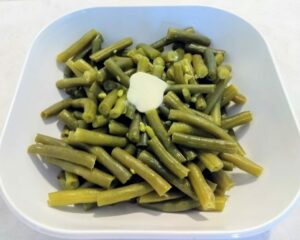 Cook the beans on medium heat until the water begins to boil. Turn down your burner to low and allow them to simmer for 10-15 minutes. Open the lid and sample a green bean to see if they are done. If the beans are tender, turn off the burner and drain the beans completely. Return the beans to the pot along with the butter and season to taste with the spices. Add in the bacon grease now if you want that down-home "country taste" in your green beans. Give them a good stir and serve them to your guests!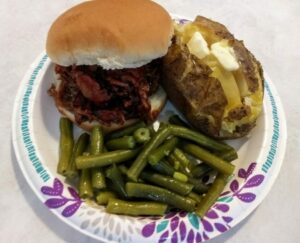 NFL GameDay Menus 2020-21
This NFL season has not been easy for those of us who host weekly football viewing parties. No matter how many people you plan on hosting, we will be bringing you delicious menu ideas each week this season and into the NFL Playoffs. With the COVID-19 pandemic raging again let's be safe people! Reduce your guest list to a safe number, be sure to maintain social distancing, and use curbside pickup whenever possible!