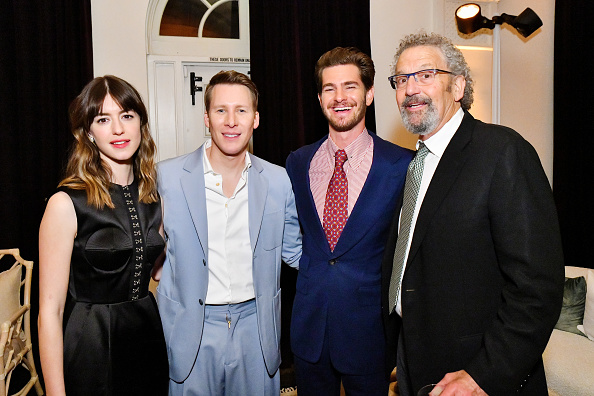 On April 28, industry-renowned streaming platform Hulu unveiled the first two episodes of its new crime drama, Under the Banner of Heaven. Based on the true-crime nonfiction book by Jon Krakauer, the book and drama both examine the investigation of a 1984 murder in Utah. While not intentionally referential, the sum of the drama's parts seems to hearken to other atmospheric crime dramas like True Detective and Twin Peaks.
The Story
Former Spider-Man franchise star Andrew Garfield stars as Detective Jeb Pyre. Pyre, like the suspects and victims of the case, belongs to the Church of Jesus Christ of Latter-Day Saints and is familiar with the values and beliefs of the key figures in the investigation.
Pyre's boyishness and shared background allow him to form a bond with the initial key suspect, Allen Lafferty. As they talk, Allen begins to shift suspicion away from himself and towards his two brothers, Dan and Ron. As his brothers wrangled with tax regulations around the family chiropractic practice, Allen tells Detective Pyre that they became more and more disenchanted with the U.S government and joined a radical religious sect.
The Lafferty family backstory becomes entwined with flashback scenes about the founder of the Mormon faith, Joseph Smith. Despite Dan's and Ron's apparent bloody crime, the flashbacks are indicative that Allen links their tax struggles to the history of persecution that the early church faced.
Pyre, who knows the history that Allen is alluding to just as well, struggles with himself not to make the same link between the persecution of early Mormons in the 19th century and the Lafferty brothers' tax struggles.
History is very alive, and time is relative, beneath the fairly modern surface of 1980s Utah that Under the Banner of Heaven depicts. The line between cop and criminal is also very thin in a community with as much shared tradition and conviction as that which Lafferty and Pyre both come from: despite being on opposite sides of the law, they quickly find a common ground in discussing the history of their shared faith. Garfield portrays Pyre's discomfort at this with subtle emotionality.
Twin Peaks and True Detective Connection
With its foreboding mood and emphasis on the emotions of the detective as his investigation unfolds, Under the Banner of Heaven calls to mind the 2010s HBO drama True Detective. It is not aiming quite as deliberately for a pulp tone. However, as it is based on a true crime, its fluid treatment of time also conjures 90s cult favorite Twin Peaks, which wove between small-town Washington and alternate dimensions.
The kinship is also apparent in its treatment of the crime's victim, Brenda Lafferty. An aspiring actress and broadcast journalist, Brenda exudes a palpable aura of vivacity, but also a cerebral, contemplative spirituality quite at odds with the increasingly harried and fervent zealotry of her brothers-in-law, her eventual murderers. Like Twin Peaks's focal point, Laura Palmer, Brenda's ethereal but vivacious presence is a jarring juxtaposition to the violence that befalls her.
Conclusion
Under the Banner of Heaven's first two episodes unfold languidly, with a foreboding that not only calls to mind crime dramas of the past like Twin Peaks and True Detective but is at odds with the cheeky tone of other offerings in the current true-crime drama. This is no Tiger King; no camp to be found, but rather a nonlinear narrative in which faith, history, and radical politics all collide into a shocking crime.
Star Rating: Three. A slow burn will be a difficult commitment for some viewers; those looking for a sober crime story will be pleased.
Featured Imaged Credit:
Embed from Getty Images