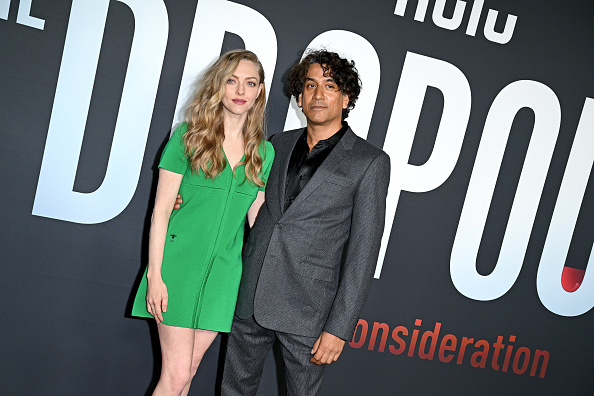 The appeal of period dramas like Bridgerton lies in the fascination with recreating history. While critics and fans may nitpick about which details are historically accurate, that is part of the fun for those drawn to the genre. The paradox is, that we can never really know firsthand what life was like in the palaces and ballrooms of Regency London; only historical records remain, and only the imagination of filmmakers can conjure a bygone era to life. Hulu's Elizabeth Holmes biopic "The Dropout" is a different beast.
For one, its subject is very much alive. For another, the story that made her notorious in recent history is still unfolding.
The Theranos Story
Through various podcasts and news coverage and a 2019 episode of ABC's 20/20, viewers will most likely be familiar with Holmes' story. She rose to prominence as Silicon Valley's only female CEO worth over a billion dollars, via her medical technology startup Theranos.
Theranos's premier offering was the Edison, a blood-testing device Holmes claimed to have invented, which could run several diagnostic tests at a time with a small amount of blood. The possibilities were not lost on investors or the scientists and engineers who flocked to work with Holmes.
If such a feat were possible, it would mean screening and developing treatment plans for, several health complaints at one time for one patient. It entails cutting out the middle man posed by blood testing giants like LacCorp, the bureaucracy of Medicaid, Medicare, and private insurances, as well as the wait time and expenses they pose as consumers of Theranos's retail pharmaceutical partners took their health into their own hands.
The money to be had by pharmacy chains like Walgreens, who greenlit a pilot program using Theranos's Edison in select Sun Belt stores, was immense.
However, Holmes's vision of reshaping modern medicine was all built on a lie. Edison simply did not work. Its results were unreliable, and tests were often carried out on pre-existing medical devices not proprietary to Theranos.
A cry was raised about Theranos's lies by a Wall Street Journal article. Holmes was eventually removed as CEO. Theranos shuttered, and Holmes was charged and found guilty of wire fraud and conspiracy to commit wire fraud. She has yet to be sentenced.
The Dropout's Challenging Task
There lies the challenging task The Dropout has. For Holmes, the investors she defrauded, the co-conspirators and duped employees she has left in her wake, and for the public who is, by this point, familiar with both her crimes and her quirks, there is still no closure.
This isn't a past matter, but recent memory. The soundtrack of the series, featuring independent rock and hip hop hits from the early 2000s and 2010s, will not strike a nostalgic chord so much as give the viewer a keen sense of déjà vu.
Characters speak with water cooler novelty of things that are now commonplace, like green smoothies and iPhones. The world of Theranos, of Elizabeth Holmes at the height of her powers and beginning of her downfall, is a room we just left, and the door is not entirely closed. It is left ajar, and we still store a few of our old things there.
Amanda Seyfried, whose early roles include the HBO drama Big Love and the cult teen mystery series Veronica Mars, glints cheeky satire as she embraces Holmes's signature baritone voice. She embodies the fictionalized version of her as awkward, callous, and destructively stubborn. There is also a vulnerable streak, however.
Admitting that the Edison does not work, that she is lying to the world and hurting people, would destroy the walls that The Dropout's version of Holmes built around herself to survive a traumatic incident. Her inability to admit she is wrong, that anything at all is wrong, drives her: even when there is nowhere left to run.
Conclusion
History hasn't decided Elizabeth Holmes's fate, yet. Her story is still unfolding. The only conclusion the drama can arrive at is the very truth that Holmes herself avoids at all costs. In The Dropout series finale, Holmes's former corporate lawyer sums it up:
"Elizabeth, you hurt people."
People trusted Holmes to create a brave new world of medical technology that would help them get better, faster. They trusted, believed, and lost money and hope. One of Holmes's key investors and staunchest supporters, former Secretary of State George Schultz, is portrayed by Sam Waterston in The Dropout. Speaking to the WSJ journalist who exposed Holmes, the fictional Schultz bemoans,
"The lengths that decent people will go to when they believe that they are right."
Did Holmes, too, go to extreme lengths of deception to one day make her noble vision come true? Did she believe that continuing to accept investors' money to fund Theranos would one day produce results? The Dropout can't answer these questions and has the grace not to attempt it.
Star rating: A four out of five. The Dropout, like the real-life story it is based on, is engrossing. However, it sometimes loses focus on Holmes's notorious power to charm and inspire those around her, especially her powerful and politically connected investors. Seyfried's awkward Holmes is amusing, but one can't imagine her conning Henry Kissinger.
Featured Image Credit:
Embed from Getty Images