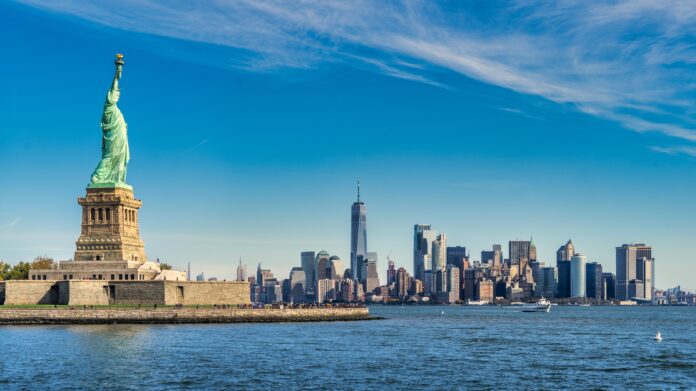 New York City remains a destination on many people's bucket list. It's the concrete jungle – where dreams are made of. 61 million people are expected to visit the Big Apple during 2023, which is a memorable rebound from the height of the pandemic when the city resembled a ghost town. LWOS Life wanted to get you ready for your trip to New York and bring you the 5 best places to visit when you travel to the city that never sleeps.
Places to Visit in New York City
5 Top Places to Visit
One of the most captivating and memorable places that have to be on everyone's bucket list is the Summit One Vanderbilt building. Those of you who are on TikTok and watch New York-related content – will have probably seen this beautiful building. Seeing it in person is a mesmerizing experience, with its all-glass interior, meaning you can see the streets below you from all angles. To see the Manhattan skyline through this beautiful building was a brilliant experience – and one my bucket list never knew it needed.
Read More: Top 5 Can't Miss Things to Do in Milan, Italy
2. Brooklyn Bridge/Dumbo is a memorable experience I would recommend to anyone. The walk over Brooklyn Bridge from New York was congested when I walked across on a cold morning in December 2022. It was a jovial atmosphere despite the cold weather. Regardless of the weather, the views are breathtaking – and the photo opportunities are endless. Once you get to the Brooklyn side of the bridge, it's a short walk to Dumbo, where you can recreate the iconic shot only seen in films. The atmosphere around Dumbo and the bridge is brilliant, and you can honestly see the joy on people's faces to be near such a special landmark.
Read More: Behind the Hidden World of New York City Window Washers
3. No matter how packed your trip to New York may look, you have to make time for the Rise Museum, located just off Times Square. For the first part of the experience, you will walk around and learn more about the steep history of the Big Apple. You will then be informed that there is a surprise at the end of the museum and that it will involve you experiencing a new year Times Square ball drop from the 1950s. As the ball drop begins, you are treated to a truly captivating surprise, which really shows what a special place New York City is. Rise is a must-see on your visit to the Big Apple.
Read More: Recommended Places to Visit in Lisbon
4. One of the most famous landmarks and top of many people's itineraries when visiting New York is to hop on the Staten Island Ferry and see the Statue of Liberty, followed by a quick ride to Ellis Island. The ferry ride is a fantastic opportunity to experience breathtaking views. In addition to the phenomenal photo opportunities, there is an informative small museum located on the island where you can find out about the vast history of this wonderful monument. Ellis Island is really informative and will help educate anyone on the history of immigration in New York – where up until the 1950s, immigrants went through Ellis Island to gain entry to the Big Apple.
Read More: 3 Essential Things You Don't Want to Forget When Travelling
5. Wait a minute, you actually thought I was going to give you 5 places to visit in New York and not mention Times Square? No matter the time of day or night, it's normally full of people looking to take their share of the energy that exudes through every part of this beautiful place. The iconic red steps are a great photo opportunity, but Times Square gives a different kind of energy – one you have to experience and one you will want to saviour. 
I could have written 100 places to visit in New York, as there is something for everyone. These five places are iconic and should be part of every itinerary when visiting this wonderful city.
To help you with your itinerary, you can read my blog when I visited back in 2022, A solo traveller's travel blog.