The 7th annual Green Lake Campground BBQ contest was held this past weekend on Saturday, August 17th. Over the last six years, amateur contestants have competed in grilling baby back ribs, chicken, and brisket. This year's contest featured a competition with baby back ribs, which is one of my favorites to grill.
Green Lake Campground BBQ Contest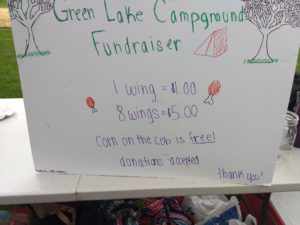 A major focus of the campground's BBQ contest is that it's also a fundraiser. The Green Lake Campground owners raise money every year through contest entry fees, raffles, sales of our team's chicken wings, delicious pulled pork nachos from the team "Smoke 'n Sanity", and a corn roast also run by our team. The Campground's fundraising is geared toward "keeping it local" but with a greater focus on people/families in need. This year's proceeds will go towards the Green Lake County K-9 unit and the Old Glory Honor Flight program.
The money donated to the K-9 unit will help with the training and care of the animals. The campers were treated to a demonstration by the K-9 unit on Saturday. The dogs put on a great display of their sharp noses despite all of the delicious smells in the air and were a big hit with everyone in attendance!
Money donated to the Old Glory Honor Flight program will help fund their mission to offer local World War II, Korean War, and Vietnam War veterans a memorable, safe, and rewarding tour of honor to our nation's capital. Green Lake Campground has also helped out local families in need in past years, making the contest mean a lot more than prize money and bragging rights.
Fundraising Done Right
This year our team Smokin' Bears raised almost $300 by selling 50+ pounds of grilled wings, sliders, and dozens of roasted ears of corn. The top fundraising team was "Smoke 'n Sanity," who raised almost $800 by selling their incredible pulled pork nachos and pulled pork sandwiches. The BBQ contest day fundraising total was over $3,000, with more to come next weekend at their annual corn roast fundraiser.
We brought 50+ pounds of chicken wings to the party this year since we have run out in past years. This year was no exception; 50+ pounds of wings were devoured faster than ever! We also brought a new item to sell to the hungry campers: our grilled sliders, which sold out almost immediately. Later on, we'll include the recipe for our grilled wings, the sliders, as well as a couple of other delicious items we brought to the day-long BBQ party.
Team Smokin' Bears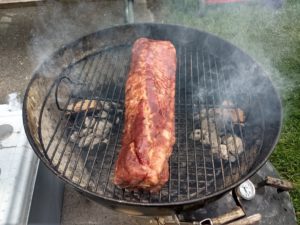 Yours truly was once again vying for the top prize of $250 for best ribs. In years past, our team has finished third in ribs and first in chicken. My team and I were hoping to come out on top of other competitors, some of whom bring some serious grilling equipment to the contest. First of all, our team prefers to keep it simple, using only a regular Weber kettle grill, Kingsford charcoal, along with hickory & applewood chips for smoke. We may get mocked by the BBQ grill snobs with their big BBQ rigs, but we get delicious results with our Webers.
Baby Back Ribs
This year we used my stacking method, grilling low and slow. This method involves stacking the racks on top of each other and shuffling them during the smoking process. After applying the rib rub and a drizzle of honey, the ribs smoke for 3-4 hours. The next hour and more, the rib racks are wrapped in foil and allowed to steam in their delicious juices. After that, the BBQ sauce is applied and the racks returned to the grill for about 45-60 minutes. This allows the BBQ sauce to caramelize into a sweet sticky finger-licking goodness sure to please.
Green Lake BBQ Contest Day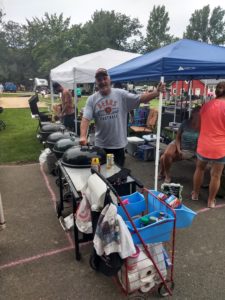 Everybody wonders what BBQ contestants do while their ribs are grilling. During the Green Lake Campground BBQ contest, all of the contestants get together for a huge food party. Throughout the day, the competitors share stories, recipes, compete in several corn-hole/bags tournaments, and share appetizers and a beer or two… in order to stay hydrated.
This year my team and I brought grilled bacon-wrapped jalapeno poppers and armadillo eggs to share with the other teams. These recipes, as well as the grilled wings and sliders recipe, are listed below. The grilled wings and sliders will have links you can click to take you to their full directions. Enjoy some pictures from the contest day too!
Grilled Chicken Wings
While I normally promote fried chicken wings, for the contest we grill the wings. This is a BBQ event after all! The grilled wings are incredibly delicious and also better for you. Below are the basic ingredients, and for the complete directions, click HERE.
Ingredients
50 pounds of chicken wings cut up
Lawry's Seasoning Salt, black pepper, and Cajun spice (optional)
BBQ sauce, Franks's Hot Sauce
The wings were a huge hit and we even added a few new BBQ sauces to mix things up for the campers. The demand was also huge and kept us busy all day!
Grilled Sliders
For the complete directions, click HERE.
Ingredients
3-5 pounds of 80/20 ground chuck (18-30 sliders)
Granulated garlic, Lawry's Season Salt, black pepper
1-2 cups of your favorite barbecue sauce (the seasonings 

are meant

 as a guide, and 

should be

 adapted to your taste)
Your favorite burger cheese – American, cheddar, pepper jack
The ones we sold for the fundraiser were served on Hawaiian rolls instead of burger rolls. The Hawaiian rolls take the sliders to another level! They were a big hit and will be back on the menu next year.
Armadillo Eggs
10-12 large jalapenos
2 pounds ground Italian sausage or turkey
½ pound of softened cream cheese
½ pound of shredded cheddar cheese
Take the softened cream cheese and mix it with the shredded cheese in a bowl. Cut off the ends of the jalapenos near the stems. Using a thin knife, core out the inside of the peppers removing as many of the seeds as you can. Take the cheese mixture and stuff it into the open end of the peppers until they're full. Take a handful of the Italian sausage or ground turkey and flatten it out into a square big enough to completely surround the pepper. Place the pepper onto the sausage and roll it until the pepper is sealed inside the sausage. Be sure to cover the top of the pepper so none of the cheese escapes!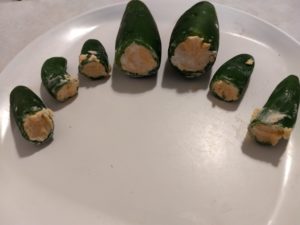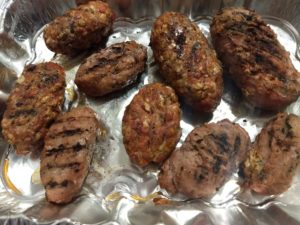 Grill the Armadillo Eggs indirect for 75-90 minutes until all the meat is completely cooked. Allow them to cool and cut in half to serve with a nacho cheese dip.
Bacon-Wrapped Jalapeno Poppers
For these delicious appetizers, you are basically going to follow the same directions as the Armadillo Eggs above. Once you have the jalapenos stuffed with the cheese mixture, you are going to wrap them in bacon instead of the ground Italian sausage or turkey. You will need to secure the bacon with toothpicks starting at the top of the pepper then curling it around toward the bottom.
Grill the poppers indirect for 35-45 minutes or until the bacon looks done. Once the bacon is done, remove the poppers and allow them to rest for 5 minutes then serve them up.
Green Lake Campground BBQ Contest Results
Team Smokin' Bears finished fifth out of 13 teams competing this year. Our team was disappointed, but above all, we were proud of knowing our Weber grill could out-perform many of the fancier grills. The main focus of our team was helping raise money towards the causes. Spending a long day grilling for a good cause while sharing some incredible delicacies cannot be beaten.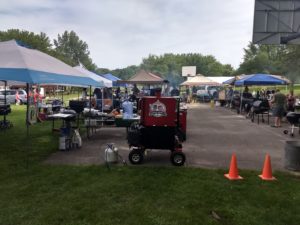 Green Lake Campground is one of the best campgrounds around when it comes to family fun. They feature so much for families to do while camping out, including pools, fishing, volleyball, and golf. They also return so much to the local community with their annual BBQ contest and corn roast. The owners and their staff are incredible people and make camping there a delight every time. Check them out if you're looking for a new family-friendly camping experience! Book early if you want to attend the weekend of the BBQ contest!