Taco Tuesday has always had a fun ring to it whenever discussing family meal planning. This year Taco Tuesday lines up perfectly with one of the most famous days of the year, Cinco de Mayo. Here's a little more on this celebrated day from History.com:
"Cinco de Mayo, or the fifth of May, is a holiday that celebrates the date of the Mexican army's May 5, 1862 victory over France at the Battle of Puebla during the Franco-Mexican War. The day, which falls on Tuesday, May 5 in 2020, is also known as Battle of Puebla Day."  
In the past, we have celebrated Cinco de Mayo with our nearly famous fajitas recipe and our grilled quesadillas dish. Today we have our Skillet Tacos recipe as well as our Red Beans & Chorizo for the side dish. These are both delicious and easy to bring to the fiesta!
Taco Tuesday Celebration
Skillet Tacos
Tacos are an easy and delicious way to celebrate this year while we are all sheltered in place. This simple skillet recipe will make your Taco Tuesday something to remember for your family. In addition, the smells created when making the red beans will fill your house with an incredible aroma for hours. The sheltered family that normally avoids you is bound to come out of hiding to check out what is going on in the kitchen. They won't be able to help themselves!
Ingredients
One pound of ground chuck
one red onion diced
chili powder, cumin, black pepper
shredded cheddar or chihuahua cheese
shredded or chopped lettuce
tortilla wraps
your favorite salsa or hot sauce
refried beans (optional)
sour cream (optional)
Skillet Time
Get out your big skillet and add in the ground chuck and half of the diced onions, reserving the rest to use as a garnish during serving. Season to taste with the spices and saute the beef breaking it up as you go. Reseason as needed and cook it until the beef is done. That's it, simple as it gets for Taco Tuesday!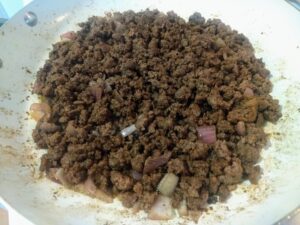 The hardest part will be trying to time the tacos to be done when the red beans & chorizo are finished. We suggest you begin the taco process when the red beans are 15-30 minutes away from finishing.
Serving Time
You should then set up a "build your own" tacos format for the family. Set out all of the extras and have them choose whatever they want on their tacos.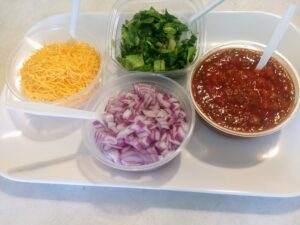 They will also need bowls for the red beans & chorizo over rice side dish to prevent the tacos from becoming compromised.
Taco Tuesday Red Beans & Chorizo Over Rice
Ingredients
One – two pounds of dried red beans, rinsed and clean
One sweet or red onion, diced
Cajun Spice, chili powder, cumin, granulated garlic, black pepper
1/2 – 1 pound of ground chorizo
1-2 tablespoons olive oil
1/4 cup of Frank's RedHot sauce (optional)
Two cups of cooked rice
Get a large stockpot and drizzle the bottom with olive oil. (If you are cooking for a large group use two pounds of red beans and one pound of ground chorizo) Place the chorizo and diced onion into the stockpot. Be sure to reserve some of the chopped onion as a garnish for later. Season to taste with the spices and saute on medium stirring every few minutes. Once the onions are softened up and meat is cooked, add in the red beans and enough water to cover an inch above the beans.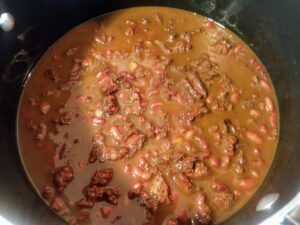 Cover your pot and simmer them on medium while adding water every 15-20 minutes. Add in your Frank's hot sauce at this point if desired.
As the beans cook, they will absorb the liquid. Be on guard so that the beans do not completely dry out. Continue to simmer the red beans on medium-low adding water as needed until they are cooked through.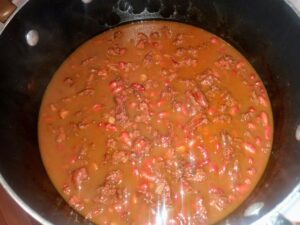 This can take a total of 2-3 hours to finally finish. When they are nearly done, cook your rice as directed so that it is ready when the beans are finished. Serve your red beans & chorizo over the cooked rice and garnish with the reserved diced onion.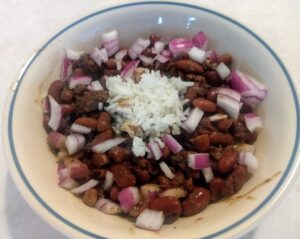 This will be the perfect side dish to accompany your Skillet Tacos!
Taco Tuesday Bonus
In addition to the tacos and red beans & chorizo, a great bonus side is Spanish or Mexican Rice. For this tasty side dish, pick up a box or two of the ready to make dishes made by Goya, La Preferida, Zatarains, or Rice-a-Roni. They are all delicious and take 15-20 minutes to create for the family.
Shelter At Home Culinary Creations
As the shelter at home situation continues into May and possibly beyond, we will continue to bring you some tasty recipes that will help the family cope together. Serving them these delicious meals will help take their mind off of being homebound at least for a little while.
Today we brought you a fun meal that also celebrates Cinco de Mayo. We will continue to provide you recipes that are easy and tasty and will hopefully make your life easier in the kitchen too. Please stay safe and healthy, order using curbside pickup or delivery when you can, and keep yourself socially distanced when you are out!