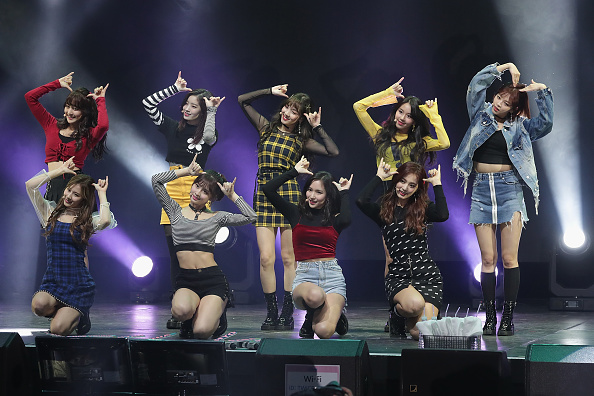 My "Stages of Love Through K-pop" series for the month of February will be capped off by the nation's girl group TWICE. I've covered three of the biggest and most talented acts the K-pop industry has to offer in the form of ITZY, BLACKPINK, and Jeon Somi. What better way to end this series by showcasing the ladies of TWICE in the final installment of this month-long series.
Long-time ONCEs are well-aware of TWICE's affinity for continuity when it comes to their songs. Their themes and lyrics would evolve from asking "What Is Love?" to figuring out the science behind the concept in "Scientist". Personally, there's no better girl group to finish off this series with, since TWICE has a massive catalogue of songs to choose from that perfectly encapsulates each stage of love.
I tried my best to mix classic, modern, and underrated songs of #TEUDOONGIE to end this series on a very high note. Without further ado, ONCE, let's get it!
CRUSH: "The Feels"
The most recent song in this piece, TWICE's first full English single The Feels provided us with an upbeat song exemplifying the manifestation of feelings in its early stages. The music video took a Prom-like approach perfectly showcasing youth and the infancy of catching feelings.
The song talks about curiosity, exploration, and the need to express the heart-fluttering emotions of being in love. Experiencing that "butterflies in the stomach" phenomenon is a tale as old as time when somebody catches your eye, and The Feels want nothing more for you to give in to those feelings with these lyrics by the group's "Black Swan" Mina and "Baby Beast" Chaeyoung:
"I know, love, it is such a funny thing
A mystery allure, gotta get to know you more
'Cause I, I can feel a real connection
A supernatural attraction-ah
I got the feels for you, yeah, yeah, yeah, yeah"
CONFESSION: "Signal"
Ever spilt out your guts to some one, and yet they remain dense and unaware? Signal is here to empathize with you. Signal talks about sending "signals" or "signs" to an extremely oblivious individual about your true feelings. You've tried everything, unfortunately, that person remains clueless about your apparent feelings.
TWICE's unorthodox track was a big hit when it hit the airwaves in 2017. It's upbeat and peculiar elements made this track one of TWICE's "must-hear" songs. From its music video, where we see the TWICE girls utilize superpowers to send a signal, to the extraterrestrial elements of the song's tone, TWICE unknowingly made a seminal anthem for those who've experienced this somewhat tragic experience of being ignored or misunderstood.
LOVE: "Four-Leaf Clover"
A B-side from the TWICE's third Japanese album back in 2021 Perfect World, Four-Leaf Clover is included in this list, and deserves more love, as it perfectly showcases the feelings of being thankful a person has come into your life and made it whole. We've all gone through situations that some things seemed too good to be true.
However, when the reality sets in, the feelings is totally undeniable. Four-Leaf Clover discusses the overwhelmingly happy emotion of being in the presence of a significant other and thanking your lucky stars you've finally found the one that makes the sun shine brighter, and the day better. As evidenced by these sweet lyrics from Dahyun and Sana:
"降り続いた雨 突然に
晴れ間に変わって It's a lucky day
時計をふと見たなら、ゾロ目
11:11 が見えて
もう期待しかない
今すぐに会いたい"
When translated from Japanese to English, roughly translates to:
"The non-stop rain
Suddenly turns into a clear sky, it's a lucky day
When I quickly look at my clock, it's like matching dice
It's 11:11
Now I have nothing but expectations
I want to meet you right now"
HEARTBREAK: "Like A Fool"
From the moment this acoustic ballad hits your ear, it immediately wrenches at your heart. Like A Fool was released back in 2015 as part of TWICE's first EP The Story Begins. Even back then, TWICE had this way of conveying every emotion under the sun and make their fans feel every bit of it.
Life A Fool discusses another form of heartbreak, the pain of unanswered questions. Needless to say, some of us has put ourselves in a position of wearing our hearts on our sleeves and just unleashing the true nature of our feelings, only to receive a vague, and sometimes, unclear answer. While getting rejected is painful on its own, a non-answer might be even worse. Like A Fool serves as the soundtrack for those left clueless, directionless, and does not know how to further express their feelings.
While this is not a conventional heartbreak song, it still manages to masterfully tackle another form of pain the ails a broken heart. Momo said it best:
"Boy, I'm your fool"